Easing into the Street with Soup.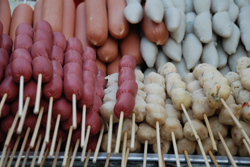 Thai Mystery Balls
Rice Noodle Soup (Kuaytyaw): This soup is everywhere. It consists of noodle soup with vegetables, egg, and mystery balls (probably pork but they have such a weird consistency I think mystery balls is a more appropriate description... it is sometimes best not to know.) We ate it on the street but in truth it was actually made in a restaurant. But it was a border-line restaurant: a store front open to the street where a food cart prepared food in the front. There were a few tables inside and a few outside. It was located on Th. Phra Sumen near the Fort.
We made the mistake of adding hot pepper before tasting it because I'd seen someone with a bunch added to their soup. A tiny amount made the soup unbearably spicy. Oh Yah... Thais like very spicy food.
---
Some Cold Dishes for Hot Days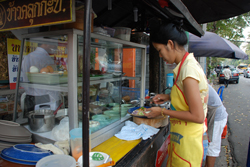 Preparing yummy cold food
Rowshan had Kraw-pud-nam-prig-long-rua which was cold rice salad with vegis, omelette, and a kind of a meat paste sauce with peppers, and lemon grass. I had Ka-nom-jeen souw nam which was cold rice noodles with pineapple, coconut milk, lemongrass, lime, peppers, eggs, and I think carrot sauce.

It was very tasty costing 30 baht each. (less than $1). I think last time we were in Thailand most street food was 25 baht which was about 50 cents which shows how much the dollar has fallen. Located on Th. Phra Athit near fort.
---
Mango Sticky Rice Road (Soi Rambutri or thereabout)
Very crowded street food vendors
Though we are staying in Bangalampu we have thus far managed to avoid Kao San. We went there last visit for bus tickets and we hated it. I can only think it has gotten worse.

We have however gone to a street that serves as a kind of extension of Kao San-- Soi Rambutri, because it has a wide array of street food vendors with convenient menus in English and regular street food prices (20-35 baht per serving) We stumbled upon the street accidentally and didn't like it. Rows of guesthouses with bar/restaurants, vendors selling T-shirts, clothing and other stuff and a mass of tourists.

Unfortunately, it is the cheapest place we've found so far for mango sticky rice (Khao niew mamuana) (20 baht). (We've only looked for it around here and Siam square (20 baht for rice, 50 for plate of mangos). Mango sticky rice doesn't seem too difficult. Put a hunk of sticky rice, slice mangos and pour coconut milk on it. We like buying from this little old woman who we think should be retired and not hanging out late selling sticky rice. On Mango Sticky Rice Road we had some nice fruit shakes (20-30 baht) and some good phad Thai as well as some really pathetic phad thai (more like steamed noodles than fried).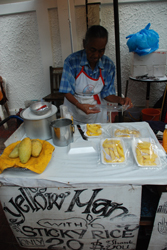 Our favorite mango sticky rice vendor
---
Fried Sweets and Spring Rolls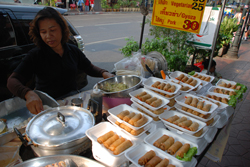 Fried spring rolls
In the morning, on Th. Chakra Phong, there are a lot of vendors making fried sweets. We bought some fried peanut cookies-- crunchy flat dough with lots of peanuts sticking out. They weren't too sweet but were very peanutty, though a little greasy. Later they seem to close shop so buy sweets earlier in the day.

We found numerous spring roll vendors close to the intersection of Chakraphong and Rambutri. I'm a big fan of fried spring rolls. We got 5 small ones and sweet and sour sauce for 25 baht. They contained just vegetables (no noodles) but were also available with chicken. There seems to be lots of fried food. However, they are also really good at deep frying in a way that doesn't produce overly greasy food.
---
Santichaiprakan Park vendors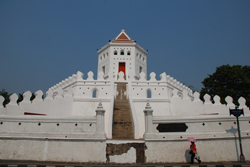 The Phra Sumen Fort
Santichaiprakan Park and the Pra Saman Fort are very close to where we are staying. Conveniently, there are several food vendors who set up here. We've tried the fried rice (khao paad) and spicy basil rice (Khao phad krapow).

I love watching how vendors prepare the food. It is done quickly as if no thought is involved at all. For the spicy basil rice she put some oil in the wok, threw in some red pepper paste with pieces of pepper, then added chicken, the basil, bean pieces. Then she added some water, a dash from various bottles, and a bit of sugar. She then scooped out some rice, put the meat and vegis on top. We've also gone to the park for a cheap breakfast of rice and Thai omelet-- egg with green onion, a bit of soy and fish sauce for 15 baht.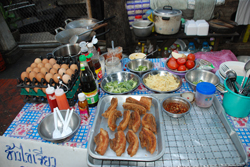 The ingredients are ready
---
Red curry for Chinese New Year
Instead we went to the corner of the intersection and bought cold noodles with red curry sauce and mystery balls. The table had mint, dill and basil leaves along with bean sprouts, pickles, cabbage and beans to be added per ones desire.
---
Steamed spring rolls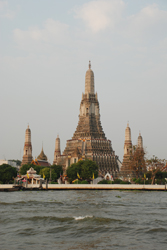 Wat Arun
We were up early hoping to catch the light on Wat Arun from the river. Walking along Th. Maharat we saw a vendor near the Tha Tien Pier making steamed spring rolls. She had the ingredients in front of her-- tofu pieces, black Chinese mushrooms, cabbage, dried shrimp, and thick rice noodle wrappers. The bundles were steamed, then she placed them in a box, cut them in pieces with scissors, sprinkled dried fish flakes and Chinese parsley and served with a bag of spicy teriyaki sauce.
---
Roti Mataba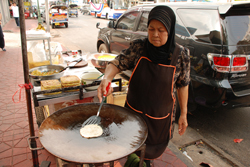 Preparing roti
A woman on Th. Phra Sumen near the Fort, has a flat skillet. She makes roti as well as mataba which is a thin roti bread packet with a mix of egg, carrots, onions, and peppers inside, fried on the skillet. She serves them cut in pieces with onions, cucumbers, and peppers on top. At first I watched in horror as she squirted what looked like a lot of oil all over. To our relief it turned out to be a sweet and sour sauce. I haven't encountered these before but when I asked she said they were Thai food. Roti= bread, mataba= filled. I believe it is a dish from Southern Thailand. Price: 30 baht.