We had a wonderful time and great food with my fellow potters at
Clay Associates
(CA). We ate and talked about our trip and took a group photo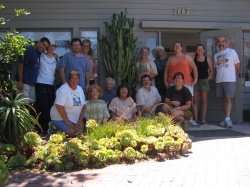 Then I glazed my last piece "Udu" (An african drum). I learned a lot in the past 2 years by making mostly ceramic drums and some other things like tea pots, jars and cups. I was also researching and experimenting with making my own glaze which is a very crucial part of making ceramics. I received lots of help and information from my instructors about making glaze and glazing techniques. Doing pottery gave me another way of looking at the world and nature. For example, from now on, anywhere I go I will be looking for other potters and ceramic studios to learn how they do this magnificiant art. I enjoyed every moment of my time at CA. Don't miss the summer and Christmas sales at CA.
Later at night we went to the Blarney Stone Irish pub to see our friends and play Irish music with some of my old band members (Skelpin)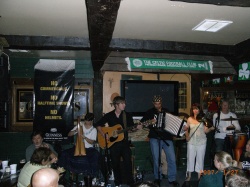 .
I played my new accordion which I bought for our trip and Tamia played her harp in a few songs. We had a very nice crowd at the pub. I also took one of my last hand made drums, the Chicken Head Drum (CHD)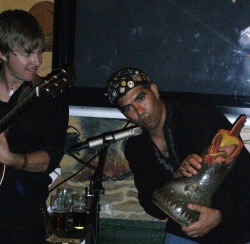 .
The CHD had a vey good time and ate lots of beans "$1 bills"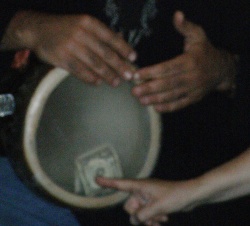 given by Chicken lovers.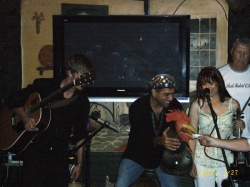 .
Let me tell you that if this CHD was not the first one in the world, it is definitly the first in California. People at the pub asked me if I am taking the CHD with us around the world! A woman at the pub asked whether I would sell my gig hat and the CHD. I shook my head "NO". Well, I didn't even ask the woman how much she was offering for the CHD!
BTW, the photos at the pub were taken by a very good friend (Andres).
-RD