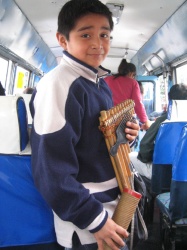 Entertainment in Lima isn't difficult to find. In the Parque de la Cultura there was a stage with bands playing. Today on the bus we passed 2 outdoor stages with bands, and last night in Miraflores where were a bunch of people dancing to recorded music.
The most interesting entertainers we´ve seen are the street entertainers. They don´t busk in the traditional sense. i.e. sitting in a park playing with
a hat out. Instead they are active, jumping onto a mini bus, playing a brief performance and then collecting tips. Yesterday we were serenaded by a kid playing the pan pipes while simultaneously scraping a rhythm with a comb on one of those scraper instruments. Today a singer/guitarist boarded the bus to present his "mini-show"
The other interesting performance spots are interesections. As the cars stop, a performer runs out in front and does their show until the lights change and then they rush to the next street where the light has just changed to red. I guess there must be someone collecting money for them. We saw some jugglers, fire poi ball spinning and a kid doing gymnastics.
Speaking of performing, we stumbled upon the music store region tonight. It´s the Plaza 2 de Mayo--a plaza filled with blue buildings. We ended up there non-intentionally but it looked interesting so we walked towards it. About a block from the plaza we encountered some music stores. Then, down one street we saw a Peruvian harp. It was a store and workshop where they make harps. The harps are interesting because the upper octave or so is wire strung while the lower strings are nylon, making it sound like 2 different instruments are being played. We saw a guy playing a harp on one side of the plaza. We asked him where we could find traditional music and he gave a rather worrisome response which through my minimal
Spanish and his broad gestures could be interpreted as where ever the music is we would get robbed and beaten up. Eventually he took us to a school on the 2nd floor of a building on the plaza where a group was practicing for a show. There was an electric harp, bass, drums and singer. It was loud. Through a few more miscommunications we finally managed to agree that we´d go to the hotel and bring R´s accordion
which we did. So R and Alex, the harpist, jammed a little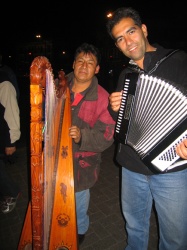 .
Then with very tired legs we headed back to the hotel.