Some Cool Things We´ve Found in Lima
3 September, 2007, 10:38 pm in "Peru"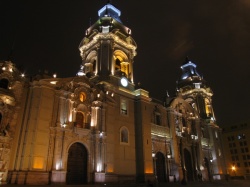 Cafe Italiano: on Avenida Jose Larco at Gonzales in Miraflores.
We have been here every day so Rowshan can get his coffee and I can get their wonderful hot chocolate.

K'antu: Av Grau in Barranco. Free trade gifts, coffee and tourism. This is another nice cafe.

Evening walk up Jiron de Union to Plaza de Armas over to the river: This seems to be really popular among Limenos. It is a nice way to end the day. By the river there is a market with lots of folkloric stuff and a stage with musicians

Papas Rellenas: We love the papa rellena seller in front of a restaurant across from the Parque de la Cultura on Arequipa (about a block down from the top of the park). 30 cents will buy 2 hot yummy fried mashed potatoes
.

The Bird Walk: This isn't really what it is called but it is a serene path in San Ysidro which is about a block away from busy Camino Real on Choquehuaca. Along the path are signs about all the different birds in the area.

The Music Stores and Workshops in the Plaza 2 de Mayo.

Yes! Keep telling me about the food! Hot pudding chocolate and fried mashed potatoes! I heard the Peruvian potato dishes were Fab!
It's so good to read your blog Tamia. You guys have really hit the ground running! Happily looking forward to more.
All content of this website is © 2007-2008, The Little Black Fish