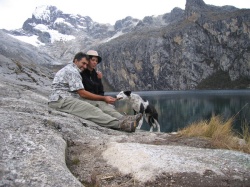 Rowshan felt better and with another day of aclimization, we decided to attempt to hike to Lake Churup again. The weather was clear as we set off across the fields. We made it up the hillside to the point where we had given up the day before with a lot less breaks and quite a bit faster. I was panting hard the whole way and did start to call for more breaks and a slower pace.
The point where we'd left off was the crest of a hill that dropped down to a river valley. The path clung to the edge of the valley, staying even for a dissapointingly short period of time before climbing steeply up a rocky slope which I imagined would present us with a stunning view of the lake. We slowly climbed, stopping for a snack of crackers and cheese. At one point our trail directions mentioned a divide in the trail with one option being longer but easier and the other being shorter but requiring a bit of "a scramble." We took the path that seemed to keep lower.
Finally I saw another crest with several stone markers. We pushed ourselves toward it, eagerly anticipating the view of the turquoise lake. Instead
we saw a slight dscent and then a steep rocky area
with a waterfall/cascade of at least 100 ft This was the "scramble."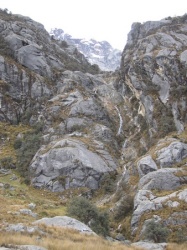 .
We sat looking at it, trying to figure out how we'd get up it. I saw a bit of movement and noticed a black and white dog running about on the rocks. There were also two people trying to get down. One looked stuck, spread eagled across a rock face. As we were watching a man and two kids who we'd seen a ways behind us on the trail overtook us and headed up one side of the rocky face. We opted for the area near the cascade. It was a tough climb but not dangerous. At some points we had to crawl up the rocks seeking handholds and footholds. The black and white dog scampered down to join us and leapt up the rocks ahead of us. The climb seemed to last forever.
"This lake had better be good!" I yelled to Rowshan. Eventually we reached the top and were greeted by a red signpost reading Laguna Churup and the elevation, around 4,500 meters. The lodge is at about 3,700 meters. Barely taking time to admire the lake I lay down on a rock and shielded my face with my arm. Eventually I could breathe normally and I stood up and looked at the lake. The sky was overcast so the color was dark but it still retained a turquoise color. It was crystal clear and we could see water weeds and rocks. Sharp grey stone cliffs rose around it and Mount Churup rose up behind majestic and white.
While I'd been resting, Rowshan had made friends with the dog by feeding him crackers. He wouldn't allow Rowshan to pet him but he would come up and snatch away a cracker. We admired the lake. The man and his sons, who we hope were locals because they climbed so quickly, went up to a higher rocky area above us. Rowshan started experimenting with the echo- a fine one since there were lots of stone cliffs to bounce the sound about. The man's kids also began responding: their location produced an even better echo.
Lake Churub Echo Sound
It began to rain/hail so we headed back down. The family went too, quickly speeding past us. The black and white dog followed us all the way down the mountain. Rowshan named him Churup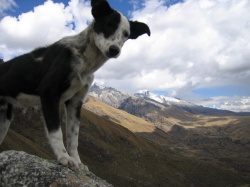 .
I actually grew kind of fond of him. Sometimes he'd walk next to me, sometimes with Rowshan. Other times he would lag behind as if playing Red Light, Green Light, freezing when we looked back and then continuing to follow us when we started walking. He didn't bark and didn't spray everywhere. When we reached a house where a couple loud dogs lived, Churup turned back. Rowshan tried to lure him with a cracker but he just snatched it and ran back up the trail.
That evening there was an amazing sunset.