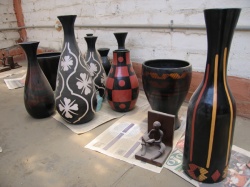 We had appointment with Mario (a representative of the La Encantada Cite Ceramics group) at 10:00. We woke up early and took the bus to Chulucanas. From there we went by motortaxi along a very tough road which we Mario later informed us, was actually a bit dangerous. Mario had the motortaxi return us to town using the main road.
We were so lucky that Brent, a Peace Corps Volunteer for the town, arrived the same day and translated for us. We all walked through the workshop area and Mario explained the processes involved in making these unique ceramics which have officially been declared a part of Peru's cultural heritage.
After throwing the pots and triming them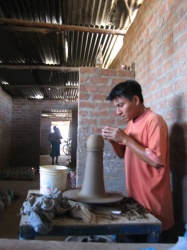 ,
then glaze them while they are still wet. They apply the glaze on the wheel using a regular brush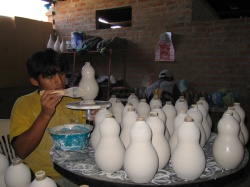 .
They put 3 (red) to 6 (white) layers of glaze depending the color. After the glazing is done and the pots are dried, women of the village burnish the pots first using river stones and then plastic pieces made out of shampoo containers.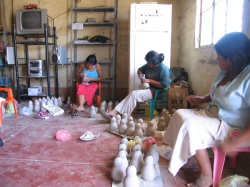 Next they fire the pots in wood-burning kilns at 800 degrees celsius for 7-8 hours and cool the pots for half a day. The next and most interesting part of the process is the smoking process. Parts of the pots are covered with a special slip made of soil, fine silt from river, agricultural soil and ash, to create designs.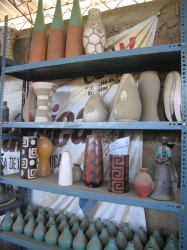 This layer of slip won't stick to the pots and protects the colors. They smoke the pots using mango leaves in another kiln for 1-4 hours depending on the size of the pots: shorter time for smaller pieces. Smoke makes the unique black color which is a key feature of the Vicus style. After the pots are smoked, the slip is washed and scraped off. To finish the process, they wax the pots to protect them and make them shinny. They also recommend that purchasers of the pottery wax them every few years.
We also walked through some other workshops watching potters work. We went to one workshop who the famous Chulucanas potter,
Max Inga
had given the right to reproduce one of his most famous pieces.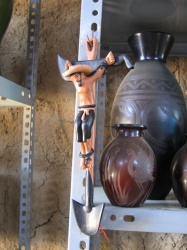 Mario also took us to the clay harvesting field which was about half a mile away. There were two types of clays (black and yellow) that were mixed together to make the clay used for ceramics. They mix the clays in pools and also desalinize them. Then, they lay the wet clay on a plastic sheet to dry until it is ready for use.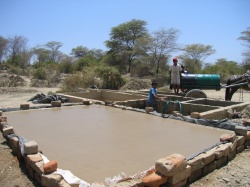 When I asked about the prcentage of each clay, Mario looked at me and told me something with a nice smile. Brent translated "It is their secret!!". The clay in the field was also used to make bricks. Brent said the owner had told him the price for bricks had gone up a lot after themost recent earthquake on August 15th 2007.