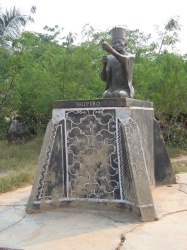 Even though we spent the night in Pucallpa, we didn't spend much time there. After a few errands, we hopped a shared taxi to Yarinacocha (Lake Yarina) and then another to the San Francisco Shipibo community where Luis, the guy we met on the bus lived.
The community is about 8 km from Puerto Callao, the main town on the lake. It is a small village with wood houses with thatched roofs. We tried calling Luis but our phone couldn't pick up any network. So, we asked at a store and were directed to a house a couple houses down. Luis was with his family and said he'd just been talking to them about us. He took us to an open area with a table, benches and a hammock.
He introduced us to his family and they gradually began bringing out arts and handicrafts.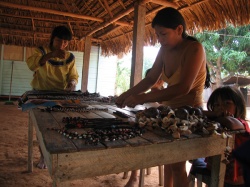 First his mother showed a beautiful brown cloth with a Shipibo design.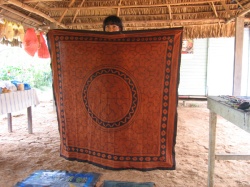 Then his sister brought out some paintings of Ayuhuasca visions she'd had. They were really interesting: lots of colors and patters. One had anacondas, another a lot of flowers. They were colorful and lush.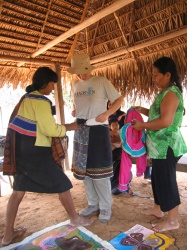 Then I had to run the gauntlet of jewelry. Eventually I bought a little piece of cloth with Shipibo designs on it. I really love the Shipibo designs. Now they are just interesting patterns but they seem to have originally represented something. At one of the museums in Lima, I read (bad translation by me) they represent "the roads of the sky and what is reflected from here below" which I thought was very poetic even if it may not be true. The patterns make me think of mazes or maps. I didn't bargain for the piece. I figured Luis's family could use the extra. I hate being sold to but Luis and his family were nice even if they perhaps just thought of us as easy customers. Luis showed walked with us down to the lake side.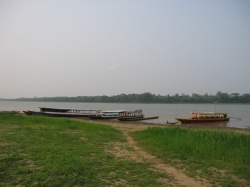 There was a long wooden path leading from the village to the water. During the rainy season when the waters rose, the village was right next to the lake. Luis took us to a neighbor's house where they made ceramics and Rowshan had fun looking at the clay and pigments.