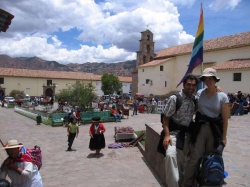 San Blas is known as the artists' area of Cusco. To get ther you walk up narrow cobblestone streets past handicraft stores, Incan walls and loads of tourist based businesses.
The square is named for a church, of course, and is filled with handicraft sellers. There is a stage with a fountain in the back of it and 2 speakers were blasting, interestingly enough, the same CD we'd bought from Jose and Washington, our Peruvian musician friends we met in Istanbul 8 years ago.
We had been inspecting potential housing options for when we have to leave our current homestay in November. San Blas has nice cafes, atmosphere and a view but it is a tad expensive. There were a few kids playing soccer using two pay telephones as goals next to the church.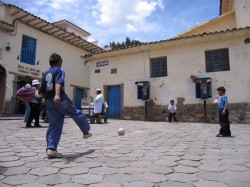 Just off the square, we found an interesting gallery with intricately painted ceramics. Some of the pieces were huge plates entirely covered with detailed patters and designs based on traditional Incan patterns. Through a window we could see a man varnishing the pieces in the workshop.
Another gallery we found belonged to the sculptor Edilberto Merida Rodriguez. We walked in and a moment later the artist arrived and opened the gate into his gallery. The sculptures were mostly of the typical Peruvian ceramics subjects: traditional village life and religious scense with Peruvian characters.
However, the pieces were more contemporary in style. There was a roughness and raw emotion to them: strong workworn hands and faces screaming out in protest. My favorite piece was called
Pueblas Protestas
. It was a figure of a pregnant woman whose belly was split into prison bars. Peoples arms and faces were clawing and reaching up from her skirt. Merida explained it was showing protests in the villages against hunger.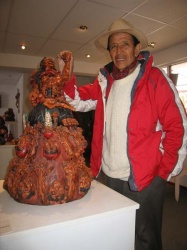 On the walls were various awards granted by various people including the president of Peru as well as honorary degrees. There was also a photo of him presenting a crucifix sculpture to Pope John Paul II.
Rowshan asked if he had a workshop but Merida replied he couldn't work anymore and gestured to his face. I'm not sure if he meant he was too sick to work or getting too old. Rowshan bought one of his sculptures for around $15.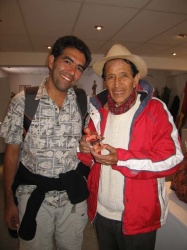 I thought it would be more. On the way out we passed a case full of clippings, most fairly old, with headlines like "Peruvian Picasso." In the courtyard was a huge clay statue of a boy playing panpipes. The walls were decorated with clay figures reaching up and out from clay panels.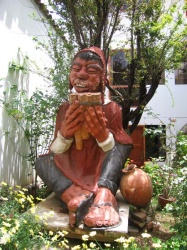 My practice teacher had invited us to a performance of music and dance at her daughter's school. The parents of each class had arranged a traditional dance or musical performance. Entrance was 15 cents.
The dancing was really impressive, especially considering most must have been amateurs. They had interesting choreographies, varied dances and great costumes, each group different. There were a few musical acts but mostly there were dance performances. The scene was a bit crazy. All the kids from whichever class was represented by the group of dancers performing would scream, throw confetti and light fire crackers.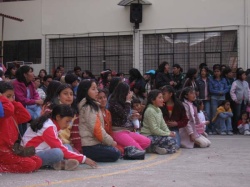 The performance was outside in the courtyard of the school which was also part of a convent. Around 5:30, it started pouring. The group dancing finished their dance, getting soaked in the process. A 20 minute weather break was called. Rowshan and I left because the rain didn't seem like it would let up for a while so we didn't get to see my teacher dance. Later I learned the remaining 10-15 dances were performed in the rain.