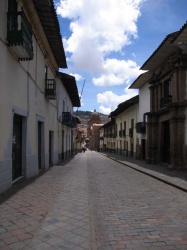 Yesterday was census day so all the Peruvians had to stay at home all day and be counted. Rowshan and I thought it would be a good time to walk around the center. There were barely any cars in the streets. We walked to the center. It was peaceful without the cars but by no means empty. It was possible to see exactly how many tourists there are in Cusco. In fact, the Plaza de Armas looked about the same, though it was a lot more pleasant without the touts and cars.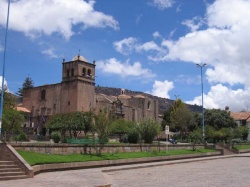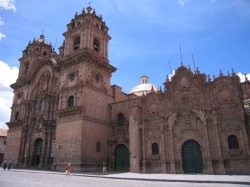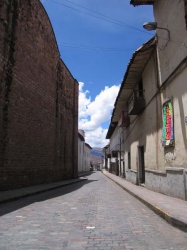 Since none of the restaurants were open, we headed back to the house for lunch. After that we played some music and let Armando (host dad) try out Rowshan's accordion and Manchi (host mom) try out my harp. Then Armando took us on a hike to see Rumi Wasi, a bunch of Incan ruins on the hill above the house.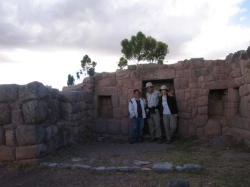 Armando has a field there above the ruins. The walk was very pleasant providing splendid views of Cusco.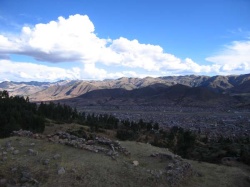 People were playing and picnicing in the ruins.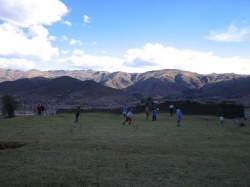 Rumi Wasi means "stone house". Armando also showed us a cave and several places where people had dug holes to take gold they found using metal detectors. Armando's field was in a picturesque place next to some eucalyptus trees. I told him I thought in 10 years he'd have some very valuable property since the city was growing so fast and eventually there'd be electricity and water brought up the hill and people would want houses with a view. Since his property was just above the ruins, no one could build in front of him.
Further up the hill was a small lake. While Armando talked business with a shepherd, Rowshan and I sat by the lake and talked to the shepherd's son. 2 little kids joined us.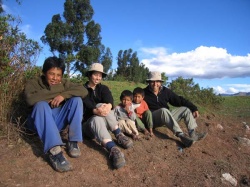 The hills above Cusco are so beautiful. They are peaceful and speckled with ruins. Apparently the Incans usually chose to live in the hills and have their fields in the valleys by the rivers. Now it was the other way around with the houses in the valleys and the fields in the hills. Off in the distance we could see the snow capped peaks of Ausangate, the highest mountain in the area.