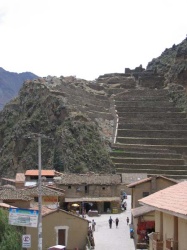 We got our "tourist ticket" which means we can finally visit some of the sites around Cusco including a bunch of museums and some ruins. The museums were mostly fairly small so we quickly raced through a bunch on Saturday. On Sunday, we went to Ollantaytambo, a pretty little town with lots of stone. The ruins are up a mountain which requires climbing bunches of stairs. however, the view was beautiful, overlooking a river. After surveying the walls, we followed another path to a different section of ruins including some houses. Then we went down some different steps to the foot of the mountain and walked along a canal to a section with lots of different canals, pools and walls made of stone. I have to admit I do like the Incas sense of design with stone and water.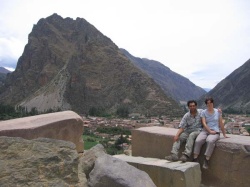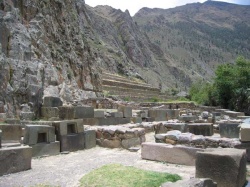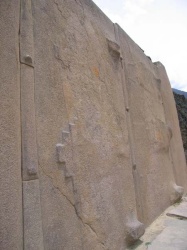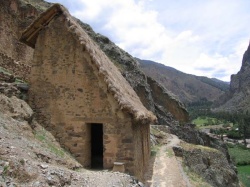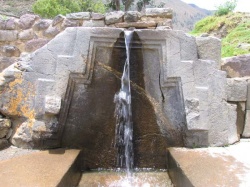 During the week, we visited the ruins around Cusco with our practice teachers. Sacsaywaman (pronounced Sexy Woman), was first. We walked up a steep hill from town and were met by a series of large stone walls.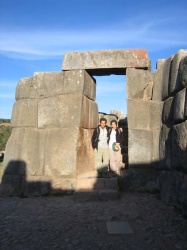 R's teacher insisted that in one of the walls, the stones formed the shape of an alpaca. We searched but couldn't find it. Another section of the ruins had a large outcropping of stone with channels that had been rubbed smooth by countless numbers of people's butts, as they used them as slides. R was about to go up and give the slide a try when a group of kids came racing out of nowhere and clambered up the rocks. After watching them, we wandered down through a dark tunnel through a section of rocks. There supposedly is a tunnel that goes all the way down the hill to Qoricancha but it is closed.
A couple days later we took a combi to Tambomachay and walked back to town via the ruins of Pukapukara and Q'engo. The sites are in picturesque locations above Cusco. They aren't massive like Sacsaywaman but they all had their interesting features. Pukapukara used to be the customs post for entering Cusco. It was more like a traditional fort. Q'engo was a ceremonial center. It had weird passages through tall rock outcroppings and felt more mysterious.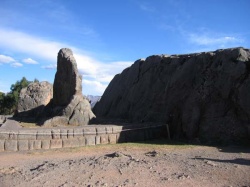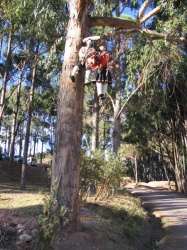 Probably my favorite museum we visited was the Museum of Popular Art. It contained folk art including ceramics, retablos, masks and dolls in traditional costumes. There were also some old photos of Cusco which are always interesting to compare to the fast growing city of today.
One of the attractions included in the tourist ticket was a performance of dances and music at the Qosqo Cultural Center. This was about an hour and had about 5 different dances. Best of all, the music was live.