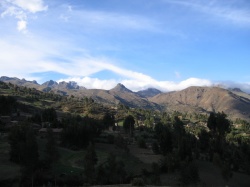 I had found a brochure for the "Andean Homestay Program" at the South American Explorers office. It offered visitors a chance to "visit a small Quechua community, learn about their culture and traditions and stay in the homes of local people." So, Saturday afternoon, we showed up at the Peru Treks office where a porter, just back from the Inca Trail, met us and helped us get to Amaru. From the bus stop in Pisac, we walked to a combi stop and boarded a combi. The ruins of Pisac were visible high above the town and I was glad we'd be walking down from Amaru to see them instead of up from the town. After waiting for a bit, listening to the incomprehensible (for us) banter in Quechua going on around us, the combi started up, only to drive back the way we'd walked. It stopped and our guide, Victorino, leapt out and ran down the street, just as it started to move again. A man outside said something to us about getting out and taking a taxi. The combi turned around again and this time the man gestured for us to get out. I still didn't see Victorino so I told the guy that his backpack was on the roof of the combi. The guy pulled it off. Fortunately, at that moment, Victorino came running back and 8 of us crammed into a taxi, 3 in the back cargo area with several bags.
It turns out that there had been a discussion in Quechua about how the combi wasn't direct to Amaru and there were enough of us to share a taxi and go direct instead. Off we went up the mountains. Once past the ruins, the road forked and we took the fork that wasn't paved.
A bit later we arrived in the community of Amaru, high in the mountains (3800 meters). It was a beautiful spot with adobe houses, sloped fields and donkeys, sheep, pigs, chickens and cows wandering around. From the community, we could look down into the valley far below and up to the tops of the mountains, which seemed very close. The air was fresh and clean (sigh...she writes breathing the smokey air of an internet cafe...) and there was a cold wind. Victorino took us to the first house. There was a mother and baby donkey outside.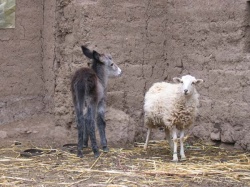 Inside the courtyard was an adobe house with "Hostel" and pictures painted in bright colors on it. This was the house of Adrian and Rosalina. We set our bags on a bench and were told to wait. A bit later, Adrian returned with another man wearing a brightly colored poncho and hat. He was carrying another poncho and hat which he put on Rowshan. This was Valentine who we would be staying with. A few minutes later, his wife showed up carrying a hat, skirt and woven shawl for me to wear. She put the skirt on over my pants and tied the band tight. Then she wrapped the woven shawl around my shoulders and pinned it.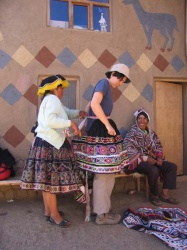 The hat was flat and barely held on by a beaded band. Then Valentine took us to his house. We had a little bit of time to leave our stuff in the room. Then V took us for a walk around the community, showing us his fields of different vegetables, a nice view point and the other features of the area: some ruins of old houses, the school, the soccer field... The wind was strong and my hat kept blowing off. I also found it hard moving in the skirt and shawl.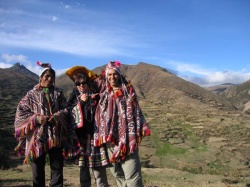 Back at the house, the horses were just being brought in for the night and being tied in a feeding area with the cows. There was a calf and a foal. V explained that it was hard for the animals to find grass right now because the rains hadn't started so everything was dry.
As we sat waiting for dinner, V's little girls showered us with rose petals.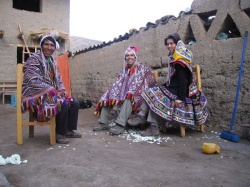 Dinner was popped corn, different from the popcorn in the US in that the huge kernals did not pop into popcorn flowers but rather just popped inside the kernals. We also had delicious thick Quinoa soup with all the ingredients coming from V's fields. We ate dinner at a table in a room that doubled as a store.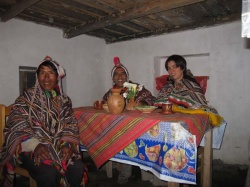 Every now and then, a neighbor would pop in to buy something. We talked a bit and V explained that he had knitted the hats that he and Rowshan were wearing himself.
After dinner there was supposed to be music and dancing at Adrian's house. We went over and sat in their kitchen. It was warmed by a fire and guinea pigs squeaked contentedly from their pen, and from a corner closer to the fire, where the babies and their mother lived. V was going to play his drum with a flute player, but the flute player didn't show up. We entertained for a while with the help of a Quechua phrase book. Everyone was amused by our butchering of their language. Then we headed back to the house and were in bed by 9.
The family woke up early and were busy taking care of the animals. We got up too, but just had to enjoy the morning. Breakfast consisted of a glass of oatmeal and delicious pancakes made with corn flour, onions, and a fresh egg from one of the 2 chickens that lived in the yard. After breakfast, V took us to Adrian's house where he needed to attend a short meeting. The meeting was in Quechua so we didn't understand, but it must have been about the homestay program since they distributed more brochures to everyone. 2 girls set up weaving samples to sell. We bought 2 belts to use to decorate R's accordion starps. Then V led us down a trail out of the community, explaining how it was a trail created by the Incas. V sped down it, reminding us that he had once worked as a porter. We followed. It took us about an hour and a half to get to the ruins. The brochure says it is about a 2 and a half hour walk. We spent some time looking at the ruins before heading down a steep path into town.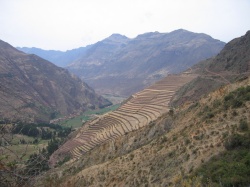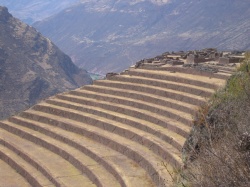 The path spit us out into the Sunday market. Mostly it was handicrafts, but at the edge were lots of people selling fragrant vegetables from their fields. Once in town, we bid farewell to our host and headed back to Cusco.