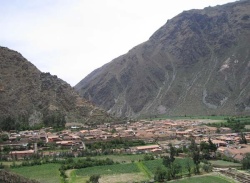 We are currently in Ollantaytambo, a very small and picturesque town of cobblestone streets and rock walls, nestled in a valley surrounded by tall mountains. The Urubamba river is at one side and a smaller river rushes through the town to join it. As if 2 rivers weren't enough, there are stone channels throughout the town guiding flowing water past the houses.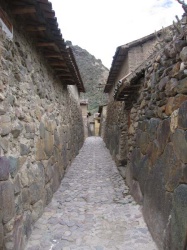 Sometimes the channels guide the water under the stone streets, then the channel surfaces somewhere else. I wonder if these are part of the Incan system used to flood the town when the Spanish invaded.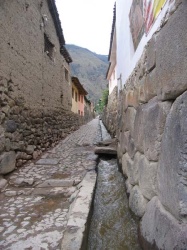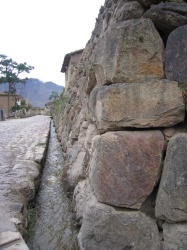 The main ruins cover the side of a mountain at one end of town, but the hills on the other side of town are also crowned with ruins and Incan terracing can be seen across the river. There is a small Plaza de Armas ringed with restaurants and antoerh plaza below the main ruins full of handicraft stands. There is a small mercado and a few mini-marts, but most of the businesses are tourist related: hostels, restaurants, souvenirs. We are going to be here for about 2 weeks. Rowshan is studying ceramics with Lucho Soler, a ceramic artist in residence at the CATCO Museum in town. Soler is Peruvian but lived in New Mexico for 20 years where he learned about Native American ceramic techniques. In Peru he studied and made museum quality reproductions of ancient Peruvian ceramics. His goal is to increase the quality of contemporary Peruvian ceramics through revival of ancient techniques mixed with contemporary standards of quality (i.e. using glazes instead of paint, etc.) He hopes that Peru can one day be a center for contemporary ceramic arts.
Rowshan came here on Monday, found a hostel (which was actually part of a traveler's clinic) and started classes. I spent another day and a half in Cusco, finishing my Spanish classes and then arrived here Tuesday afternoon for Rowshan's birthday. Unfortunately, I very quickly discovered that Ollantaytambo doesn't have any place where you can buy a cake. It doesn't even have a bakery for bread (you have to buy it from the back of cars or from women who sit in front of the mini-marts with big baskets of it). Eventually, after considering making an attempt to create a cake like creation from packaged cookies and caramel sauce, I found a paneton (christmas fruit bread), which seemed a wiser option. We celebrated Rowshan's birthday with the doctor on call and the ambulance driver from the clinic/hostel.