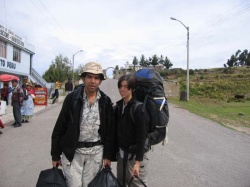 It has been a long travel day involving a sleepless overnight bus ride. Yesterday we left Ollantaytambo in the morning via shared taxi to Cusco. Not too eventful.
We stashed our bags at South American Explorers and went to the bus station to buy our tickets to Bolivia on Litoral, the only bus that went direct from Cusco to Copacabana. The sales guy showed us photos of the bus and said there was a toilet on board and that it was a direct trip to Copacabana. The bus left at 10PM so we had the day to kill. We ran some errands, had lunch and hung out at the Buen Pastor. Rowshan bought a couple ceramics samples and we went on a mad search for bubble wrap. I considered buying a book but in the end just exchanged our Lonely Planet Peru for a book called
Savages
about the Huarani people in Ecuador trying to save their land (and way of life) from being destroyed by oil companies.
Towards the evening we did some research at SAE and then took our bags to Aldea Yanapay, a cafe I like which has lots of toys and games. We had dinner, played a game, had dessert, and otherwise amused ourselves until we ha to go to the bus terminal.
The bus seemed almost completely full of foreigners. As we were waiting, the 2 people in the seats across from us said they had just checked and the bus did not have a toilet.
The bus left about half an hour late (not unusual). As one of the drivers did the security video, Rowshan said "Donde esta el banyo?" to the camera. The guy responded, "Just tell us if you need one and we'll stop... so it is just like having one on board."
In the middle of the night, I requested a bathroom break. The driver said, "10 minutes". I looked out the window at the dark stretch of highway ahead and wondered what the stop would be... perhaps an outcropping of rock, or a sign that would shield me from the occasional car passing by. It turned out to be a very closed looking gas station. I walked alone across the street to the dark building and was relieved to find the bathroom was unlocked and there was a light switch. Lots of other people began filing in. Returning to the bus, all the lights were on so anyone who had managed to sleep had to wake up. After a few more minutes, the driver honked the horn and we were on our way again.
The bus was freezing but fortunately they had passed out blankets. After an uncomfortable night, I was relieved to see the sky begin to lighten. We were somewhere near Lake Titicaca. The area was kind of baren and I could see glimpses of the lake. Bright pink flamingoes were standing by the shore. We drove through Puno and then towards the border. At a fork in the road, a woman asked if the people going to Copacabana would please get off and take a combi. I thought she was just a passenger who wanted to go by combi instead of bus and was trying to get enough people together to fill a combi. We stayed where we were. After all, the bus was direct so why pay for a combi. It turned out she was actually a representative of the bus company. The bus did not go to Copacabana. "Direct" meant that when the road forked, all the passangers going to Copacabana got to get their bags and cram into a combi. There were about 12 passengers, all gringos and all a bit unclear about what was going on. The combi driver, of course, crammed a few more people in the van to make sure we felt like sardines and then drove us about 10 minutes to the border. We changed money, were able to use a toilet, then picked up our bags and walked through the border. The Bolivian border guard gave us 30 days. When I asked for 90 he said that since the new visa law was going into effect on Dec. 1, US citizens could only get 30 days, and would have to apply for a visa (and pay $135) for more.
After we got through the border, we boarded another minivan which took us to Copacabana.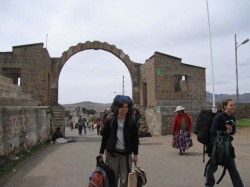 As we boarded the minivan, Rowshan pointed out a woman with a bandage over one of her eyes. He said he'd seen about 10 people with bandaged eyes and wondered if it had to do with the meteorite that hit a couple months ago. I said this couldn't be since the meteorite hit Peru and the problems associated with it were flu like symptoms. Later in town, after seeing another person with a bandaged eye, Rowshan asked someone who responded that there were Cuban doctors in town doing free cataract surgeries so lots of people were coming over from Peru for eye operations.
Copacabana is an extremely quiet and sleepy town.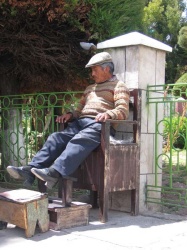 We checked into a hotel on one of the main squares because in spite of the combis and busses, it was surrealistically quiet. Ollantaytambo was smaller but had such a steady stream of tour busses and public transportation, as well as the rushing water, that there were always sounds.
There are a couple streets with restaurants and stores but mostly the streets seem empty of cars. There were usually just a few children playing in the street and a few dogs running around. We had a blah 9 boliviano set lunch (about $1.25), then walked down to the waterfront. The beach was covered with brightly painted swan boats (and one pelican boat and a couple duck boats).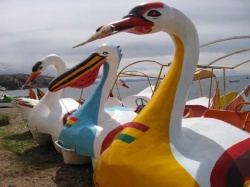 There weren't many people around. The sun was warm but there was a cool breeze. We walked up the beach and back. Even though it is getting to be summer, the beach felt like a holiday resort off season.
Copacabana has a lot of hotels, brightly painted and sometimes with colonial decor, frills or other ornate trim. Most of the people on the streets seem to be foreigners. We walked to the cathedral. It is an interesting building with colored tiles on the roof.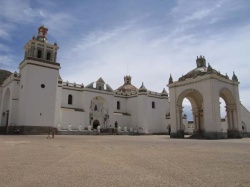 The architecture seems lighter than the heavy serious Spanish cathedrals we'd seen around Peru. The town afeels lighter, too with its brightly painted hotels.