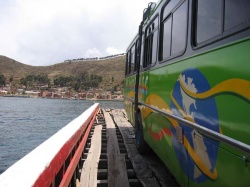 Today we boarded the bus to La Paz. It is a pretty trip starting out rising above Lake Titicaca and crossing hills and fields. Women in their tall felt bowler hats, full skirts, aprons and shawls would flag down the bus and board carrying large bundles in colorful woven cloths. There were some men who boarded, too. As the bus pulled into a town called Tiquina, almost everyone got off the bus. Then a conductor told us to get off. We'd reached some straights and I guess the passengers were supposed to take a different boat across, then meet the bus, which was carried across on a barge. One of the other Americans on board objected to being separated from his luggage. A few Bolivians also didn't seem to have any intention of leaving the bus. The conductor, I think, decided he didn't feel like arguing so he told us we could stay on the bus except we had to close the curtains. The bus drove onto a rickety wooden platform, making us wish we had taken a passenger boat instead. We peaked out from behind the curtains, so we could see the other busses floating across the straights.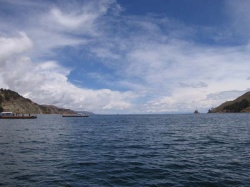 On the other side, everyone got back on and we continued on the road to La Paz. The bus driver played nice traditional Bolivian music featuring flutes and vocals--kind of what I'd expect to listen to while crossing the antiplano. It was a welcome change from the combination of 80s hits, Grupo5 songs about cerveza and the huayno music with its repetitive harp passages and vocal lines, popular in Peru.
The landscape was mostly fields. Sheep tied by the side of the road would startle whenevver the bus honked, pulling at their ropes. As we approached La Paz, the empty fields were quickly replaced with lots of buildings. Rowshan pointed out that the buildins seemed to be built better than those in Peru. More were built with bricks. However, many had a brick 2nd story built on an adobe first story which didn't seem very secure.
One area had an abundance of church spires poking above the multitude of buildings.
Then we turned a corner and found ourselves looking down on La Paz. It is in a valley surrounded on one side by mountains. the bus descended into the valley and we got off near the center and took a taxi to a hotel. We haven't been in a big city for about 1.5 months so it was a bit startling. There is lots of traffic and lots of exaust. La Paz is a couple hundred meters lower than Copacabana, but between the exaust, altitude, and the fact that the whole city seems to be uphill, I found myself very winded.
As we were looking for a place to eat dinner, and not being very successful, we wandered into the "tourist ghetto" and found ourselves on the street known as the Witches Market. There were lots of stands selling herbs, charms, and an unreasonable number of llama fetuses in different stages of development. This has made me wonder if there are people who work as llama abortionists to supply the witches markets. I asked one saleswoman what the llama fetuses were used for and she simply said, "Pachamama" (the Incan earth goddess). We wandered past souvenir shops and then decided to find a cafe. At this point we discovered that Bolivians smoke a lot more than Peruvians. Most of the cafes were terribly smoke filled. Eventually we found an arty cafe on a very cute cobblestone street filled with colonial buildings. The cafe had a nice courtyard with tables next to a rose garden. There were interesting pictures on the walls and they were playing traditional Bolivian music. Rowshan had coffee and I had some very tasty hot chocolate. Then we walked down the street noticing the Museum of Musical Instruments, the headquarters for the National Ballet Folklorico and the Municipal Theatre around the corner.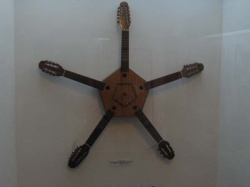 We had managed to stumble upon a little art district.