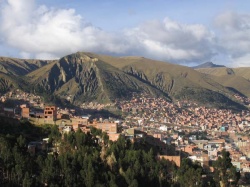 The first thing we did in the morning, before even eating breakfast, was to pop into Immigration to attempt to extend our visas. I thought it wouldn't happen (since they were a day away from instituting the new visas for US citizens policy), but within 5 minutes of asking (2 minutes of which was running across the street to get photocopies) and a whopping 15cents later (cost of photocopies), our 30 day visas had been extended to 90 days. Rowshan was so happy he considered running back and suggesting the Bolivian Government put out a tip jar.
We decided to have breakfast in the market. We headed to the busy main street and Rowshan was about to J-walk when he was sternly reprimanded by a zebra. A quick survey of the street revealed a lot of zebra-costume clad individuals. Some carrying signs, some holding barrier chains, all set on preventing J-walkers. And they were serious... physically barring the way of people attempting to race in front of the cars and then gleefully skipping across the street when the light changed.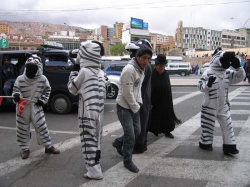 There was also a donkey who would occasionally run in front of cars to demonstrate what not to do.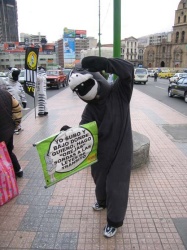 I spent the next 5 minutes scolding Rowshan for not paying attention to the crossing zebras.
We spent the day visiting a lot of museums. The first stop was the Ethnography and Folk Art museum. There were displays on weaving, ceramics, masks and feather arts. It was really beautifully set up with nice presentations, videos on flat screen TVs and a broad range of pieces. It was also free. The National Art Museum had lots of colonial paintins which I'm rather sick of. However, there was a really nice section on 20th century Bolivian art which gave me the suspicion that La Paz is hiding a rather sophisticated art scene somewhere.
Around mid-day we hit the San Francisco Monastary.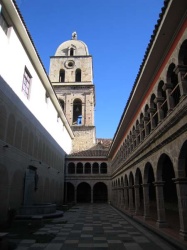 The ticket price included a guide who gave us a tour using a combination of Spanish and English. There were more colonial religious paintings. However, one interesting thing I did learn was the reason for all the triangular shaped Virgin Marys was that the symbol for Pachamama was a triangle so the indigenous people of the Andes related well to the image of a mother and child in a triangular shape.
We climbed up on the sloping roof where a 2nd belltower was supposed to be built but the plans were scrapped when the building sloped.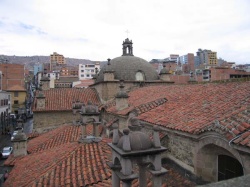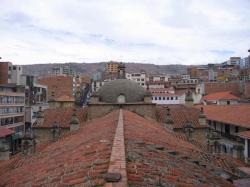 One belltower had been built and it contained the clarion bells. The roof had been covered in curved red tiles that had been made by wrapping the red clay around indigenous workers' legs.
Coming down from the roof, we looked at the inside of the cathedral and then went down into the crypt which housed several containers of ashes of heroes and other important people.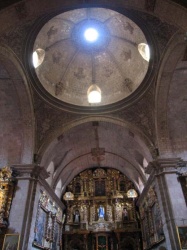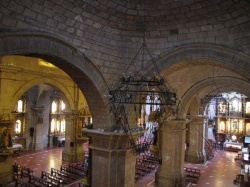 We had a huge lunch at a lunch restaurant, then went to the Museum of Bolivian Musical Instruments. We had fun looking at the various instruments including a case of small Bolivian harps, giant zamponas (I get dizzy trying to play a small one), drums, charangos of various designs and other interesting instruments. There were a few instruments available for trying out: a spam can monochord, marimbas, drums, the inside of a piano, chimes, and a set of wine bottles filled with different amounts of water. The last museum we went to was a small archaeological museum containing lots of pottery and stone.
A day of walking around the lower part of the city had given me a feeling of asphyxiation. So in the afternoon we climbed up steep streets and stairs to escape the crowded lower streets and exaust.