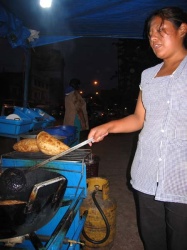 We seem to be having difficulties getting a grip on the Bolivian eating schedule. It seems we get cravings for certain foods at the wrong times. The
salteñas
(meat, vegi, potato and egg stuffed baked bread things, always a little burnt on the top ridge) seem like a great evening snack to me but they are actually day food. We want dinner/lunch around 3 or 4 but dinner time is later and lunch is earlier. Between 2 and 6, just the fried chicken places seem to be serving.
I guess we are not alone in this problem because the tourist info office, as part of a very nice map of Cochabamba, included a schedule of food. From 6-8 AM, one should eat food like
api
and
pastels
(more about that later) or
buñelos
(fried dough). From 10-11:30 AM
salteñas, locotos rellenos
(stuffed peppers) and
papas rellenos
(stuffed potatoes) are recommended (too bad I don't feel like lunch at 10 AM). From 12:30-2 PM it is lunch time. We are always really thrilled to be looking for lunch at this time because the super cheap set menus are available. Dishes like
picantes, sopa de mani, chicharron
and
conejo lambreado
are recommended by the office of tourism. From 2-4 you are just not supposed to eat, I guess, since no dishes were listed between these hours. From 4-5 PM
humintas
(tamales), sandwiches,
empanadas,
ice cream and
planchitas
(grilled meat) are suggested. From 7-9 PM
silpancho
(a flattened piece of meat served on rice and potatoes with 2 fried eggs on top and salsa) and some other dishes were recommended and finally from 11 PM to Midnight it was time for
anticuchos
(kebabs). Eating here is an acquired skill.
On our 2nd day in Cochabamba, we ended up talking to a Bolivian cafe owner who grew up in Virginia. He said, "Don't visit the sights or museums. You'll be disappointed. What you should do in Cochabamba is eat. The food is so good here, I eat things I would have never eaten in the states... like tongue." We explained our food finding difficulties and he pulled out a brochure which contained photos of various dishes and the names of restaurants that had won a city wide competition in their preparation. My first thought was someone needed a food stylist and a better food photographer since all the dishes looked really unappetizing.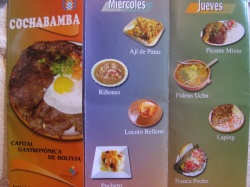 Also, the brochure neglected to mention the addresses. Fortunately we found another brochure at the tourist info office. This one was printed on a gradient of orange mixing with green mixing with purple creating a rainbow of unappetizing colors. Printed on this were daily recommendations for food, each complete with a photo of something that looked like it might have been previously digested. At least this brochure had addresses which, with a bit of searching on the keyless map, we were able to find a few of.
Our first local dish was
picante.
It was pretty good: meat of your choice and potatoes in a spicy pepper sauce served with rice and a pile of reconstituted freeze dried potatoes, called
chuño,
in case the other potatoes weren't enough.
Chuño,
when I've seen them in the market, look like the potato equivalent of brie, because somewhere in the drying process, they end up turning a moldy white color. Cooked, however,they looked coated with black mold. Strangely enough, they just tasted like potatoes.
The food we really got hooked on were pastels. Although, scheduled for the early morning hours, we found them in the early evening on the street corner near our hotel. A series of blue tarps were strung over about half a block. Underneath were tables, benches and a couple gas stoves. "Oh look at those!" I excitedly gestured at some big puffy fried dough things. Rowshan, who had been unable to find dinner, decided whatever they were, they would do (I'd been sick so didn't have much of an appetite). The huge pockets were mostly air with a little cheese melted inside. However, when they were fresh, hot and sprinkled with powdered sugar, they were delicious. Traditionally they are eaten for breakfast with
api,
a drink resembling cream of wheat mixed with
chicha morada
(a fruity tasting drink made from purple maize). This became our breakfast of choice.
The dish I really wanted to try was
sopa de mani
(peanut soup). Seeing one of the restaurants on our list featured this as part of their set lunch, I tried it. It didn't taste like peanuts at all and the rest of the food in the set lunch wasn't much better (to the restaurants credit, it had one the silpancha contest not the peanut soup contest. Due to faulty meal planning, our last 2 dinners were sandwiches bought from street sandwich grills,a few cheese
empanadas
and ice cream.
Though there were lots of cafes in Cochabamba, the coffee, according to Rowshan, left a lot to be desired. So did the hot chocolate. Finally I got a good
submarino
(chocolate bar melted in steamed milk) from a cafe called Casablanca which also served great ice cream with chocolate sauce (pure melted chocolate) or fresh strawberries. They also played cool music.
We didn't succeed in finding a fresh
salteña
to eat (when we wanted it) until the morning after an all night bus ride to Santa Cruz. They were hot and juicy with a crunchy bread crust that managed to hold everything without getting soggy.