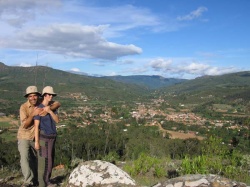 Samaipata is paradise. It is a small village surrounded by heavenly green mountains. Beautiful views abound.
It has a shade filled square with trees and odd animals constructed from scrap metal, Inca ruins a few km away, and waterfalls a little farther.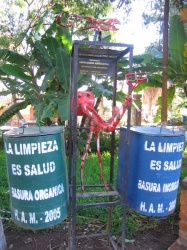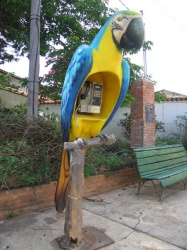 I put Samaipata on our list of places to visit because it has the part of the Amboro National Park which contains cloud forests. As I've mentioned before, I LOVE CLOUD FORESTS.
We took an overnight bus from Cochabamba to Santa Cruz. Late into the night, the bus became sweltering and we began to drip with sweat. We'd descended into the tropical jungle area from the land of eternal summer.
Originally we were going to stay in Santa Cruz but after being a bit disgusted by prices (and not being very impressed with what we saw of the town) we decided to continue on to Samaipata. The road was beautiful. We left the heat and humidity and climbed just enough into the mountains to find ourselves surrounded by green trees, rushing rivers and an occasional cascade.
We reached the village past lunchtime but managed to find a bite to eat (though not a very good one). One thing that I immediately noticed was that lots of other people have decided that Samaipata is paradise. There are lots of foreigner run businesses, restaurants, hostels, and even a German bakery.
Having a bit of time, we took a short steep hike up a hill (past, as the info guide at the hotel we were staying at put it, "The rich peoples' houses" to a mirador above town. We could see lots of birds as well as the cloud draped mountains of Amboro in the distance.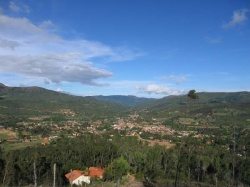 We scheduled a tour to Amboro for the next day (you can only go with a guide and going with a tour is cheaper than hiring a taxi and independent guide). Early in the morning, we were awakened by a crack of thunder and a downpour. We hoped it would finish early enough that we'd be able to go on our hike, but by 9AM, it was still raining. The tour was rescheduled for the next morning.
By 11 AM it had stopped raining so we decided to walk to the ruins (El Fuerte), an 8.7 km hike, most of which followed a dirt road up the mountains, which was beautiful.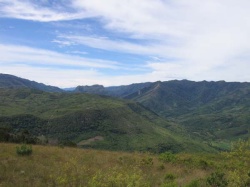 The sun came out and the road quickly dried. At one point we had to jump over a stream. As we got close to the ruins we saw a gate closing off the road. We walked around it, thinking the ruins might not be open when we got there (even though the sign said they were open every day 9-5). Then a motorcycle went by followed by a few cars. We reached the ruins a few minutes before they opened--giving us a few minutes to rest before hiking up a path to the top of the hill. The ruins have been combined with an eco-path providing views of the surroundings and a sampling of the different environmental features of the area. The ruins had several different sections. It had also been used by several different groups of people: the Mojocoyas and Chane, Guarani, Incas and finally, the Spanish. The first section was based around a huge rock outcropping. There were shapes, patterns, drainage canals and niches carved into it. This was viewable from wooden viewing platforms and walkways.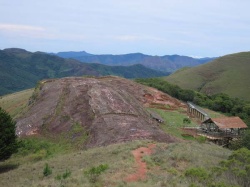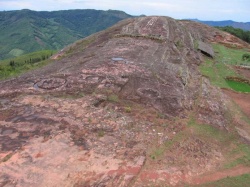 Other parts were made up of stone walls.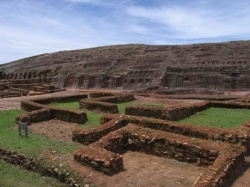 There were also a few terraced gardens. One path led down the hill a bit and terminated at a deep stone-lined hole. No one knows what this was used for but it is speculated that it could have been for punishment or hiding treasure.
After meandering around the ruins, admiring the flowers and nature as well as the stone structures, we headed back down the hill.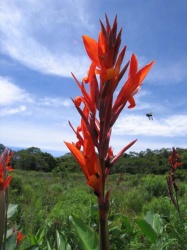 This time we found a shortcut (which was confirmed by a local woman). This fortunately, took us off the now sunny and shadeless road into a damp green forested area. The path ran along a river and spit us out on the highway next to a cascade, cutting a few km off our hike.
Today, fortune smiled on us and the day was beautiful. Our tour agency picked us up at 9 and we headed into the mountains, through a rural area, having to avoid an occasional cow. The driver stopped the car at a gate and we hiked in from there. This part of the trail, although it yielded some beautiful views, was fairly dry and pastoral. But, scaling another fence brought us into the forest. The ground was damp and soft. Moss grew on the trees and mushrooms and fungus grew out of sot rotting tree trunks.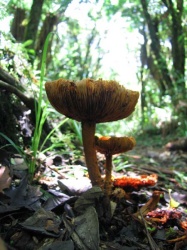 Everything seemed soft and squishy: the moss on the trees, the rotting tree trunks, the ground made of decomposing plant matter, and the numerous patches of mud.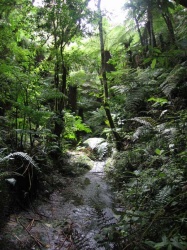 We climbed until we reached the top of a hill and were able to see the mountains to the north, green with some red cliff faces visible.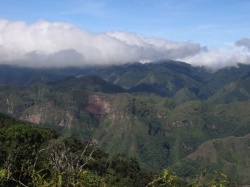 As we climbed out of the forest it felt like we'd climbed a tall tree and were able to see the soft cushion of forest tree tops below us.
Our guide led us back into the forest and the welcoming shade. We descended and reached the giant fern forests. Huge ferns, some 15 feet or taller, grew there, their leaves making huge light speckled umbrellas above us.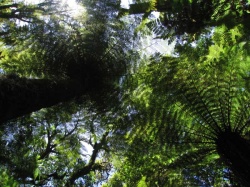 They were from a prehistoric time. Their trunks and roots were above ground... also soft and squishy. Their huge fans of leaves made them seem incredibly top heavy. They filtered the light into tranquil shadows beneath.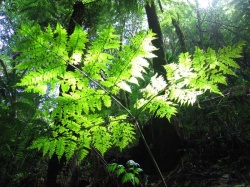 The forest was full of them. There were also climbing vines, a huge tree related to the tiny mint plant, butterflies and birds. We even saw a baby snake.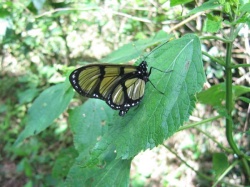 For some of the hike we followed a cascade. Other parts we found ourselves above the trees. The woods had that beautiful damp green smell that makes me think of the Pacific Northwest. I seriously considered joining the hoards of foreigners who stayed in Samaipata.
We had lunch in a clearing beneath a few giant ferns and then continued our hike. We saw some animal tracks and I managed to slip down a muddy slope even after the guide had spent a minute digging a foothold for us.
Back in town (which we reached in the in between meal time of 4:30) we had some ice cream to hold us until the restaurants opened at 6:30. We went to a local restaurant with no name by the side of the highway. It was surprisingly good: hot flavorful soup, rice, salad and barbecued chicken.
The hostel we are staying at is Andorina, owned by a Dutch-Bolivian couple Andres and Dorina. It has nice aesthetically pleasing rooms with earthy tiled floors and Andres' photos of people and places he's visited while traveling. Our room has a little balcony. It is a comfortable, clean and friendly place.
It is hard to leave this town. Of all the places we've visited so far, it attracts me the most (as a place to live).