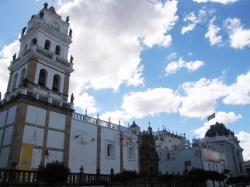 When we told a guy at the Andoriņa Hostel we were going to Sucre, he asked, "Is it safe there now?" When we gave him strange blank looks, he asked, "You do know what's been going on in Sucre, right?" We had to admit we really didn't. "Well... someone should probably tell you." He launched into a very long explanation, "A couple weeks ago, Sucre was in a state of anarchy and the police fled."
"Oh!" I exclaimed, "That must have been the town we saw on the news where people were burning stuff and rioting!"
We couldn't remember how long ago it was or where we'd been when we'd seen it. One thing we did know was when we saw it, we weren't familiar with the name Sucre.
Our friend continued, "A couple weeks ago parliament met in Sucre to create a new constitution. Someone proposed that the capital should be returned to Sucre and the idea took off. Huge numbers of people descended on Sucre trying to have this proposal enacted as part of the constitution. The other hot issue was autonomy. The lowland cities like Santa Cruz, are wealthier so have been outraged by the socialist proposals of Evo Morales, the new president, which would require them to share the wealth with the poorer highland areas. Many of these wealthier regions are calling for autonomy. Sucre wants autonomy too. With all the protests, the constitutional assembly was moved to a military location. Many representatives from different parties boycotted it since there had been so much public outrage. Morales' party met anyway and voted on and rectified the constitution without the other reps. This made everyone furious and that is when the violence on the streets broke out. The police fled and the city was left in a state of anarchy. The police then returned and probably everything is OK now."
When we got to Sucre, everything seemed laid back. There was a lot of graffiti but large amounts had been covered with fresh paint. People went about their daily business. The sun was shining and the white washed buildings also shone against the blue sky. It didn't look very scary at all. There were political messages hanging from buildings and in the center political music was blasting in the main square.
We decided to visit the
ASUR Museum of Indigenous Art.
This was a fascinating museum of local weaving traditions including pieces that were representative of a revival of the weaving art, supported by ASUR. It also had sections on traditions, dance constumes and music.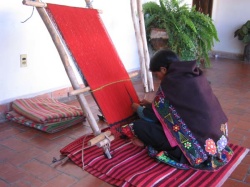 The next day we went to the main square at 9:30 to wait for the Dino Truck. It was an hour or 2 late. Probably the most famous site in Sucre is found next to a cement quarry. A huge wall, or rather a cliff face juts slanted into the sky. It is covered with dinosaur tracks. According to a tourist info map, it is the largest paleontological site in the world with over 5000 dinosaur tracks from 332 types of dinosaurs. To get there you board a truck with dinosaurs painted on the side and dino claws on the carriage roof.
The site itself can be seen from the road, but for a slightly better view and an opportunity to see a small museum and numerous dinosaur sculptures, you can pay around $4.00. Unfortunately you can't walk next to the wall, only view it from a viewing area at a bit of a distance.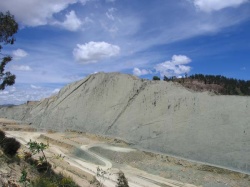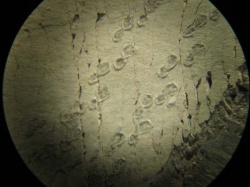 It looks like they may still be excavating the area, clearing the lower part of the rock face to reveal more footprints.
It was interesting because there were so many footprints and the wall was practically vertical. A mural on the wall of the viewing area gave a whimsical interpretation of footprints being made by gravity defying dinosaurs with gecko feet abilities.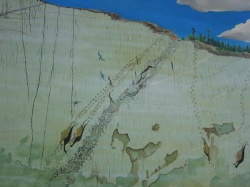 In reality the rock face had been part of a lake bottom. I couldn't quite figure out from the museum how it went from lake bottom to wall. I guess it must have been due to seismic activity forcing it up into the sharp angle.
We decided to leave Friday morning for Potosi. We'd found out that there was a huge protest scheduled for Friday afternoon. Although the protest might have been interesting, we didn't feel like getting caught in the middle if violence broke out. Back at the hotel, there was a news report that people had set a state worker's vehicle on fire in front of the theatre.
Friday morning was still relatively calm. People were lined up outside a building with white shirts. The office was giving free silkscreen prints calling for Sucre to be the capital.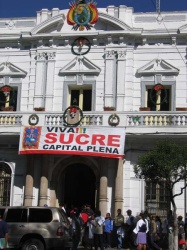 I guess the march went fairly peacefully since the news just showed groups of people protesting. It seemed like more conflicts happened in La Paz instead.