Oh Give Me A Home Where the Vicuņa Roam.... Tupiza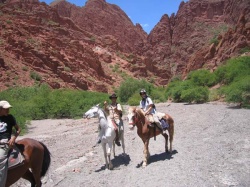 Tupiza just might be the closest you can get to being in the Wild West without going to the Northern Hemisphere. As you cross deserts with tall cacti and red rocks and mountains, it's easy to imagine herds of cows and cowboys galloping across the range. Instead, one is more likely to see herds of llamas. Tupiza is even a frontier town with buses going to the Argentinian border. Interestingly enough, the town has adopted some of the "Old West" aesthetic with signs of shops painted in Western lettering and logos containing cowboys. The hostel we stayed at had furniture made entirely from cactus wood. The cafe is decorated with guns and spurs.
To get out to the canyons and red rock towers, you can hike, bike, take a jeep tour, or go on horseback. We chose a 3 hour horseback tour. There was a group of 7 of us along with our 2 guides who were kids (or I'm getting old so they just seemed like kids).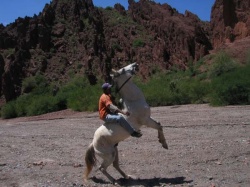 At the stable they brought out some skinny unenthusiastic horses (what did I expect for $3 an hour?) I chose one that looked strong and sturdy named Diego (scornfully declining the first "nice and tranquil" one they offered to me) and Rowshan got a white horse named Barbara.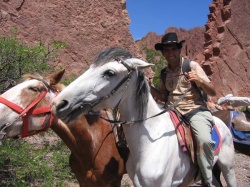 We started off on a path. For the most part we probably could have gotten away with not holding the reins since the horses knew the trail. However, Diego seemed to enjoy ramming into other horses sideways so I had to enforce some degree of authority. We also had to pull them away from grass and bushes.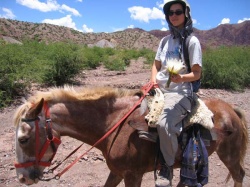 We walked by the tall reddish mountains past cacti with white flowers and bushes with long spikes (another place the horses liked to drift into). We stopped at a place called the Puerta de Diablo, a large wall of red rock broken down the middle.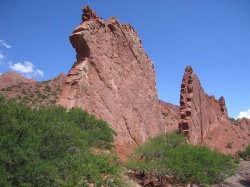 We also passed the Valle de los Machos with lots of vertical pointed rock formations (though not nearly as "macho" looking as Cappadocia).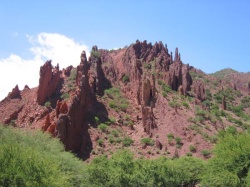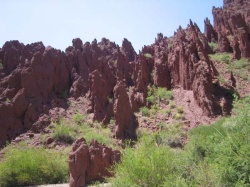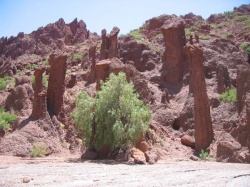 The path ended at the Canyon de los Incas, where small waterfalls created a drinking fountain for the horses.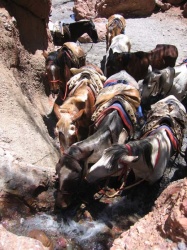 As the horses had their break, we climbed a bit farther back into the canyon to see another water fall. Then we returned the same way we came.
The horses stopped to drink again from a tadpole filled pool. Diego wanted to go wading but I pulled him back out and we continued on our way. Soon we were back near our hostel.
I'm happy to report that the main mercado in Tupiza has pastels and api in the morning and early evening. The pastes are freshly made, hot and yummy so we have been able to get a nice pastel fix before heading to pastel-less Argentina.