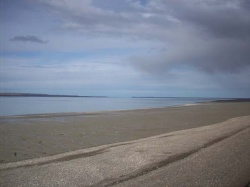 Yesterday we arrived in Rio Gallegos. We had reserved a hotel room even though the town is "Not the world cup of tourist destinations" according to Lonely Planet. I needed some recup time and we both needed to sleep after 2 nights in a noisy campground. After a brief walk around town we decided to stay for 2 nights precisely for the fact it was not a tourist destination. It's a laid-back town with nothing much to do. There is a long non-developed river front with an empty river bank (possibly because of sewage being dumped into it). The weather was cloudy and raining but the quality of light from the shifting rain clouds and the slow setting sun was beautiful. The town has a main street with restaurants and stores. It made me think of parts of Alaska.
Today we went to an interesting museum which had displays on fossils, archeology, an exhibit of political cartoons by Abraham R. Vigo,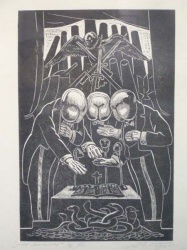 and a twisted but extremely original exhibit of contemporary penguin related pieces by artist Carlos D'Amico.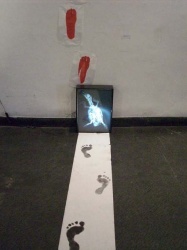 To my delight we also managed to find a vegetarian take-out place and a good bakery.