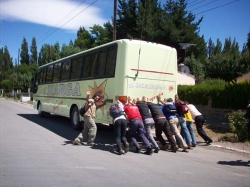 For some reason the buses used for the 28+ hour bus trip from El Chalten to Bariloche are pretty low on the Argentinian bus quality scale. This is surprising since they exist for tourists. The seats aren't even semi-cama (something like a slightly cushy airline seat) and the bus serves no meals and shows no movies. Instead the bus made a couple meal stops in odd backwater places with minimum food options and no bus terminals. The bus was warm at night but sizzling during the day--I guess the air conditioning didn't work. However, unlike a bus built without air conditioning, the windows didn't open. For the privilege of riding up famous route 40, a gravel road with some nice views of mountains but mostly seemingly endless views of flat brushy steppes occupied by some cows and sheep, one must shell out $90.
As an added bonus, our bus broke down during the lunch stop in Los Antiguos. The drivers attempted to get it running by prodding something in the engine with a broomstick. This didn't work so the passengers attempted to push start it. This didn't work either... but at least it looked humorous.
Finally some mechanics arrived and commenced to work in a manner where one guy worked and the other guys all watched...perhaps giving advice. More likely there just wasn't anything else to do.
Eventually something was fixed and the bus started when a group of passengers pushed it backwards.

Sometime in the night there was another breakdown scare when the bus driver couldn't start the engine while at the gas station. After a few tries though, it started up.

We arrived in Bariloche early in the morning. Rowshan and I decided that though the location was beautiful--mountains surrounding a huge lake, lots of green trees-- we had tasted perfection in El Chalten and Bariloche is just too popular. We were sick of being around vacationers and tourists, so we opted for another 5 hours on a bus to get to Chile instead. The drive was beautiful --past mountain rivers, lakes and forests.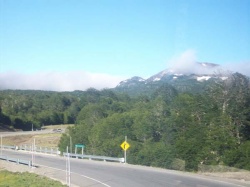 The border seems to be located on the top of the mountains. We were lucky to be the first bus through the border as it opened in the morning.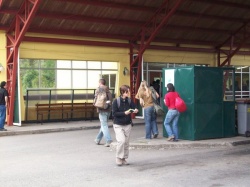 The Chilean side was greener and damper.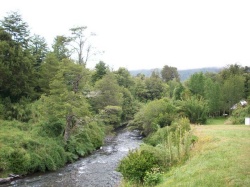 We arrived in Osorno around mid-day, checked into a grungy hospedaje and had a look around our first Chilean town. The buildings were definitely more shabby--lots of wood with peeling paint or corrugated metal siding and roofs. There were lots of supermarkets but also lots of street sellers. People in the town seemed a bit more laid back than in Argentina. We were also pleased to discover we were back in the land of cheap set lunches. There were also quite a few street performers: a guitarist, accordion-guitar duo, clowns, a theatre comedy duo. However, we didn't spend too much time exploring, opting instead for going to sleep early.