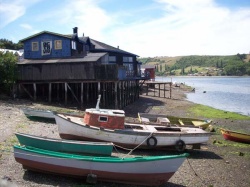 After a breakfast of sopapillas (deep fried bread) which had been temptingly fried by the door of the bus station, we took a bus ride through lots of green pastureland to Castro.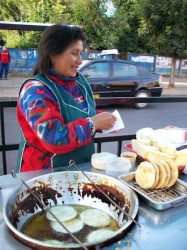 Castro is on the island of Chiloe and the only way to get there is by boat. As we made the crossing on a barge, I thought how just crossing water to get somewhere else creates this anticipation of approaching someplace very different from where you are coming from. I could see rolling green hills with trees and rocky beaches. The air from the water was cool and refreshing mixed with the warmth of the sun.
Castro is a laid back place. The first thing we saw as the bus rolled into town were rows of colorful houses on stilts by the waterfront called palafitos.
The town itself is a series of a few main streets with businesses, a main square, the waterfront and more of the palafito houses. The main site in town is the San Francisco Cathedral.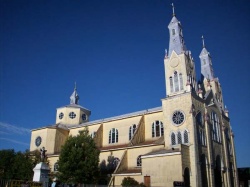 From the exterior it is a rather uninteresting building covered with corrugated metal sheets which seem to collect the dirt in the air. However, the inside is amazing.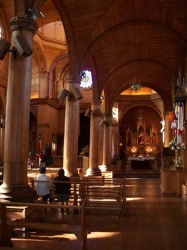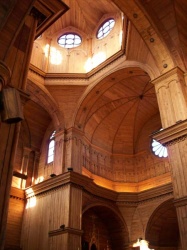 The entire inside: domes, arches, vaults, columns, decorations (stations of the cross, saints and their niches), and towers are all made from beautiful golden wood. There are sections that are carved but a lot of the beauty is found just in the arrangements of the panels of wood and the warmth they give the light shining through the stain glass windows.
We found a residencia (home hotel) run by a very kind couple. The rate included breakfast which featured home-made jam from local fruit. I noticed some musical instruments around and asked if someone in the house played. Our hostess replied both her son and daughter were musicians. Her daughter, a music professor, had a band that happened to play the traditional music of Chiloe. Unfortunately she was on vacation so we weren't able to meet but we did buy her CD.
Another thing I realized today was how important having a good (cheap) meal can be. We were rather disappointed with food in Argentina (except for a couple really nice vegetarian places we found). Big hunks of meat are the specialty there. We prefer lighter food but it seemed when people weren't eating big hunks of meat, they go for fast food: hamburgers, pizza (with more greasy cheese and not enough sauce) and sandwiches made from tragic "Wonder" type white bread and a slice of processed ham and cheese.
Today we had a meal consisting of noodle soup, salmon in a vegetable sauce, potatoes (or rice), a little bit of salad, drink and dessert for less than $5. This made us both very happy and we decided we like Chile a lot.
Even though some of the houses and buildings are run down, for the most part the town is a quaint, friendly fishing town, where you can walk along the beach admiring other islands and peninsulas in the distance. It reminded me of small fishing towns in the Pacific North West and Alaska: a bit weathered but warm.