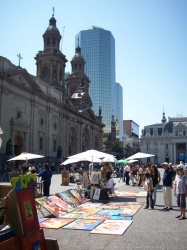 Santiago: the word has an elegance to it: a smooth drawl, classier than the curt sounding San Diego. The name seemed to promise something unmentioned by the guide book.
Santiago is an unsung cultural capitol. Why hadn't I heard anything? With at least 4 art museums (1 brand new), numerous cultural spaces and galleries, why hasn't the art world been singing its praises? It isn't just the city's dedication to the arts as expressed by the new spaces, art seems to have permeated the city and oozes from it. A walk down an unfamiliar street reveals some new artistic surprise: a wall of a building painted with a mural, hip stencil graffiti, the tragic beauty of a cathedral ruined by the 1985 earthquake with statues and decorations broken and threatening to crash to the ground with the slightest tremor.
We like Santiago! After a restful 14.5 hour bus ride, highlight being a beautiful view of the moon rising over a snow capped volcano, we arrived in Santiago, checked into a hostel and began wandering.
We were met by green parks and plazas, pretty historic buildings, lots of cobblestone pedestrian only streets, and lots of cafes.
The Plaza de Armas was full of painters and there was a covered area full of chess players.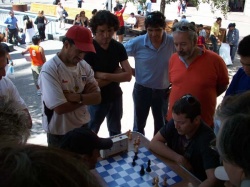 We passed restaurants, including lots of sushi places, a few middle eastern places, as well as enough cheap lunch set menu places to keep us happy.
The hostel was down the street from a beautiful cathedral in a rather disastrous state due to an earthquake in 1985.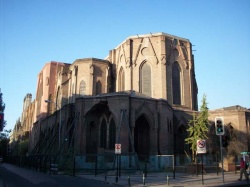 We walked around then took the metro to the Bellas Artes neighborhood. This area was full of boutiques, trendy restaurants and bars, as well as "Artesania" shops (mass produced "art" for tourists). However the buildings were charming and some had been nicely restored and painted with bright colors. One building was particularly interesting looking though a bit out of place with the rest of the architecture in the area.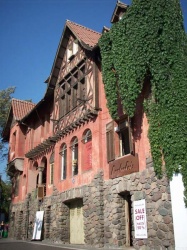 As we were wandering aimlessly, we noticed a building with a sign advertising art workshops and a gallery.
Taller Tierra Luz
We walked in and found ourselves in a room with earth colored sculptures of figures along with ceramic relief pieces and abstract paintings. A young woman, Maria, wearing a work apron turned on the lights in the gallery for us then went back to the room behind the gallery where she and another woman were working at a table with clay mixed with a gritty substance.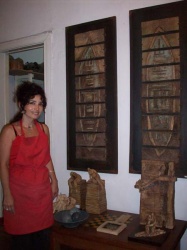 It turned out most of the pieces in the gallery had been created by Maria. She showed us her work and around the workshop. Rowshan discussed ceramics with her. She has a really interesting sculpture series of vertical shapes with stairs and figures on them.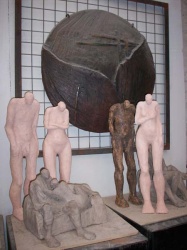 Eunice, the other woman who was working, had some pieces on display which used figures taken from petroglyphs which was more in line with what Rowshan does.
The women seemed glad to take a break from their work to discuss clay components and firing temperatures with Rowshan while I wandered around the gallery admiring the pieces.
Walking back to the hostel we succumbed to the temptation of a cardboard cutout of a smiling Japanese sushi chef holding a plate of sushi... as well as a "50% off dinner promotion" sign. The restaurant was a sparse, light space with light wood tables: essentially it looked like a nice sushi restaurant. It smelled good too and, judging from the availability of fresh salmon, it was a good choice. Soon we were scarfing down rolls, praising the many qualities of Santiago.
After a sleepless night at La Casa Roja due to a couple loudmouth drunks who ignored numerous requests to shut up and kept everyone awake from 4AM to 7AM when they were replaced by a group returning from bars from 7AM-8AM, we had to admit that maybe we are grown-ups now and have to stay at grown-up hotels where you can sleep as opposed to backpacker hostels with all night bars inside.
Since we couldn't sleep we got an early start, found a cafe and I succumbed to the tempting Chilean concept that cake and coffee is a legitimate breakfast, and chose a slice of chocolate caramel cake. Then we headed to the Pre-Colombian museum which contains a huge collection of ceramics from Pre-Colombian cultures stretching from the Southwest US through Central America and down to South America. It provided a great overview of South American ceramics and served as a bit of a refresher course, tying together all the different art styles we've seen at various sights and places we've visited.
After moving into a grown-up hotel, we went to one of the two museums at the Palace of Bellas Artes. It had exhibits on architecture as well as a lot of installation pieces. Then we found ourselves in a room of Colonial religious pictures. I glanced quickly at them since I've seen way too many and am a bit sick of them... Then I realized that one, which had a typical praying figure also had a guy with a microphone and a sheep sticking out its tongue. Indeed, it was the only contemporary piece camouflaged in a room of Colonial religious art.
The Museum of Contemporary Art is a white spacious space. The downstairs featured large video installations. The middle was the chaotic site of a children's' art workshop as well as a gallery of wall art pieces including digital art and a brilliant picture of a tree made entirely from burnt toast! The upstairs had sculptures and an unexpected shift from modern to ancient as we walked into the attached Archeology Museum. The Archeology Museum at first appeared to be another installation--a dark room with a video screen at the back and cases whose contents weren't visible from outside the room. Once inside, they revealed ceramics from various cultures (Diaguita, San Pedro Negro Pulido, San Miguel/Pocoma-Gentilar, Molle, Acongagua) and other artifacts.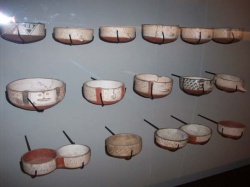 After our morning art fix, we had falafal sandwiches with fresh peach juice before walking up Cerro Santa Lucia. There are a few large hills in Santiago which rise from an otherwise flat city. Santa Lucia is a tree, garden, and tower covered hill in the center of town.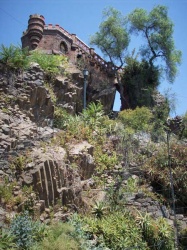 Stairways lead around fountains and by towers, galleries, and a chapel.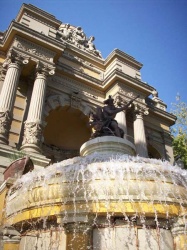 At the top is a tower that looks down over the city. All around the city we could see the hazy shadows of mountains. Rowshan pointed out that they resembled the Alborz mountains north of Tehran.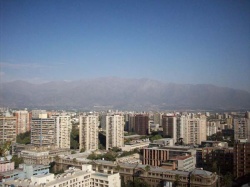 Later as we passed through the Plaza de Armas, we managed to catch the last couple dances of a folkloric troupe performing traditional Chilean dances. For one, the mean, wearing paniola outfits and cowboy boots with big silver spurs, did a dance using the rhythm of their boots on the pavement and the jingling of their spurs.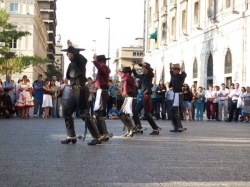 Our last day in Santiago brought more pleasant surprises. As we were walking toward the new La Moneda Cultural Center, we passed a building covered with interesting paintings. A few blocks down, Rowshan heard music. We walked up the block and saw a group of 50 musicians playing lots of guitars as well as other instruments: pan pipes, flute, cajon, saxophone, and singing. One held a human sized puppet. In front they held a brightly colored banner with a cheerful design of a guitar player singing.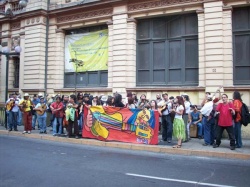 I watched, enjoying the music and wondering what it was about. The sight was almost surreal: a group of musicians singing and playing holding a banner of a musician singing and playing. It looked like a protest but what was their message? Take a break from your daily rush and listen to the music? We asked some of the musicians what was going on and it turned out to be a protest against the Department of Transportation which was either not allowing the musicians to play in the street or requiring them to pay for licenses. It looked like many of the performers already had licenses so perhaps they had paid and weren't being allowed to play. It was a bit difficult to understand the man's Spanish with all the street noise as well as the music of 50 musicians. There also seemed to be the desire to show the Dept. that they weren't blocking pedestrians. The musicians kept a path open on the sidewalk for pedestrians to pass through. I walked through twice because it was fun to walk through a tunnel of smiling, friendly musicians, serenading you as you go by. People looked perplexed but many stopped and listened a bit, smiling. Viva La Musica!
Santiago Street Musicians
We reached the museum and found another protest. It was Friday. Rowshan has this theory that people in South America protest a lot on Fridays because they want a long weekend. This protest involved a lot of people standing in the pools in front of the presidential palace. One woman was holding a banner that she would occasionally flash open then crumple again so it was unreadable. I didn't succeed in reading it in the 2 second intervals that she had it open.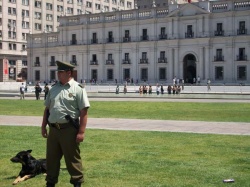 The museum was an elegant underground space with 2 exhibits: one on Chilean artist/musician Violeta Parra, the other on Spain. I was impressed with the exhibit design: introductory walls had tiny video monitors embedded as well as explanations, quotes and photographs. The Spain exhibit was in an elegantly dark room with maroon pedestals surrounded in glass for the pieces which were beautifully lit. There was also a folk art shop/exhibit area with an exhibit on ceramic sculptures of Chilean life from the village of Talagate.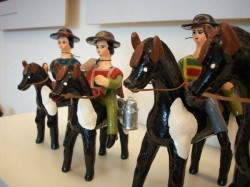 Later we decided to take a walk North of the center. Here we stumbled upon an old train station that had been transformed into another cultural center. In the glass walled area where the trains used to arrive, people were setting up for an opera in the evening, putting final touches on scenery and setting up chairs. Upstairs was a photography exhibit of images of women from Guatemala.
We continued across the river where we admired a little cathedral.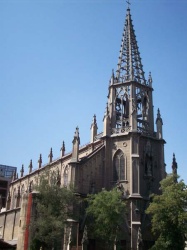 This are had lots of fabric and clothing stores. The area felt very lived in but it still had pretty buildings, contributing to our theory that everywhere you look in Santiago, you can find something interesting.