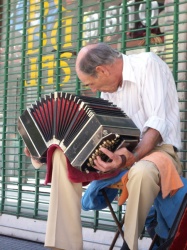 We gave ourselves several days in Buenos Aires to finish up things before flying to Europe. This consisted of visiting a few museums, doing research (about our next destinations) and taking a trip to Tigre on the river delta.
We visited the Bellas Artes museum in Recoleta, which contains a number of paintings by famous painters including Goya, Picasso, Gaugin, and Degas, as well as some interesting collections of Argentinian and South American artists. There were also a couple exhibits on design and some sculptures.
After that we wandered through the handcrafts market and the Buenos Aires Design Center which had cool but expensive art and functional items including a fabric chicken in a take-out box plastic bag holder. We stopped by the Ice Palace Gallery then walked past the Rose Sculpture, a giant metal petaled sculpture of a rose in a pool of water (looked more like a water lily to me). The petals open at sunset and close at sunset.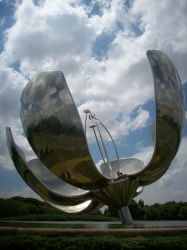 Next we visited the Condor Wasi museum, a ceramics museum that is only open for a few hours on Saturday and was closed for vacation when we tried to visit it before. Here we finally saw Argentinian ceramics with the bird designs we'd seen on various contemporary souvenir items.
One morning we visited the Botanical garden, a shady park filled with various trees and an uncanny number of cats.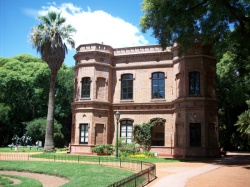 There were several greenhouses with more plants but I think you can only visit them with a tour since they were closed. The garden had copies of various famous statues as well as plenty of benches.
As we left I noticed a sign asking people not to abandon pets in the garden, which explained the cat colony living there.
Later we took a walk to the ecological reserve that runs along side Buenos Aires next to the river. The sun was blisteringly hot, but fortunately there were benches shaded by trees.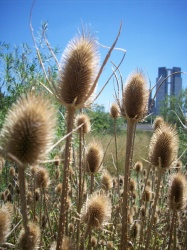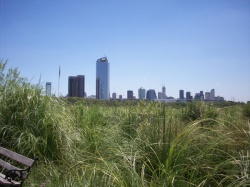 The paths circled a marsh which was filled with birds. The paths led us to the banks of the river which we had once unsuccessfully tried to find from the city center but got stuck behind the working harbor. The river was smelly and brown with a beach covered with trash. We quickly returned to the path and headed back to town.