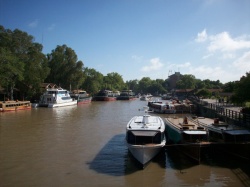 For our last day in Buenos Aires, we took a train to Tigre in the river delta area. For me, the words "River Delta" conjure images of the deep South, New Orleans, and the swamps with Spanish moss dripping off the branches.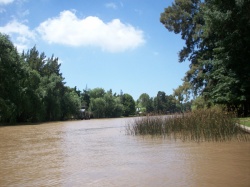 Here the river delta is full of vacation homes and complexes. The river terminal area has cafes and some nice areas for walking. We signed up for a boat tour. The ticket seller gave us 2 choices. One was leaving immediately but she said it was like a bus, making numerous stops. The other, leaving in an hour, was a tour so it didn't make stops but included a guide. Since both were the same price we opted for the guided tour.
We came back in an hour and boarded the boat. As it slowly pulled away from the dock, we realized most of the time we wouldn't hear the guide over the sound of the engine. I did catch her saying something about boats being the main form of transportation, like buses, for years and years and therefor, to demonstrate this, we would be making a few stops.
About 200 feet away from the dock we made our first stop. Many more followed. As we were leaving Tigre, we moved past an elegant museum and a shoreline full of restaurants.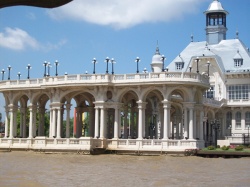 The river we followed was very civilized. Houses had been built on the banks with docks. Lawns had been cleared from the forest and inhabitants lounged in bathing suits. Occasionally we would see a water bird or a patch of uncleared forest. The area had definitely been a place where wealthy people from Buenos Aires had escaped and set up vacation homes for quite a while. One old house, a museum, had been completely enclosed in glass.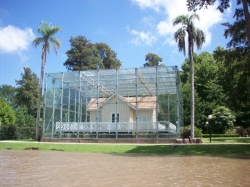 The boat trip was relaxing with the water cooling the heat of the sun.
As we returned to our hotel, we encountered a street full of dancing costumed people. "Is it carnaval today?" I asked Rowshan. It was Tuesday which is the wrong day for a protest according to the Rowshan theory of South American Protesting. It turned out to be a protest to restore Carnaval as a national holiday.