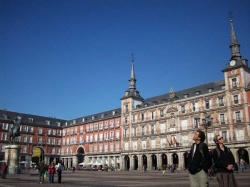 As we checked in at the airport, the ticket person casually mentioned we'd be stopping in Brazil for an hour. We wouldn't be getting off the plane(we need a visa for Brazil anyway). It was kind of an odd thing to hear at the last minute but I'd read Air Comet was known for delays and we were actually relieved since this would bean we'd arrive in Madrid at 7-7:30 AM instead of 5. We hoped we'd stop in Rio so we could at least see the huge Jesus statue from the plane. As it was, we stopped in a city I'd never heard of and it was dark so we couldn't see anything anyway. We both managed to sleep a little on the plane. Once in Madrid, we went directly underground from the airport to the Metro station to the bus station. By the time we'd stored our luggage, checked our bus tickets for the evening and taken a Metro ride to the center, we'd been in Madrid for 2 and a half hours without actually seeing the city.
Madrid was a lot prettier than I remembered it. The buildings were decorated with statues and carvings and there were cobblestoned pedestrian streets.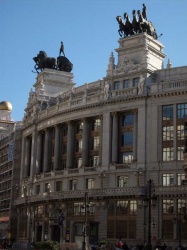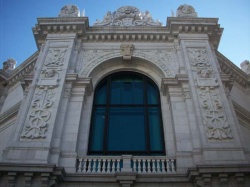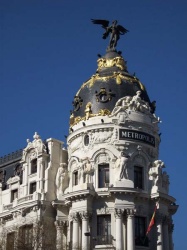 We had a light breakfast: coffee, orange juice, croissant, then started exploring. It was a beautiful day with a cloudless blue sky. Although there was a bit of a chill in the air, it is winter here after all, the sun quickly warmed us. As we walked by statues and fountains, we noticed musicians were already appearing on the streets: classical, jazz, flamenco, and gypsy swing.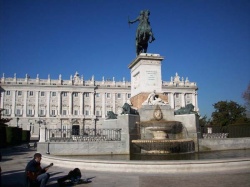 We walked by the palace (closed for a private event), then followed narrow streets past buildings with wrought iron balconies.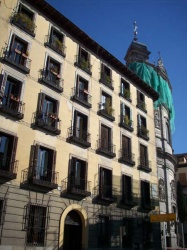 Eventually the narrow streets passed under an archway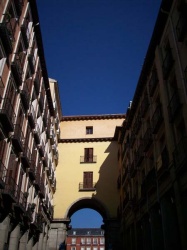 which opened into Plaza Mejor, a huge square surrounded by cafes and ornate buildings, my favorite of which looked like it had been decorated with pastel or chalk drawings. (Though I'm sure it was something more permanant.)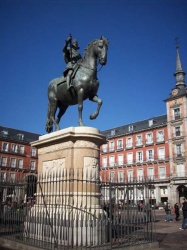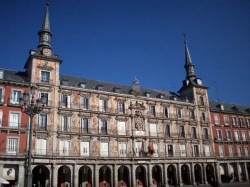 After a lunch of sandwiches, we visited the Prado. Rowshan commented how the quality of the art was amazing compared to many of the paintings we'd seen in South America. I was impressed by a carved marble bust of Queen Isabelle with her features showing through a veil. At first I'd thought a fabric veil had been draped on the sculpture but it was actually all carved in marble. There was a special exhibit on large historical oil paintings as well. We also got to see Goya's
Saturn Eating His Children
as well as my favorite painting,
The Garden of Earthly Delights
.
By the time we'd finished, we were beginning to feel the effects of jet lag and minimal sleep. We headed back to the bus station, bought some crackers and cheese and a couple eclairs, then boarded the bus which was nowhere near as luxury as the Argentinian ones.
There was a dinner stop where we bought a couple small Spanish tortillas. As we were waiting for the bus to leave, Rowshan announced our spending for the day (not including the bus). Our metro tickets, food, museum and luggage storage had added up to 75 dollars! We realized we were definitely not in South America anymore.