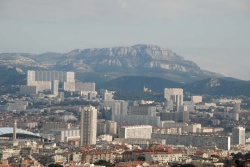 I think Marseille is a work in progress at the moment. They are washing the black stains off buildings and doing lots of restorations. I wonder if by the time they get all the buildings clean, they will have to start over because the first buildings cleaned are blackened again.
We saw some buildings where only the fronts had been cleaned.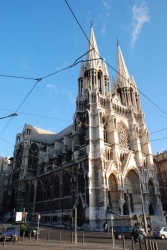 Where La Ciotat and Avignon are sweet gentle places, Marseille is a tough town, a city where French refinement is battling with the numerous inhabitants struggling to survive. Of course, the area around the train station isn't perhaps the most refined place to stay in town. Walking around last night we saw some nicely lit historical buildings and an amusement park but I eventually felt a bit uneasy wandering dark streets with an expensive camera where there seemed to be an abundance of tough looking guys with nothing to do.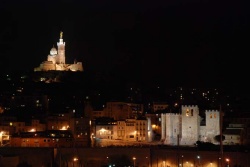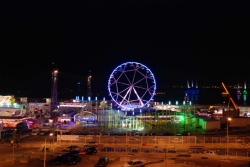 We also came upon a couple places in the street that had fresh blood drops on the pavement.
We'd been to Marseille a couple times while staying in La Ciotat, to run errands. Mitzi had also given us a quick car tour. As we walked through the city, our noses were met by the tantalizing smells of Turkish, Moroccan and Tunisian food. It is definitely a diverse city. Along with Arabic and Turkish, we also heard the lilting accents of French from other African countries. It is a port town.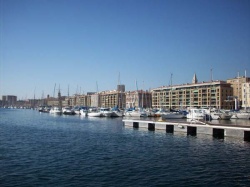 On one of our trips into town we passed a group of teens/kids dancing in the street. It was a new dance popular in France... kind of a spastic version of break dancing (without, as Rowshan would say, the difficult parts like handstands, and body spins). The dancers would spin their lower arms like a scarecrow on speed and fling them over and around their heads. Legs kind of also did scarecrow like flip flopping movements.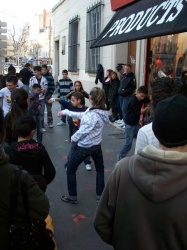 Today is Sunday and most places were closed. We followed some walking tours mapped out by the tourist office. These led us to some pretty sites: the 5th century St. Victor Abbey, the Fort Saint Nicolas built in 1680 (the most contemporary fort) and the Palais du Pharo, given to Marseille by Napoleon III, from which we had great views of the port and the old fort, Sant Jean from the 12th century (though redesigned and fortified in the 15th and 17th centuries).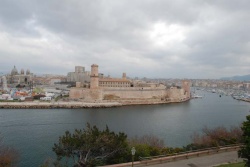 The second walk took us through the old part of town which had narrow streets and interesting buildings but didn't seem very lively. This might have been because everything was closed on Sundays or maybe it just isn't ever lively.
We stopped by the Vielle Charite which once housed orphans and homeless but now houses museums.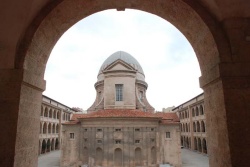 We also stopped by the zebra Cathedral of Nouvelle Major. It was built in the 19th century in a Romanesque-Byzantine style. It reminded me a little of some of the Mosques I'd seen in Turkey strangely. Although inspired by Byzantine architecture, it looked a bit too frilly for that style.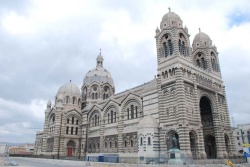 Then we took a walk to Notre Dame de la Garde, high on a hill overlooking the city.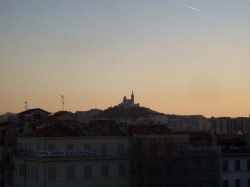 It was extremely crowded and since a church service was going on we just were able to take a quick look at the mosaics inside.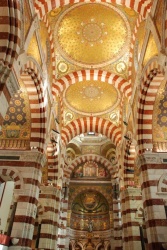 From the basilica we could see all the city as well as the islands.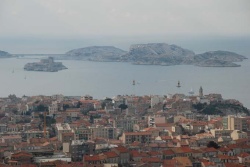 The final site we saw, an attempt at finding a park to rest in, was the Palais Longchamp.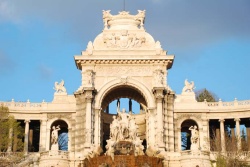 Unfortunately the gate was closed so we sat on the concrete base of the fence. A group of young women sat a little farther down from us and pulled out a distinctly Argentinian thermos, mate cup and mate stirrer and proceeded to drink mate.