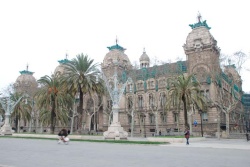 Almost the first thing Rowshan did when we arrived in Barcelona was buy us tickets to the Barcelona/Valencia match. We had to wait for the Official FC Barcelona store in the train station to open at 7:30 AM. Once we had the tickets, we were able to concentrate on less important things like finding a place to stay.
We are staying in the center of the old town, an area of narrow streets and Gothic buildings. We spent yesterday wandering around looking at the interesting things that presented themselves. Off of one square, a cobblestone street led past art shops, by a Gothic structure with gargoyles under an ornate bridge.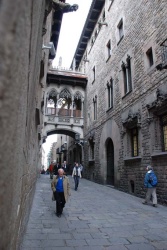 Most of the time we didn't have any idea where we were going. We just walked and when we saw something interesting we'd head toward it. Somehow we ended up at The Cathedral. We walked into the courtyard which, unlike any church I've been in, felt like a forest. Huge palm trees filled the center and there was a very moss filled fountain which doubled as a goose pond for a flock of white geese.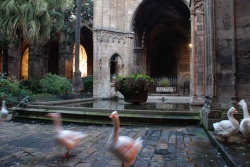 There was even a little goose house. The area felt a bit warmer and more humid than the street outside. The church itself also reminded me of a forest.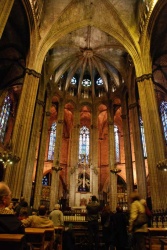 It had tall columns reaching to the ceiling and delicately carved points and plant like filigree in the wooden choir area.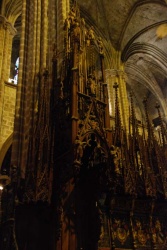 It made me wonder if this cathedral had any influence on Gaudi's Sagrada Familia which is meant to be a forest. Some more modern additions were electric votive candles which would light up if you put a coin in the box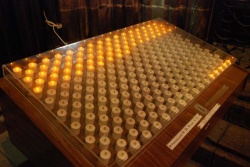 as well as a coin operated light for the chapel underneath the alter which held the sarcophagus of a saint.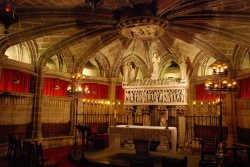 We continued walking until we reached Las Ramblas, a busy street with a pedestrian part in the center filled with cafes, artists, and guys doing shell gambling games.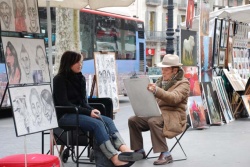 There were also an annoying number of human statues.
A short walk from the main square we saw a triumphant arch which I recalled seeing before when I noticed the bat decorations.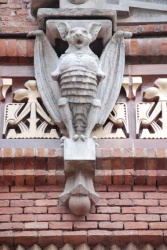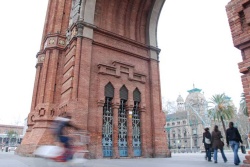 Later in the evening we stopped by the open air market which was a bit cleaner and glitzier than the markets of South America. We were especially impressed by the perfectly stacked fruits of one vendor.
Since it was almost closing time we managed to score some cheap fruit juices.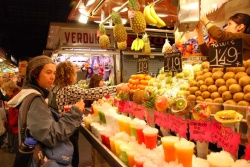 On the day of the match we stopped by the stadium around lunch time to see which metro station was closest to our entrance. There we saw a crowd of people waiting by the parking lot exit. I guess it was time for the team to take a lunch break from their morning practice. We walked into the Barcelona Mega-Store, a 2 story temple to Barcelona paraphernalia ranging from standard jerseys to a Barca refrigerator.
You could also have your photo digitally enhanced so it looked like you had a photo with the player of your choice. We found socks on sale (2 pair for 4.95 euros) which we bought since we needed socks.
As we left the store we noticed the crowd had gotten bigger. We joined them in time to see the team members walk from the stadium, about 10ft to the bus and hear the crowd go completely mad.
In the evening we arrived at the stadium early along with other foreigners and out-of-towners who didn't know what time the stadium opened. We wandered around then hung out at the gate while groups of Valencians voiced and showed their support for their team. Finally we were let in.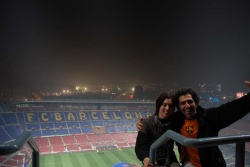 Valencia had a large contingent and they filled a corner of the stadium singing their team song and waving flags.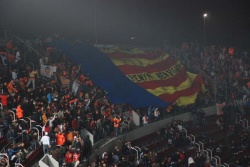 We had a small group near us but they soon migrated to the Valencia corner. Another couple guys rolled up their flag when threatened by some Barcelona fans.
I have to say even though we both like Barcelona, we found that Valencia had better fans. Where they sang songs and cheered, the Barca fans just chanted obscenities about Valencia. Valencia scored a goal but Barca had the ball most of the time and had the most chances to score. We left 5 minutes early to try to catch the last metro (the game started at 10 PM and went to midnight). When we were about a block from the stadium, we heard a loud cheer. A passing driver said Barca finally scored in the last minute. Oh well. We were relieved to catch the last metro and not have to figure out (and crowd onto) the limited night buses.