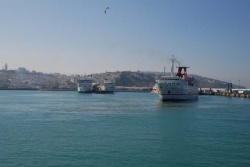 So far it seems like every Moroccan we talk to speaks four languages: Arabic, French, Spanish, and English. As we wandered into the medina, 2 touts attached themselves to us assuring us, "Moroccans are friendly people. We don't want to kill you." Well that was really a load off my mind!) For people who don't know me, I'm being sarcastic!) I did, however, believe that if they accompanied us into a hotel, we would end up paying a higher price to cover their commission. He eventually left us alone which was smart because we decided against staying in the Medina and found a hotel in the new town instead. As we left the Medina the we ran into one of our new friends who tried to steer us to a different hotel.
Tangiers is a port town. The medina and the new town are both uphill from the port. We walked up the hill to find a place to eat lunch and ran into our friend again. He asked Rowshan if he wanted to buy hash. Rowshan declined and told him, "I'm a good boy. I don't smoke." Our friend seemed to lose interest in us entirely. Within an hour of being in Tangier, Rowshan was offered drugs several times which caused me to tease him with my best South Park Towelie impression, "Wanna get high?"
As luck would have it, we stumbled upon an artisan center where people had workshops making mosaics, metal work, wood carvings, gesso work, and sewing which was much more our thing.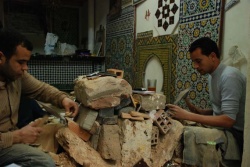 Today before catching our bus, we decided to take a quick wander through the medina. We walked by the casbah and following a group of men through an archway, ended up outside the walls, looking at the sea.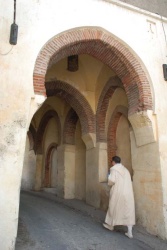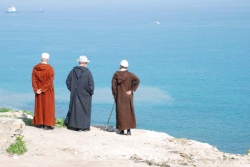 As we walked back into the walled part of the town, we came upon another archway revealing an ornate tile wall and seat area decorated with 2 stringed instruments and various hats decorated with shell beads.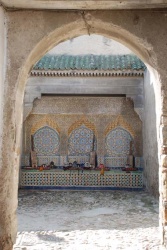 Through the arch was a tiny courtyard with a little room off of it. There were photocopies of articles, fliers and festival posters adorning the walls outside it. Inside were more postings as well as drums, hats, cushions, and metal clappers hanging from the low ceiling. The room had cushioned benches and low tables. Its one occupant was a man who greeted us, a couple stringed instruments within arms reach. We cautiously approached, not sure what it was all about. He was quick to explain, pointing to the articles which were about his band, Gnawa Express. "This is where I make contracts for festivals. Come in! There is nothing for sale. Only for showing."
We went into his room and he played a snippet of a tune on his gimbri.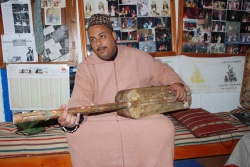 He let Rowshan try one of the drums. He then told us about some of his music projects. "I have many directions: jazz, heavy metal, trance..." He pulled out a German magazine and showed us an article on trance music. "For healing without pills." .
A
Conde Nast Traveler
magazine had a photo of him and a band mate on their ornate courtyard stage. He explained how they sometimes do programs for tourist groups. He also showed us a poster for workshops and concerts held in Belgium, a program for a world music festival in Germany and a flier for a documentary about Tangiers which included him.
We noticed a CD on the wall and asked him if he had any CDs for sale. He managed to find one in his cupboard of clippings. He wrote the names of the songs and signed it for us. Later we realized he had charged us a ridiculous (by Moroccan standards) price, though it was a regular price by European and American standards. Once we got our CD, we had to race through the confusing medina streets to catch our bus.