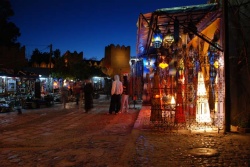 Chefchaouen rests on a ridge near the base of a mountain. The new city sprawls in tentacles away from the more compact old city. The hostel we wanted to stay in was in the old walled city (medina). We had no idea where. It is easy to get lost in the medina. All the buildings are painted white and pale blue, as if the residents had tried to make the city look like a cloud resting on the mountain side.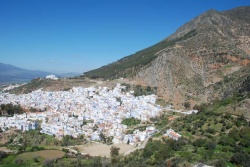 As a man we asked directions from called out the question to a friend, a young woman dressed in a long light blue jellaba, glided by saying simply, "Guernica?" and gesturing us to follow. We followed her along the road and then she gestured towards the hostel before disappearing into a different blue and white street.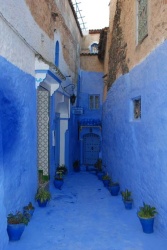 It turns out we were very close to the Casbah, with a plaza with a row of restaurants in front of it.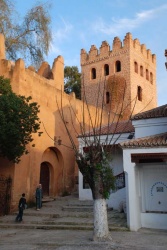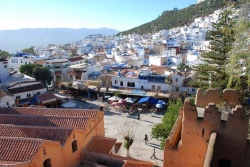 We had a late lunch and people watched.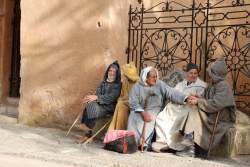 The light against the white washed walls and the contrasting golden walls of the Casbah finally seemed to help us relax. It is spring here and everything is green, with flowers beginning to bloom. The town evokes both feelings of calm and feelings of franticness when streets become full of stores and hustlers trying to sell hashish. Later, as we got lost in the identical looking streets on the way back to our hostel, I wondered how all the foreigners who took the hustlers up on their offers, managed to find their way around. Landmarks like "the blue stairway", "the blue door", or "the ornate wall fountain", or "row of souvenir shops", were practically useless since these seemingly unique items repeated themselves through the town.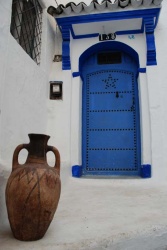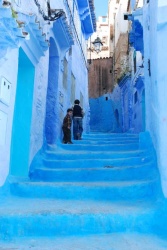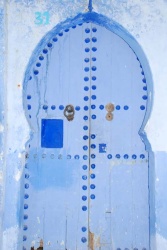 Once again, we had to ask someone.
All in all, we ended up finding the town very relaxing. The main activity seemed to be hanging out in cafes on the main plaza and shopping.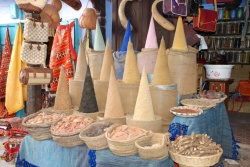 There were also a large number of young men trying to sell hashish to Rowshan. He was getting quite irritated so we started speaking in Turkish since the hustlers didn't know that language. After having the hash question pop up in several casual conversations, we realized that when Rowshan politely said, "No, I don't smoke," the pusher would seem a little abashed and reply, "Very good." With time, word seemed to spread and Rowshan was left alone. It is a small town. We wandered into a courtyard with carpet and metal shops. Pigeons perched above and quietly cooed.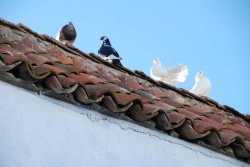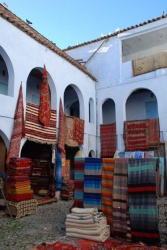 So far we have found Moroccan pastries to our liking, as well as the mint tea and fresh squeezed orange juice. this has made idling in outdoor cafes and pastry shops a frequent occupation. We did manage to go visit the town's tourist site, the Casbah, a small walled garden with a pretty Andalusian style house, a tower with views over the town and a prison (no longer in use but with metal chains and cuffs in the wall...just in case.)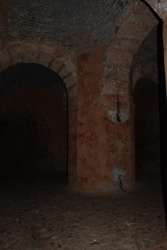 From the tower we could watch people walking in the streets below.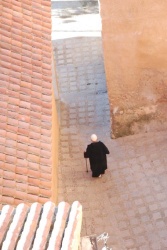 Since the town is right in the mountains, we thought we'd take a hike. The Rural Information Center, turned out to be an organization that had guided programs to rural houses and villages. The programs sounded interesting: food, apiary, medicinal plants and henna, but were a bit over our budget. The woman there did suggest an easy day hike to the source of the towns water for which a guide wasn't necessary.
The next day, after a breakfast of fresh orange juice and pastries, we followed her directions out of town and up a hill to the ruins of a mosque.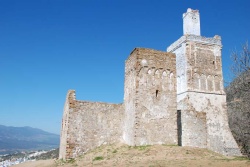 We climbed the minaret and found a teenage boy sleeping at the top. He spoke a little Spanish and through that and sign language told us he slept there because all the children at home were too noisy. Rowshan asked him if he wasn't cold. He replied by counting the 6 layers of shirts and sweaters he was wearing.
We climbed down the tower and continued on the path which was nicely marked and led past green fields, goats hopping down the rocky mountains side and some very vocal donkeys. The town grew smaller as we rose higher. The sounds of roosters crowing and bleating sheep and goats echoed in the valley while crows flew overhead.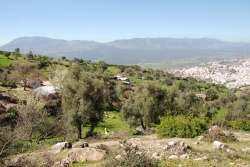 The sun was gentle as well as the breeze. From summer in South America, we've gone to the tail end of winter in Europe to full Spring in Morocco. As I was wondering if the trail would veer up into the mountains that rose steeply above us, we came to fields full of little white flowers as well as an opening in the rocks where a small spring flowed down the hill. A small rock wall and trough had been built in front of it and a couple hoses stuck out of it. It was fairly anti climatic but I guess it was the journey, not the destination that mattered.
On our way back, we speculated about what made donkeys bray (and the little guys are LOUD). I thought it was because they were lonely, since they were tied up by themselves and sometimes when one brayed, another one seemed to answer from another part of the valley. Rowshan thought it was a territorial thing. As we walked by one donkey in a field, he turned directly towards us and brayed. Later we came to 2 in a field. As Rowshan approached, once again, one turned and let out a loud "HEE HAWWWW". Maybe Rowshan was right on this one.