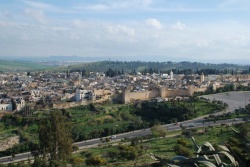 Descending into the medina fo Fes is a bit like SCUBA diving. You swim through crowds of people who make it difficult to move fast. You have to remember to breathe constantly. You see lots of interesting colorful things, but when you surface you really need to breathe real air and you feel completley exausted. That said, we managed to remain submerged in the medina a lot longer than we've ever remained underwater while diving.
Today we found Bab Bou Jeloud, the tourist gate. I don't know how we missed it last night since there was a row of busses parked outside it. Before we reached the gate we passed through a 2nd wall and gate where some men were busy repairing the stonework. It seems in a city like Fes, restoration workers would have a lot of job security.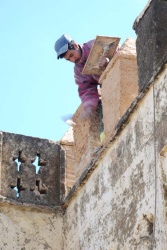 Bab Bou Jeloud is ornate with beautiful patterns carved into the ceramic tiles. One side was decorated with blue tiles while the other side was green.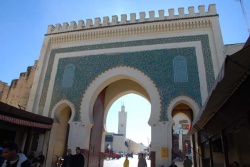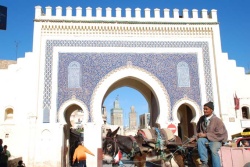 Cars aren't allowed (or maybe they just don't fit) in the medina, so the main form of cargo transportation is donkeys and mules. .
Once in the medina, we first came upon stone carvers working on gravestones for the cemetary, just outside the walls.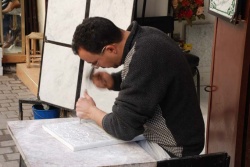 We mostly walked by the many shops but I couldn't resist ducking into one tailor selling women's kaftans. Although pretty, they were a bit pricey. A woman with beautifully hennaed hands was sitting talking to the seamstress. She let Rowshan take a photo of her hands but seemed to think he was nuts for taking it.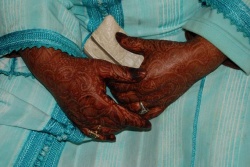 The medina is an interesting place. Some of the walls and buildings are plain and simple, then we'd come to a beautiful arch or ornate fountain where the handwork and craftsmanship involved was incredible.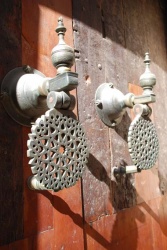 Some of the buildings with plain exteriors, had palacial interiors. A seemingly small antique shop we walked into opened up into huge rooms with elegant, high painted wood ceilings and decorated walls.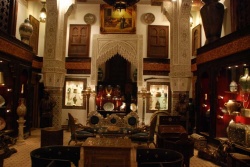 I love seeing places where handwork is so valued. We saw a wood worker, a metalsmith working on Moroccan lamps, a sliver smith making engraved "Damasc" pieces, and workshops where hand carved tables and shiny wedding sedan chairs were made.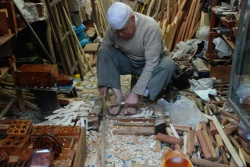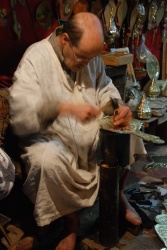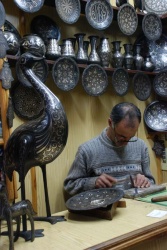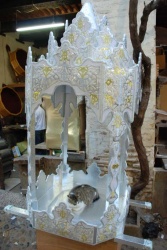 Though at first I felt flustered by the touts, eventually the sights and atmosphere began to work its spell and I became enchanted by all the fine works being created. I imagined a house with handcarved mother-of-pearl inlaid furnture, mosaic table tops and fountains, intricately painted ceramics and rich colored cushions and carpets. There were handmade dresses that looked like they belonged in a princess' wardrobe.
After a lunch of dubiously prepared but delicious sandwiches, we decided we needed to find a cafe. Then I saw Cafe Clock, which our friend Diane had reccommended. She had been friends with the owner, Mike, when she was living in Fes. We walked in and met Mike who turned out to have been the other foreigner with us on the bus from Chefchaouen. The cafe is in a beautiful space with a courtyard and roof terrace which lifts one above the chaotic medina streets.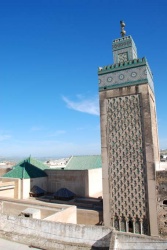 After resting, we walked around some more before surfacing at dusk to the mad circling of swallows in the rose tinted sky.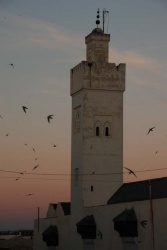 Rowshan has been having fun hanging out with some of the other guys staying in the hotel, and watching soccer games and music on the lobby TV. The guys told Rowshan where he could find the pottery workshops, so we took the bus there today. We were guided by a young man we met at the bus stop who turned out to be a potter, as well. The pottery neighborhood was located outside the walls in another part of the city. We went to a factory which was set up for tourists with a huge showroom and a multilingual guide/salesman.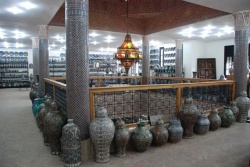 He was friendly and immediately took us back to a demonstration wheel where a potter quickly threw a piece and Rowshan got to stick his hands into clay and throw something as well. Our guide explained all the details Rowshan wanted to hear including where the clay came from and at what temperature it was fired. Then he took us into a workshop where a master and apprentice painter were working decorating pieces.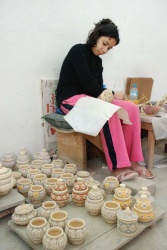 The mosaic makers and ceramic engravers weren't at work since it was Sunday, but our friend from the bus took us to another workshop and we got a demonstration of how detailed designs could be chipped into a ceramic piece solely using a large sharp-edged hammer.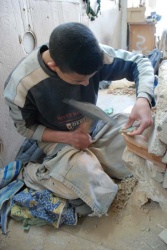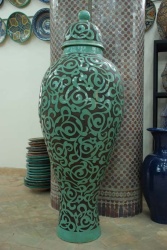 Our friend then took us back to the medina by a different gate and whisked us through the confusing streets until we reached the comforting color coded guide signs created by the city to keep tourists from getting lost.
Having had enough of the medina, we walked to the Borj Nord on a hill above the city. The area had parks, benches, lots of families, and groups of guys and girls enjoying the afternoon. We walked a bit farther to a ruined structure on another hill which was also covered with people.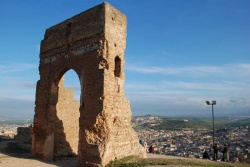 We walked up attracting a lot of attention, especially from the children who all called out, "Bonjour!" and found it very funny when we answered. As I sat on the grass admiring the view of the tranquil hills, fields and pastures on the side of the hill opposite the sprawling medina, a little boy came up to me and gave me a little bouquet of wild flowers, then ran off to some of the girls who'd been greeting me. I beckoned them over and shared some cinnamon candies I had with them. The'd come up to me, take a piece of candy and then run off.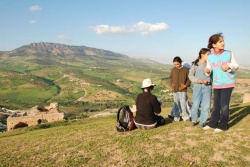 Meanwhile, Rowshan had joined me and was nearly trampled by a running donkey with young boys hanging off of it. He was taking pictures and the kids were having a great time posing and jumping on the poor donkey.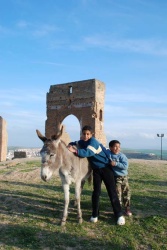 Then I saw him open his pocket revealing some change. The party was over. The donkey owner had demanded money and once the kids saw it was available they launched into cries of "Un dirham, monsieur! Un dirham!" We decided it was time to leave, saddened by how quickly something that was fun, enjoyable childrens' play avalanched into ceaseless begging. Though some of the kids stopped, a couple continued to follow. Some men, perhaps fathers or relatives, scolded the kids so they stopped for a minute only to continue once the men were out of sight. We fled down the hill.
The hill we walked down turned out to be the ruins of some tombs, now just caves. More fascinating was how tanners had covered the hillside with sheep skins to dry them in the sun.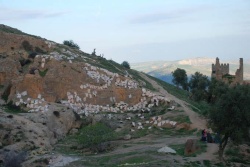 We walked back into town noticing how the ancient walls blended into a modern play field.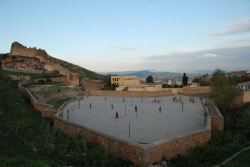 The main square was full of second-hand vendors and entertainers.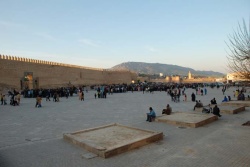 We took a quick look around then headed back to the New Town.
Our final day required an attempt at avoiding crowds and hawkers. So, we tried the "Palace's and Gardens" medina trail. This led us first to a palace which housed a small ethnographic museum. We started to walk through the gardens and ran into Diego, a Brazilian who like Rowshan and I lost/quit his job, sold his car, and is traveling around the world.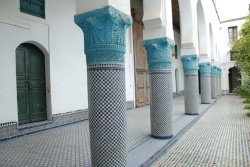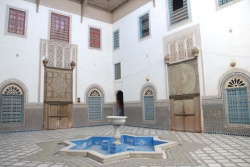 Rowshan met him the previous night at the hotel. We decided to try to find some lunch. A hawker led us to a restaurant promising "not expensive" prices. The place looked nice but when we asked to see a menu, he and the waiter insisted we sit down and kept repeating, "not expensive." Rowshan and I started to walk out so the waiter ran and unlocked a cupboard from which he produced a menu. I glanced at a list of entrees with prices of 250 dh which is $30! I immediately walked out laughing. Diego followed quickly with the tout chasing us promising some dish for 60 dh.
Diego recommended a place in the Medina with 40dh dishes. It had a pretty terrace and the food was good. Finding ourselves, once again, in the busy part of the medina, we quickly got back on the green "gardens and palaces" trail which seemed more like a "dark abandoned street" trail. Eventually we did come to a palace which had been transformed into an institute for artisans to learn about traditional restoration techniques. The building was beautiful and there were some cluttered exhibits (or maybe just old projects being stored) including architectural models of historic areas, carved plaster work in progress and painted wood pieces. There was a window which opened out providing a view of the medina, and a peaceful garden.