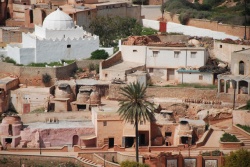 After being awakened at midnight by a tour group of about 20 very vocal young people, we realized that we were not going to be able to relax in Marrakesh. Awakened by the group, we were out of the hotel by 7 AM, and soon were waiting for the train to Safi, a town we heard was a beach town, non-touristy, and a big ceramics center.
We arrived around 2 PM and checked into a hotel, passing up the ocean view rooms which were above a noisy street, for a quiet one on the side.
Although Safi is a town with a beach, it isn't a resort town. The beach is a working port dominated by a phosphate plant.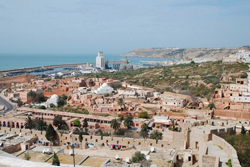 The Medina has graceful stone walls, towers, and gates and is crowned by a white washed Portuguese fort.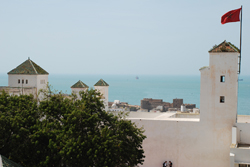 It took us about 5 minutes to walk across the Medina past rows of shops selling everyday items; clothing, shoes and toiletries. Towards the end there was a ceramics market but aside from that there were no tourist items for sale. Only one shop keeper tried to get us to visit his clothing shop.
As we reached the gate to the area outside the Medina, we noticed several kilns rising above small walls. Even though we were looking for a place to eat lunch, Rowshan couldn't resist walking into one of the workshops to watch a man loading a kiln. Inside we were shown piles of ceramic drums ranging from a couple inches to a more practical drum size.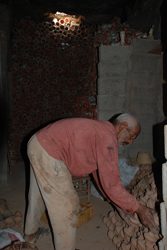 As we left a young man asked us to visit his workshop but we said first we needed to eat lunch. He led us past some ceramics shops to a small restaurant with no name.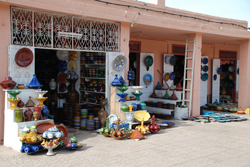 The friendly owner, Hosny, opened several tagine dishes revealing the items on the menu and telling us the prices. We settled on a large chicken tagine to share and a salad. Hosny told us how the tagines (ceramic dishes) used for cooking tagines (the food name) were made near Marrakesh because they needed to be made from a certain type of clay that wouldn't crack when heated.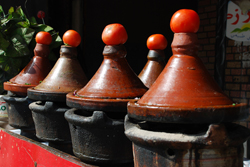 This fact, however, does not stop the potters of Safi from making plenty of decorative tagine dishes which can be used for serving tagines. Our chicken tagine was delicious with nicely caramelized bits on the bottom of the dish.
We started to walk to the center of town but once again Rowshan was drawn to the kilns. A man was feeding branches into a fiery kiln.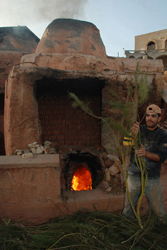 As we were watching, a young man in a Barcelona shirt came from a shop next to the kiln and started talking to us. He also worked in one of the ceramics factories decorating the dishes. This work involved cutting flower and other design patterns into plates and other objects, using a sharp tool, before the pieces were fired. He took us to one of the workshops. Two men were busy making plates and ashtrays using kick wheels. One dipped the pieces in a white base coat and another was wedging clay.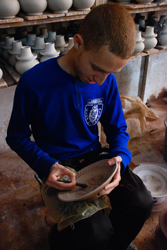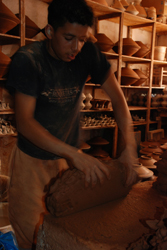 They liked Rowshan's photos of his drums. Then we went to the shop where our new friend, Azzedine, worked and he showed us some of the pieces he had made as well as introduced us to the other decorators in the workshop.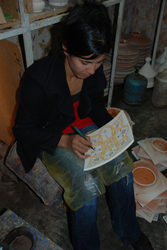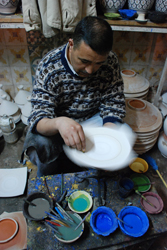 Since communication was a little difficult (Azzedine spoke some French but my French is really minimal) he called in his friend Hameda who spoke some English. We discussed the possibility of Rowshan coming and studying for a month and then went over to a teacher's workshop. Abdelhah was sitting at a wheel in a tiny workshop decorated with certificates showing he had conducted workshops in various locations around the world.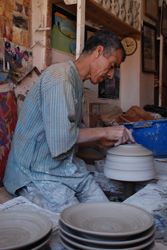 He showed us a folder filled with student references and comments.
Next we went to another workshop where we watched more decorators as well as men loading a large gas kiln.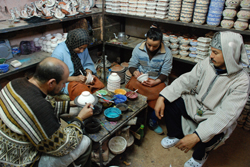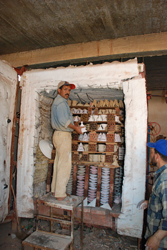 Then we walked past the blazing kilns to Azzedine's shop where we had tea.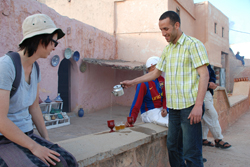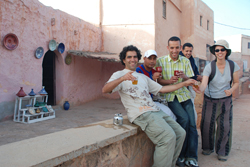 It was a really pleasant afternoon and we chatted about this and that. Then we bid them farewell and went for a walk up the hill to the new town to see the giant tagine dish which was the symbol of the town. Azzedine had a postcard in his shop showing that at one point a giant tagine was cooked in the giant tagine dish which was made out of concrete and not clay.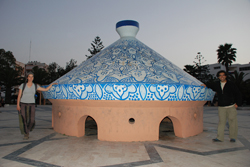 We walked alongside the outside of the Medina wall and were able to see the sun beginning to set over the Atlantic.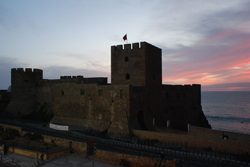 Rowshan scored a goal through one of the city gates as we walked by some kids playing soccer. When the goal keeper asked Rowshan for money, Rowshan replied that he was Maradona (since lots of people think Rowshan is Argentinian) which made the kid stare at him for a moment then run away.
I always say the difficult and wonderful thing about travel is the crazy ups and downs. One moment you are ecstatic and in love with a place and the next you are cursing it and everyone who lives there... only to find yourself a moment later considering moving there.
We had a day like that. We started out with breakfast at a cafe and some Internet time.... well actually we started out by sleeping in since it was the first good night's sleep we'd had in a long time. The Majestic Hotel is the first place we've slept in, in Morocco, with soft pillows.
Next we walked to the Portuguese fortress which houses the National Museum of Ceramics. It contained fragments of ancient ceramics as well as Islamic pieces and rooms devoted to Fes, Meknes, and Safi designs.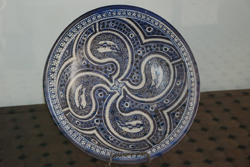 The guy working there had explained that after we finished looking at the collection we could go up on the ramparts for a nice view. The fortress was peaceful and seemed to be occupied solely by cats.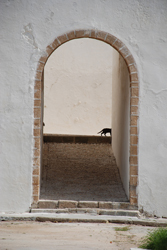 The ramparts gave us a view of the pottery workshops and kilns stretching down a green river valley.
We also had a view of the port and the town. As we rested in the shade of a large tree, the ticket guy came and said, "Isn't it magnificent!" We thought he was referring to the museum but he soon made it clear he was talking about the tree. It was a larch which casts a big shadow and, he said, whose sap kills mosquitoes. He asked if we'd been into the contemporary part of the museum which it turned out we had missed. It was a building created in more of an Andalusian style: decorated wood ceilings, ornate gesso work and a courtyard with a fountain. The rooms off the courtyard housed contemporary ceramics pieces in the Safi and Fes styles which were very ornate and elegant.
When we finished with the museum we decided to get lunch. Since Safi is a fish town we decided to find a fish restaurant. We found one off a small street in the market. A man stood in front frying various fish. We went in and asked for a menu but the waiter just ran off and brought bread. We asked for the price but he seemed to not understand. Now we really know better than to eat in a place in Morocco where they don't tell you the price but since everyone in Safi had been so nice and since local people were eating there we figured it was OK. The waiter brought us 2 little plates each, one containing calamari and one containing a couple pieces of fish and a few sardines. We started eating when a commotion broke out at the entrance. The 3 men who had been sitting near us were screaming at the restaurant owner about the bill. This was not a good sign since they were Moroccan. Again I tried to find the price but a local sitting next to me assured us it was small. We finished and Rowshan asked for the bill. It was 130 dh! (Usually our most expensive meals are half of that) So, Rowshan, taking a cue from the locals, started yelling at the owner until a crowd gathered and then he went off to find the police. A local who spoke English brought him back and the fight continued. The price went down to a more reasonable (but probably still too much) 70 dh. Rowshan kept arguing on principle but paid just as the police walked up. The police spoke English and were very polite. They took Rowshan off to the side and he explained what happened (mentioning that the guy had also overcharged 3 other customers). An onlooker tried to be diplomatic, saying "The price of fish varies day to day and today no one was working so no fish were caught. You are crazy eating fish today." Rowshan responded, "So that means this fish was caught yesterday!" The man repeated, "Yes, you are crazy eating fish today."
Since Rowshan had paid (the police asked if the price was acceptable), and the police had broken up the fight, there was nothing to do but walk off.
Anyhow, the situation spoiled our, "We love Safi!" mood and we went to a cafe (with a menu) for coffee and orange juice and to calm down. We determined that Safi was still a nice place but we just had the bad luck to deal with a couple of the town a-holes.
We walked down to a park overlooking the ocean and then around the city walls to the pottery workshops to visit Azzedine and Hameda. They ended up taking us to the Valley Alshe'be.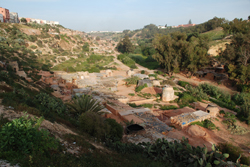 We walked through a residential area and Hameda said it was his neighborhood and proudly showed us a pretty park. As we were walking above the valley he got a call. "It is my uncle. He says he can see us and wants us to visit." We descended into the valley and went to a workshop where several rows of pots stood drying in the golden late afternoon sun.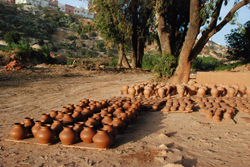 Inside the house a potter, Nurdin Asmid, was making tea pots. He was very kind and told us he can make around 50 teapots a day.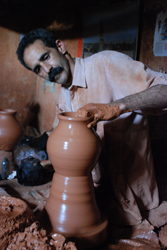 He worked, as the other potters of the town, by the light of the sun which shone in through the door of his workshop. Rowshan showed him his drums and heartily shook his clay covered hand when we left.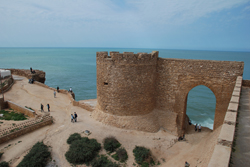 Hameda showed us the well on the upper level and piles of green glazed ceramic roof tiles, used on palaces all over Morocco. There were also bricks drying. As we left the valley we started talking about business possibilities: bringing tours from the States. Rowshan asked about the possibility of buying a building. We went back to Azzedine's shop and had pastries and cold drinks. Hameda started trying to teach me Arabic while Rowshan plied Azzedine and another guy for more ceramics info. The weather was beautiful and the flowers were blooming. We were back in love with Safi again.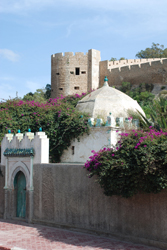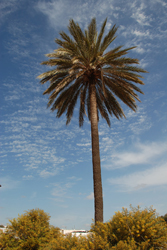 As we were hanging out with Azzedine, one of the potters Rowshan photographed asked for a copy of the photo. So we decided to print out copies for everyone.
Everyone seemed fairly pleased with their photos. Azzedine said people mailed photos but I'm guessing the photos aren't usually as nice as Rowshan's. After seeing the photos, more workers wanted Rowshan to take photos of them. Azzedine demonstrated how to make a tagine dish and a couple other pieces. He even attempted to teach me ceramics but I did not prove very adept at it.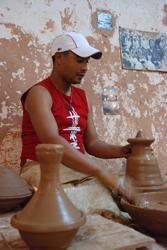 We are extremely thankful that we met Azzedine and Hameda. I was glad they liked hanging out with us because we really enjoyed the time we spent with them. Without Azzedine's introductions it would have been harder to develop the friendly rapport Rowshan had with the other potters. And it was really enjoyable sitting by Azzedine's shop, drinking mint tea and watching potters dip pots in kaolin or feed the kilns with the backdrop of the city walls, fortress, and mosques.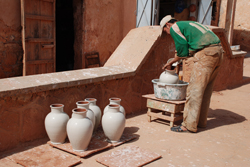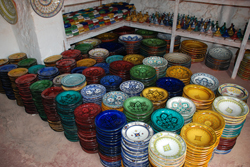 Since my French is so limited it was sometimes difficult to communicate but between our collective knowledge of bits of French, English, Spanish, and Arabic we got by.
Yesterday we took Azzedine and Hameda for lunch at Hosny's tagine place. Both, of course, knew him and Hameda said he was from his neighborhood. The tables in front of his place were full so he seated us in front of the shop next door, telling us to order drinks from there.
On our last day we visited the Chateau de Mer, a stone fortress on cliffs above the ocean.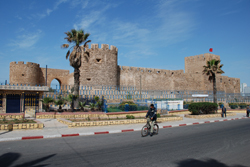 It is a tranquil place compared to the roar of cars zipping by and the street full of sellers. Inside we climbed the towers and enjoyed the view of the sea on one side and the town on the other.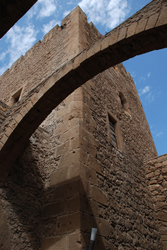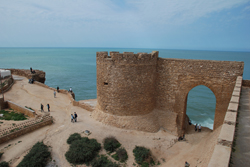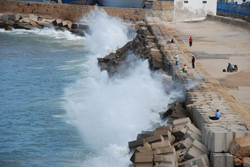 We were very sorry to leave Safi. In the few days we'd been there, we had met many kind people and made many friends. We were impressed by the skill of the potters there who are using techniques passed down through generations. Instead of needing tools for measuring pieces, they can create pieces of the correct size just by looking at them.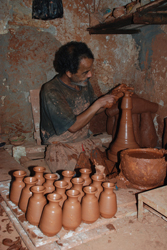 The town itself had a lot of beauty and was devoted to ceramics. Many tile paintings decorated the walls showing potters working or the kilns and workshops.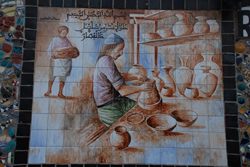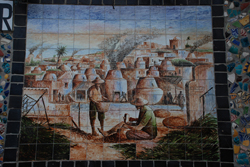 In other places walls were decorated with broken ceramics pieces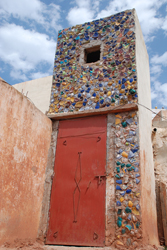 Rowshan was also happy to be in a place where when he said he was from Iran, many strangers would happily respond, "You are our brother!" because Iran is an Islamic country. But in reality, as he has found all over the world, the strongest sense of brotherhood has come from the potters and ceramics artists who are happy to share their art.