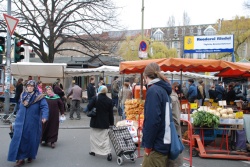 We are sitting at a pide cafe next to the water. Rowshan and Kebire are playing backgammon. A mix of women with and without headscarves parade by. IsBank is down the street as well as aile lokantasi's (family restaurants) and doner places. The city is dripping with culture. The friends we are staying with, Chris and Regine, have an art gallery. I've even found a place where I could study kanun. It could be Istanbul... except the menus are in German (as well as Turkish). OK, maybe I've gotten a bit of a skewed view of Berlin since the apartment we are staying in is located in Kreuzberg, the largest Turkish neighborhood in Berlin, which in turn is the home of the largest Turkish population outside of Istanbul. Even without the comfortable familiarity of all the Turkish businesses, the neighborhood is a pleasant place with a pretty park which houses the highest natural hill in Berlin.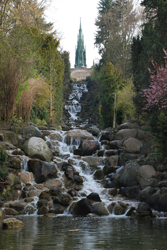 Our second day in town, we went to Kebire's house for breakfast, which reminded us of when we used to visit her in Istanbul. We played music and had a delicious Turkish breakfast.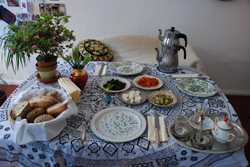 That evening, Regine and Chris had an opening at their
gallery
of a multimedia installation piece by an artist, Dmitrij Bulatov, who had worked with scientists to genetically alter frogs so they glowed. The glowing characteristics disappeared in subsequent generations but he exhibited some videos on the subject of science and genetic modification, an html collection of articles from a book he had edited on bio-science and art, genetically altered frogs (along with a few regular albino ones) in beakers, and posters of the multi-colored glowing tadpoles. The subsequent generations also developed other negative mutations: extra heads, extra limbs, etc which is why the project was discontinued. I asked Dmitrij if he thought if the frogs were kept in an environment where being fluorescent was an advantage and useful, if they would be more likely to pass on the glow genes. He replied that the frogs weren't allowed to be released into nature so testing that theory wasn't an option.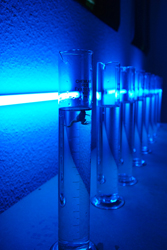 The gallery is located in a region called Wedding, also a Turkish neighborhood. The corporation that owns a lot of the buildings there, in an attempt to encourage gentrification, (as well as cover some of the maintenance costs), has offered empty store fronts as gallery spaces free of rent. (However, the galleries must pay a maintenance fee to cover electricity, water, etc.) Once a month the galleries have their openings making it a nice night out. It is a neat idea. I asked Chris if when the area does become gentrified, won't the galleries all get kicked out? He said probably, but doesn't expect gentrification to happen for a long time. Our friends talk of unemployment (12% national average... Berlin I think is 17%) and the lack of companies in Berlin. Due to the lack of employment and hoards of people leaving the city for the suburbs, apartments and housing are cheap and we've seen some beautiful, spacious apartments in old buildings but which have been remodeled inside with all new fixtures. You can find a nice 2 bedroom for 300 Euros.
I think that the low prices and fact that Berlin is cheaper than most other big cities in Europe, is completely unnatural and one day prices will sky rocket when everyone realizes how great the city is. Already there are getting to be more high tech companies including both start-ups and major players like Microsoft. I think, it is only a matter of time till it becomes Seattle or San Francisco.
On Saturday, we walked North to Checkpoint Charley. After the cool, multicultural (though mostly Turkish) environment found in Kreuzberg, Checkpoint Charley was a circus. All it needed was a dancing Russian bear. There were stands of Russian/Soviet souvenirs, a place to get a passport stamp, costumed soldiers with Russian and British flags who for 1 Euro would let you pose with them for a photo, shops selling pieces of the wall and an actual large piece of the wall which had been moved to and set outside of the museum enabling more photo opportunities. It looked out of place.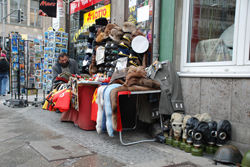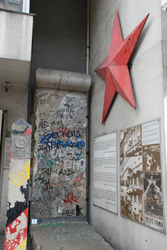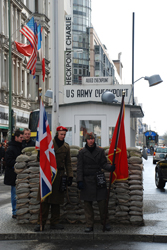 We fled the area and came to a plaza with an opera house and big advertisements for an Azeri cultural festival. Later, we took a walk to a pretty park.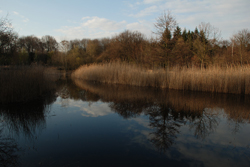 In the evening, Chris and Regine had a party for Dmitrij and Elena since they would be returning to Kaliningrad. Sandra, their gallery partner, and Kebire were also there. Everyone came late-- a good thing since it meant the gallery had lots of visitors. After dinner Kebire (who plays mandolin), Rowshan, Regine (who plays the flute), and I played some music. It was a nice combination and we all enjoyed ourselves.
Chris had Sunday off so he took us to a park which although it is in Berlin makes you feel like you are in the middle of the forest. It was a long trip to the park. Though spring is beginning to add a touch of green to the rustic browns of the forest, the area sill had the calm sombre feeling of autumn or winter. Rowshan said it reminded him of war movies he saw when he was a kid where the one surviving soldier, injured from battle, would be desperately trying to find his way to safety.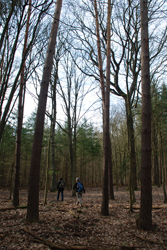 Aside from enjoying the early spring weather, Chris told us we would probably see wild boar. Neither Rowshan nor I had ever seen a wild boar (in the wild). So, we eagerly scanned the trees and bushes for movement. It turned out we didn't need to scan too carefully. A loud crash alerted us to the presence of a boar before we saw it. Looking in the direction of the sound, I saw a huge brown furry thing hurtling through the trees. A boar! No a dog?! No it really was a large male boar racing away from us. I looked toward Chris who was a little ways in front of me and was surprised to see him looking in the opposite direction, until I followed his look and got a glimpse of a second boar.
We continued our walk until we heard more crashing through the brush. Looking to the right, up a bit of an incline, a family of 4 boars crashed through the trees. They were off in the distance so we headed toward where they were, thinking they had gone behind a slight hill. As we reached the top of the rise, one boar who had been hiding in some branches raced out a little ways from Rowshan. We decided to err on the side of caution, since there was a family which meant the male would be more likely to turn and fight, and we decided not to pursue. Since the time had changed that morning, it was already later than we thought so we headed back into town.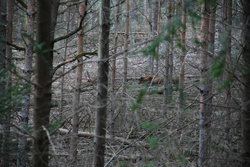 On the train, Chris got a message from Sandra that she'd lost one of the frogs down the sink drain. The frogs are not all genetically modified but the ones that are, are strictly forbidden to leave their isolated environment and most definitely are not supposed to be released into nature--even if it is via the Berlin sewer system. I began imagining sci-fi monster movie scenarios-- the glow gene which had seemingly disappeared, just became recessive and in the sewer environment became dominant once again, which along with some other weird mutations cause the Berlin sewers to become infested with GIANT GLOWING VAMPIRE FROGS. The frogs would terrorize innocent households by crawling out of their drainpipes and toilets! The Art Laboratory suddenly is known world wide! Some are horrified but those fascinated by experimental art are enthralled! Art and Science! Art going out of control and taking over!
My wild imaginings were crushed when Chris reported it had been one of the non-genetically modified frogs which had made this desperate attempt at freedom. He also said he would probably be able to rescue it by taking apart the sink drain pipe. A bit anti-climactic, but I guess it is better for the world.
On Monday we decided to walk around the center (Mitte). We walked out of the Metro and headed toward the Holocaust Memorial: a city block with gently curving hills and large stone blocks reminiscent of grave stones... or perhaps coffins (since they seem large enough to hold a body). The stones are organized in neat rows with shorter blocks on the edge. As you walk between the stones, they get taller until they loom above making the trails into dark tunnels. On the edges one can think, "This isn't too intense or anything," but in the depths of the memorial, I did get a feeling of being overwhelmed as the sky became smaller. Perhaps it is meant to represent how at first people didn't think much was happening, "Just a few Jewish people who must have been doing something wrong." But, in the end, they found themselves in the midst of history's most diabolic genocide attempts.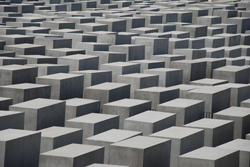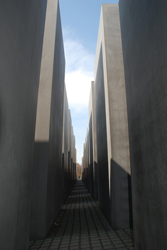 The Brandenburg Gate is a mammoth stone structure, further convincing me that German architects like their structures big, solid and heavy.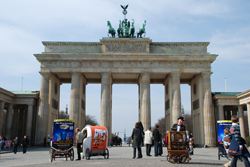 Even the churches, with their tall spires have a solid sensibility to them. In front of the gate, in a position assuring their presence in most full "postcard view" photos of the gate, were pedicabs with huge advertisements on their carriages. In front of them were parked horse drawn carriages. One had a pair of beautiful strong black horses, quite a contrast to the scraggly bony horses we'd seen in South America.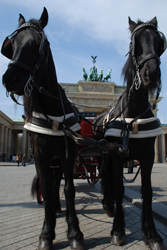 Since we wanted to see a piece of the Wall (in its original location), we took the S-bahn to the East Side Gallery: a stretch of the wall covered with graffiti. We didn't have time to walk down the whole stretch but there were some interesting pieces, though perhaps the more famous historical parts had peeled to be replaced by new works. Maybe that's the same for a lot of things in life. If one is not careful, the ugly banal aspects of life can start to take over the beautiful things.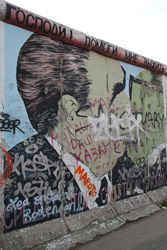 We thought there was going to be a transportation strike on Tuesday but at the last minute, it was called off. However, the weather was gray and rainy so it wasn't a good day to go to Potsdam. Instead we continued our exploration of the center from the U-bahn.
We walked towards Alexanderplatz, passing the Berlin Dom cathedral, (my favorite part being a stone door with interesting carvings in it including a life size pigeon, which was off on the side of the building and half covered by a sign), and Museum Island.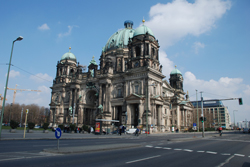 Alexanderplatz is home to the famous TV tower which we took tourist photos with.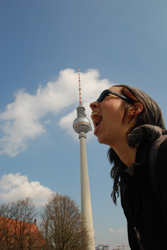 Kebire had a rollicking party Tuesday night where we played music and ate delicious food which Kebire had prepared. We also were able to meet a bunch of her friends. On the ride home, we noticed the interesting ruins of a church which we decided to visit the next day. The Kaiser Wilhelm Memorial Church was destroyed during WWII but instead of demolishing the ruins, they turned them into a small museum and built a new modern church next to it.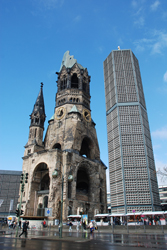 Thursday turned out to be quite and art filled day. Regine gave us a private tour of the Hamburger Haupbanhof Contemporary Art Museum which included some fascinating works (like a lead airplane which looked like it was made from silver paper).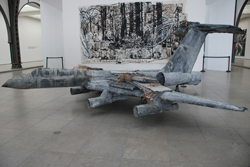 There was an incredibly long gallery hall filled with photo exhibitions which we walked through and some how managed to see everything. Upstairs, we watched a bit of one of the Cremaster films which made me think of the movie Brazil, only stranger and more arty.
After that, we rushed off to an area with a lot of galleries that all had openings. Rowshan and I only were able to see one before we had to run off to get to the House of Culture, to see a concert of students from the Turkish Conservatory of Music (in Berlin) and a German choir. The 2 groups did some songs together and some separate. The songs where the groups performed together were interesting because they added Western harmony to Turkish (melody oriented) music. It was also funny to see the differences between the music and singing styles. The German choir seemed very austere and the music was often sweet slow pieces in 3/4 time. Then the Turkish choir would do a lively 9/8 piece with lots of rhythm and lots of clapping and singing along from the audience. Even the serious German singers seemed to loosen up and enjoy themselves when they sang the Turkish songs. A Turkish folk dance group also performed.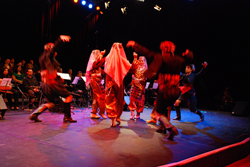 There was unfortunately, a lot of talking by various people in German between the songs. I think they mostly talked about how integrated the Turkish people were in Berlin society. But since only a couple people in our group understood German, we had to rely on 2nd hand translations into Turkish after the show.
Friday we went to Potsdam where we found the park pleasant but the Rococo interior of the palace we thought was hideous with all that overdone gold work.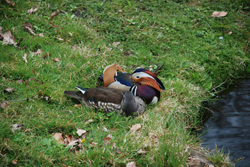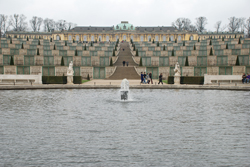 One of the most interesting things we saw in Potsdam was a bizarre piece of art in the square.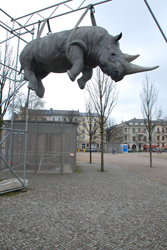 The old town was quaint but mostly a place for shopping.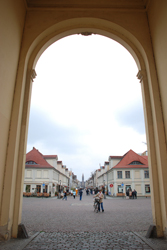 Rowshan was happy to find a sculpture of a family made from ceramics (with large parts thrown on a wheel).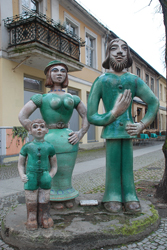 It has been a really enjoyable week and we were able to both see old friends and make some new ones. We changed our plans several times while in Berlin. I think the current one, thanks to Chris' glowing recommendation and Regine's positive agreement, is to go to Croatia and spend some time on the Dalmatian coast.... though we still have until Vienna to decide.