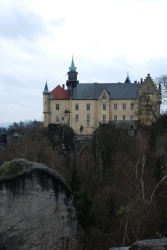 We awoke to a cloudless day and quickly got up to make a 7:15 train to Turnov, in Cesky Raj, "Bohemian Paradise". Though clear, the day was still as cold as the ice blue of the sky. The train passed through industrial looking suburbs of Prague with closed down factories and an occasional building which looked like it had been hit by a bomb. I guess the Czech Republic isn't really as wealthy as the center of Prague suggests. We were relieved as our train rattled into the countryside, where small herds of deer and rather sizable rabbits raced through large fields away from the train. Pheasants strutted and fluttered. The spring green of the fields was broken by flurries of fruit tree flowers, skeletal birch trees, and other trees whose new leaves resembled dust on their branches.
Turnov didn't look at all like the pastoral memory I had of Cesky Raj. Assuming I must have gotten confused about which town we were supposed to be in, we hopped onto a local train which brought us past forested hills and farms which better fit the image in my memory. We got off at Borek, where we were able to look up at the fort of Trotsky, towering high atop stone pinnacles.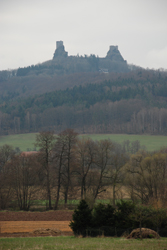 The hills in the distance had a dusting of fresh snow although the fields we walked beside had new grass and plants sprouting. We found a road marked with a trail sign and began walking toward the forested hills. Although it was a paved road, cars were nearly absent so it was a quiet walk. We passed some rows of houses but the only person we saw was an old man who seemed to be trying to tell us something but may have just been drunk.
I was a little worried because we were walking on a paved road when I was sure we should have been on a dirt trail. However, the road did have trail markers on the trees and a sign post pointed to Hruba Skala, the "rock city". The road left the residential area and wound into a forest with tall pine trees. We were relieved to notice some limestone towers and soon we came upon the chateau, a castle out of a fairytale which, although visible from the valley below, appears from the forested side unexpectedly making it easy to imagine the 3rd prince, stuck in a thunderstorm and lost in the forest, stumbling upon it. In reality, it was probably a hunting lodge where 18th century lords and ladies would go to frolic in the woods. Now it is a hotel.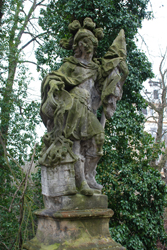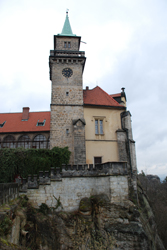 As we approached, it suddenly dawned on me that indeed we had been walking on the same paths I had walked on 13 years ago, except they had paved them and made them into roads. This explained why the roads were marked by trail symbols on the trees.
From the chateau, we descended along a footpath between huge boulders.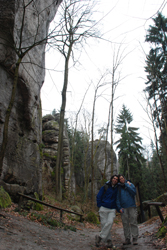 The sandstone towers are pitted by weather and some of the pits have grown into small caves. The odd shaped grayish stones resemble giant trolls who got caught by the sun and frozen. A layer of bright moss coats them in a greenish velvet. The dampness also coats the red and silver tree trunks in a mossy haze. The tall straight pines and stone towers seem to compete in an attempt to reach the light above the forest.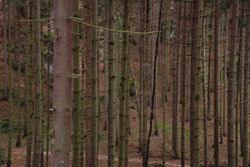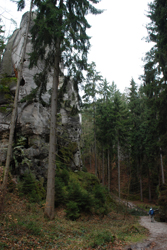 Visitors to the forest in the 19th centuries carved columns, a bed and "lover" statues into the stone.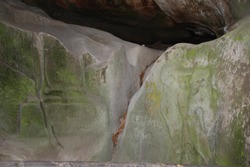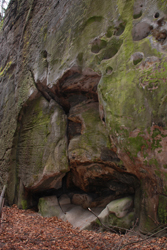 I thought one stone tower resembled Abe Lincoln sans hat.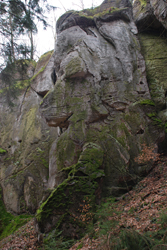 We continued through the forest and found ourselves at another viewpoint of the chateau and rock towers.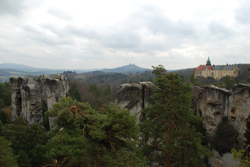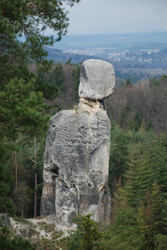 There were barely any people on the paths and only a couple cars on the road. We followed a path down a hill and found ourselves on a children's nature trail.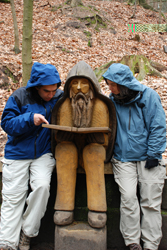 We followed this for a bit then walked up a hill where we were greeted by the sound of chainsaws. As we got closer we saw woodsmen urging horses
to drag heavy logs down a hill to a road.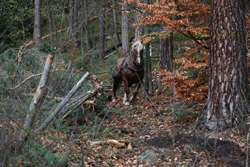 Although generally I'm not fond of logging in natural locations (especially national parks), it seemed that the woodsmen were using very light logging techniques, harvesting individual trees in areas instead of clear cutting huge swaths. We also saw many places where trees had been replanted.
Past the loggers, we came upon Waldstejn castle, another fairytale castle hidden in the woods. It rose from the trees perched on sandstone towers which made its foundation. Some of the stones of the castle are so gray and moss covered it seems like they are becoming part of the rocks the castle is perched on. The original castle was built between 1260 and 1280. However, in the 19th century, "Romantic" structural features were added.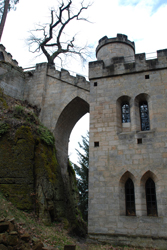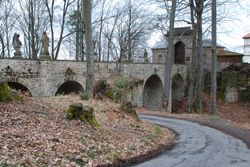 From the castle we walked down the hill to Turnov, which it turns out, was the town I had originally started my hike from in '94. It, of course, had just grown a lot.