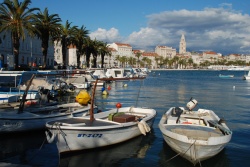 We made a stop in Zagreb so we could get a glimpse at the city before catching a train to Split. We ended up walking a lot and trying to kill time. Although there were some nice old parts of the city, mostly it just felt like a place where lots of people were doing a lot of shopping. We did pay a visit to the Croatian Museum of Naive Art (http://www.hmnu.org/en/default.asp). There were some beautiful paintings on glass including one of a giant rooster by Ivan Generalic.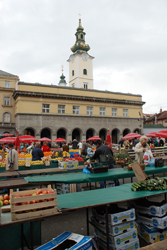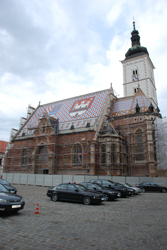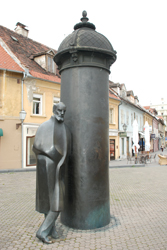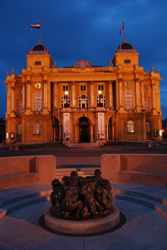 This morning I awoke and looked out the train window at limestone, evergreen tree covered hills-- Tuscany or Provence like. Looking out the other side I saw a beautiful expanse of deep blue water, evergreen covered islands and red tile roofed houses. The mood of the night before, sick of Europe and bored by blatant consumption and slick commercialism which seems to have overwhelmed Europe, was transformed into a sigh of relief, as I watched pretty stone buildings go by. The train continued and the sinking feeling returned as we got closer to Split and were met by an unattractive cluster of high rise boxy buildings and a factory covered harbor. We considered going directly to the ferry dock and going to an island. Instead, we found ourselves walking to the old town with a man who'd offered us an apartment in the center of the old town.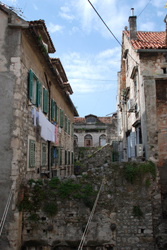 Split started looking a lot better as we entered the old town, which in fact is Diocletian's Palace, a UNESCO world heritage site. The apartment was a block away from a cathedral built into the ancient Roman columns of the palace.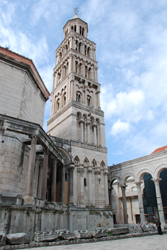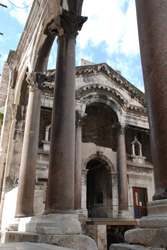 Everywhere were old walls and buildings. The fascinating thing is how what was originally a palace evolved into a town built into the palace's ruins. This evolution, which has been happening for centuries, sometimes makes incongruous sights of bricked up roman arches with shuttered, new windows peering out, or Baroque walls rising from ruins of a Roman one.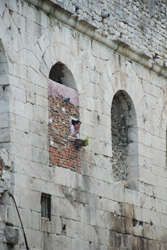 So, a cheap apartment with a kitchen, inside a Roman palace was too much to pass up so we decided to stay a few days. After settling in, we walked around the palace ruins/town finding pieces of marble columns scattered here and there as if they were just cast off building materials, and deep holes revealing ancient foundations--left to the elements as if they were just a vacant lot. It was all a very strange form of preservation--casual coexistence with the past.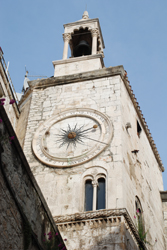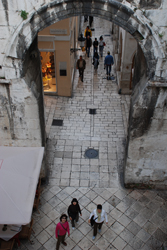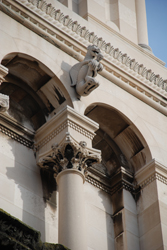 In front of the "Silver Gate" which was made of stone and had fuchsia flowers sprouting from its walls, was a huge market with clothing and lots of fruits and vegetables.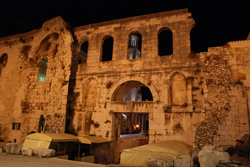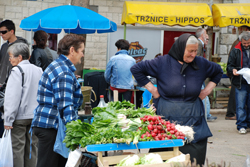 Random walks brought us to an area outside the UNESCO area, but no less interesting. Small streets revealed hidden surprises like decorative stonework and a small church.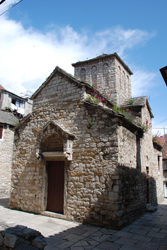 We continued up a stairway which brought us to an old Jewish graveyard where the entrance had been transformed into a cafe with a terrace overlooking the town and sea.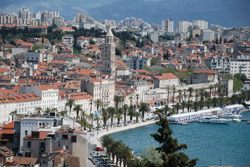 The hill was covered with pine trees. The weather had cleared and we walked in the warm sun with a refreshing breeze from the ocean. After quite a bit of walking we finally came to a small church with caves above it where hermits used to live.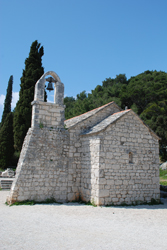 Further down was another cave with a doorway built into it.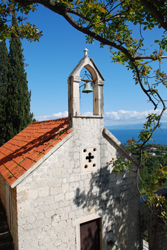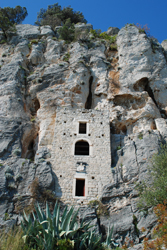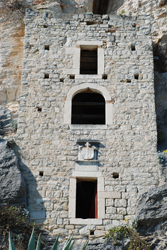 I couldn't help but wonder how one could be considered to be depriving oneself of worldly things with such a luxurious view of the ocean, surrounded by ecstatic sounds of blackbirds and a wealth of spring flowers which spread out below the caves.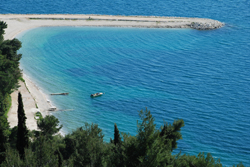 Back in town, we spent more time wandering.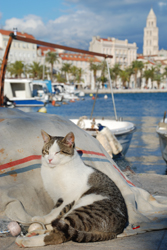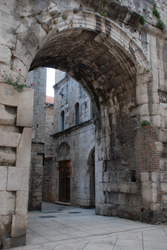 Exiting from the Golden Gate, a scaffold covered stone edifice with various new windows peaking out from, we were faced with a huge statue of Gregorius of Nin, a 10th century Slav religious leader.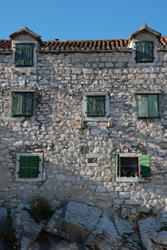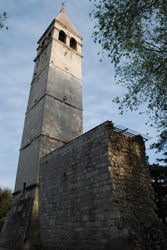 Rowshan went back out at night to take photos.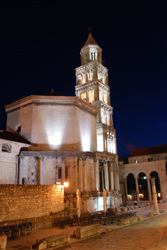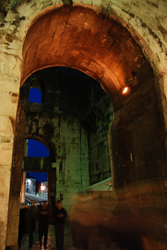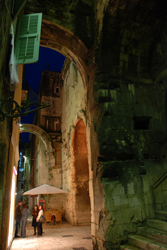 A couple days later, our plan to take a ferry to Hvar was scrapped when we awoke to heavy rain. I settled myself into a relaxing day drinking tea and reading a book I'd bought during a quick run to the market.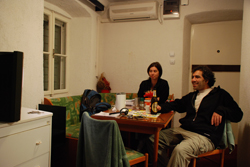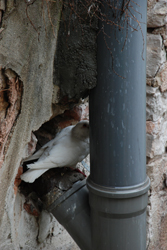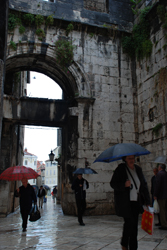 We ducked down into the basement of the palace where salespeople were selling crafts, souvenirs and paintings between the damp stone and brick arches.
Then we decided to pay a visit to the archaeological museum. There were just a couple room s with artifacts from the Paleolithic through Early Middle Ages. I tried to improve my grasp of history by reading the captions and learned about the Great Migration of 375 AD in which nomadic tribes started pushing other tribes all over the place leading to the 6th century migration of the Slavs into Europe and Croatia. There was some mention of the Avars from whom the Croats managed to free some Slavs from and who were eventually defeated by Charlamagne. I think I had heard of the Avars through an old Russian chronicle I read as part of an Early Russian Literature class.
The outside courtyard of the museum had an impressive collection of stone carvings from the Roman times through the Middle Ages, as well as some mosaics. We pondered how people knew what a Roman nose looked like when all of the sculptures of Romans seemed to have the noses broken off.