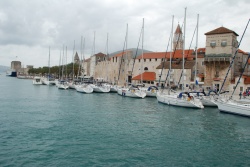 A woman we were chatting with in a cafe in Zagreb suggested we go to Trogir. We didn't get around to asking why we should go or what was there, however, since it was only 35 km from Split, and a bus went there, we went.
Trogir turned out to be a pretty stone town with its old town on an island just a short hop over a little bridge from the bus station. In '97 UNESCO made it a World Cultural Heritage Site. Like Split, the buildings were made of white/gray stone. Some buildings were probably Roman and the rest were built out of the Roman foundations.
We actually crossed a second bridge to another larger island with part of the town on it so we could relax in a cafe and admire the view of the guard tower, church towers and red roofs against the backdrop of green hills. The weather had turned gray and cloudy but it was still mild enough to sit outside. At the foot of the bridge, some painters were making watercolors of the scene in front of them.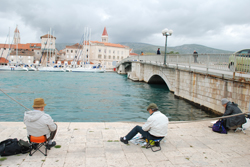 We took a look at the guard tower next to a soccer field and occupying a strategic place next to the water, now filled with luxury yachts.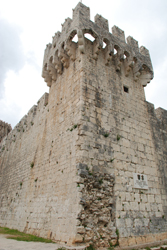 Then we went to explore the town. It actually seemed more touristy than Split with lots of souvenir shops tucked down the tiny streets. The light gray of the walls and arches were punctuated by potted plants and flower boxes. Occasionally the streets were flooded with a tourist group but since we were out of season, this wasn't frequent enough to be truly annoying. Some of the buildings had antique carved stone pieces stuck into the walls.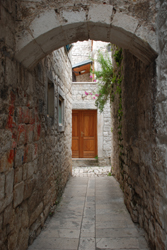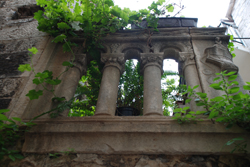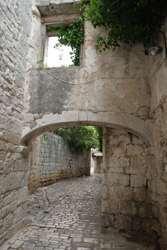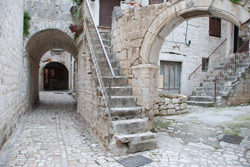 The main square, Trg Ivana Pavla II, is bordered on one side by a a large Romanesque blocky cathedral.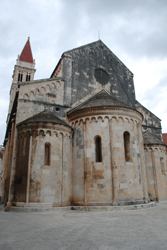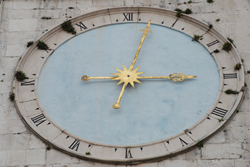 Across from the cathedral is a wooden roofed pavilion with marble columns. Inside is a relief and an alter. The building also has a clock tower. The cathedral has ornate stone work around the door including lions, Adam and Eve and other religious scenes.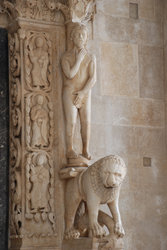 We wandered down some more streets and into a courtyard then finished our visit with coffee at a small cafe.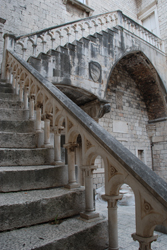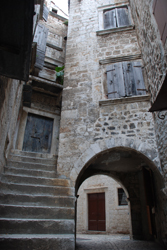 I was dismayed to learn that all the cakes and pastries temptingly listed on their menu were not available until tourist season started a couple weeks later.