Hidrellez: Spring Festivals in Istanbul
13 May, 2008, 06:04 am in "Turkey"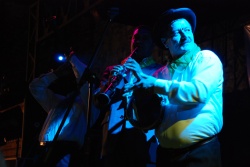 Sunday (May 7 2008) was the Sulukule Hidrellez festival. David, an expat musician we had met at the Middle Eastern Music and Dance camp, had e-mailed me about it. We met up with Dianne and some of her friends and bussed to Edirnekapi. Sulukule has been known for being a gypsy neighborhood where there used to be small clubs with music and dance. Now, however, the city is "cleaning" the area which involves condemning lots of houses. Many lots were already filled with rubble from the bulldozed houses. This Hidrellez festival will probably be the last in the neighborhood. Sulukule is just inside the city walls. As we walked toward the area where the festival was, we noticed a painting of musicians on the remains of a wall.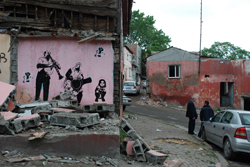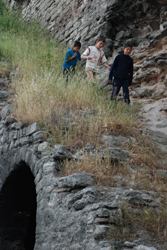 Historical Sulukule

We hurried towards the music which was in a park area just outside the wall, accessed through a gate. Davuls, clarinet, violin and darbukas. People were dancing and clapping. There was a huge number of foreigners.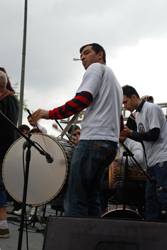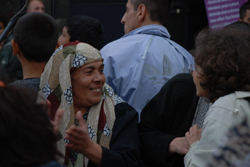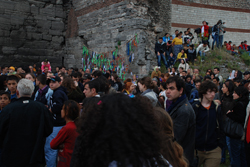 Unfortunately a down pour started. The stage had no tent so they threw a tarp over the equipment and the musicians rushed their instruments to safety.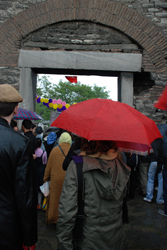 Monday evening we went to another Hiderlezi festival. This one was in Ahirkapi near Sultanahmet and sponsored by the city. It was a street festival and was packed. We managed to squeeze into a courtyard and slowly move toward the stage. Halfway there, a brass band decided to stop and play right in front of us which was very convenient because moving toward them from another location would have been difficult. When they finished, we continued toward the stage. Drummers, clarinetists and a zurna player were working their way through the crowd to the stage.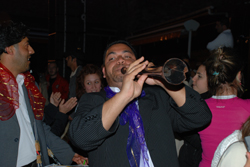 Since Kocani was playing at a different location, we squeezed out the gate and down the street. The crowd was so packed into the street, it was impossible to get into the venue or beyond. We fled to the outside of the wall. I tried to see if there was another way in and found a smaller gate a little further down. For about 10 feet I was able to walk normally but soon I was once again in one of those crowds where you give up movement of your own free will and just let yourself be pushed in some direction. Even this movement stopped as the street jammed up in front of a stage. I gave up and forced my way back out. At one point I saw a group of musicians trying to fight their way through the crowd. The zurna player made an ambulance siren sound with his zurna.

Rowshan and I sat by the Marmara Sea, glad to be out of the crush. It was there we noticed that Istanbul had developed a modern city skyline in Levent. Where before there had just been a couple tall buildings, now there were a cluster of rectangular towers with a smattering of lights shining from their windows.