Cappadocia: Tour to the Underground City and Ilhara Valley
19 July, 2008, 09:08 am in "Turkey"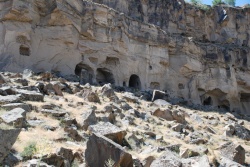 Today Rowshan woke up early to take photos of the hot air balloons.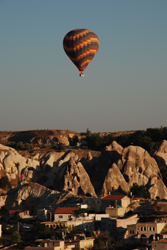 Then, we finally managed to go on the tour to the Ilhara Valley. There were 15 of us in the group hailing from Canada, the US, France and Korea. We started out at a viewpoint of Goreme where the mountain was visible faintly etched into the sky in the distance. There, our guide told us about the formation of Cappadocia: volcanic action filling the valley with ash which was compressed into layers of basalt or tufa. Then erosion created rippling hills and "fairy chimney" formations, tall slender towers that are the famous landmarks of Cappadocia. Then we headed to Derinkuyu. I had been there before with my parents. It was interesting to note that when I went before, the guide explained the city was discovered when a woman's chicken disappeared and since she could hear it below her, she dug until she came to the city caverns. This time our guide said that the chicken story was just a story and the city was actually discovered by archaeologists. He said not much is known about who made it since it was used strictly during wars so people brought what they needed when they hid there but brought it all back out to their regular houses after the threat was over, leaving no artifacts. We saw the upper levels: kitchen and stables, as well as several lower levels including the 7th level built in the 10th Century which contained a church, and the 1 room 8th level.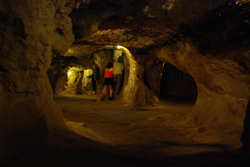 We traveled through low tunnels and down long narrow staircases, saw ventilations shafts, millstone doors (used in case of intruders reaching the inside of the city), and a well. Outside we passed up several offers for dolls.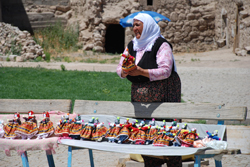 The next stop was for a brief hike in the Ilhara valley which seemed like a green tear in the dry golden land above it.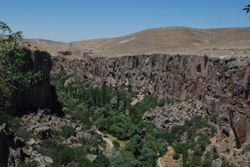 It was a pretty canyon whose rock walls revealed cave churches, shelters and pigeon houses. We visited a small painted church with yellow and red fragments of frescoes.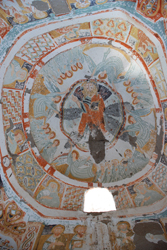 We walked alongside a small river lined with cypress trees. The river cooled the valley, as did the spots of shade provided by the trees. It was a little like Mission Gorge in San Diego. We couldn't help noticing a rock formation that looked like a sheep's or pig's head.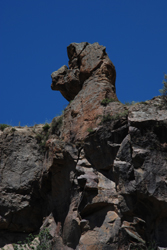 Lunch was at a kebab place on the river in the town of Belisirma. We sat on a deck thought there were platforms with cushions set up in the river itself, like the restaurants at the foot of the mountain in Tehran.

Our guide rushed us off to Selime Monastery: a monastery built into fairy chimneys which was near an area that some tours falsely claim to have been the set for Star Wars.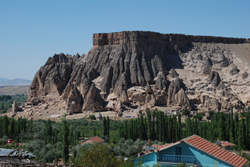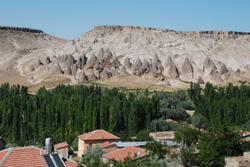 We climbed up rock stairs and trails to the complex which included kitchens, a watch tower, many other rooms, a cathedral, church, and chapel.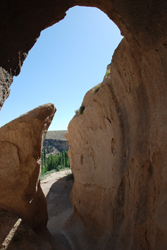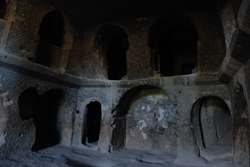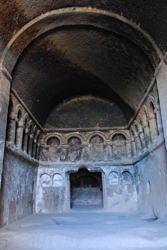 There were a few sections, including the chapel, with carvings and the Cathedral was filled with dark frescoes. I don't know if they had all originally been black and orange but the remains seemed to be all black with just a few parts in orange. Our guide said the monastery had also been used as a caravansary but I think he was just covering for the fact that we didn't go see the caravansary that the other tours go to. Below the monastery was a small tomb.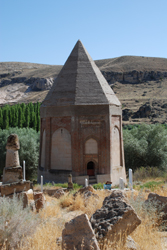 It was a long drive back and the tour finished with a stop at Pigeon Valley, probably more as an excuse to go to the Onyx jewelry and stone carving factory.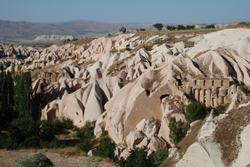 Here we got the same carved onyx egg demo I saw 8 years ago.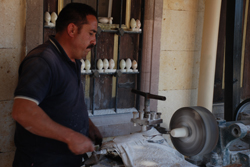 We were also told the same way to identify real turquoise that I was told by them 8 years ago: break a chip off it. I'm about as skeptical of the feasibility of this technique as I was 8 years ago.