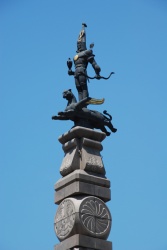 We are in Kazakhstan. This is exciting for me because Kazakhstan is probably about 1/2 way around the world from San Diego.
So, now we are here! Central Asia! Kazakhstan! What did we do the first day? SLEEP!
The flight from Almaty to Istanbul is only 4 hours however, when we got to the Ataturk airport in Istanbul, we saw our flight had been delayed 5 hours. We considered calling R's brother but figured by the time he got here then had to drive us back later, it would be more hassle than it was worth. Fortunately we found a Starbucks in the downstairs of the terminal. Though I am constantly knocking Starbucks in the states, I have to give them a "Traveler's Friend" award. We were able to spend several hours, comfortably sitting at a table with electrical outlets to run our computer, going through photos and writing. No one ever disturbed us. We drank our coffee which, although it is more expensive than it should be, was regular Starbucks prices instead of the jacked up prices the other cafes at the airport charge. Starbucks also gets a "Traveler's Friend" award because they have separate non-smoking sections (in their regular stores).They have also become my toilet choice beating out McDonalds by a mile for cleanliness and not having to smell fried grease. Coffee, even if it is burnt, smells a lot better. So, Starbucks, I still don't like how you try to put little indi cafes out of business but go ahead and expand all you want in international airports and places lacking filter coffee and espresso.
Around 2AM, our flight left. A traveler stated that the good thing about no-frills US airlines is that they make flying with international carriers seem luxurious in comparison: wide seats, big meals, lots of drinks. Astana Air gave everyone a little nylon waterproof bag (perfect size to hold a passport so usable as a neck pouch money belt) containing socks with treads for the flight, travel toothbrush, a tiny tube of toothpaste, a comb, and a sleep eye mask. They passed out hard candy for takeoff and landing. Dinner at 3AM (5AM Kazakh time) was a bit odd but I guess they were prepared for an earlier flight.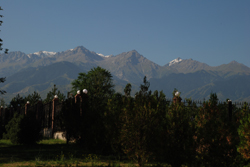 As we descended into Almaty, we were level with a long, stunning range of jagged snow capped mountains. The land below us was varying shades of brown, making it look like an old faded photo. Even the greens looked brown. We could see small rivers lined with trees snaking through the brown flat land.
Although at the foot of mountains, Almaty seems flat, except for an even, slow incline from north to south as if at one point the city had been completely flat but then the north end sank.
After crowded, crazy, Istanbul, Almaty is a shock. Walking through the city, I realized it was as if you took all the contents of one city block in Istanbul and stretched it out over 10. Everything seems so spread out. The human content of a city block in Istanbul would have to be spread out over 20 blocks...maybe more. The buildings are large and imposing. The streets are wide and I didn't see much traffic. People do things like signal when they turn and even stop for pedestrians. The streets are lined with tall trees casting welcome shade in the hot summer weather. It would be a good city for biking, but I haven't seen very many people on bikes.
Though LP warned of corrupt police in Kazakhstan, almost all the police I've seen in Almaty seem to be engaged in more constructive activities. The Almaty police are the pedestrian's dream come true. If a car speeds through a light, or cuts off someone, they are there, pulling them over. Maybe this is why drivers are so much more considerate of pedestrians than in other places we've been.
In the evening then went out in search of food. This was where the Istanbul block to 10 Almaty blocks got a little trying. We walked to the center--where during the day there is a big market. There were street sellers-- men and women with buckets of fruits and vegetables or melons in carts-- on the streets surrounding it.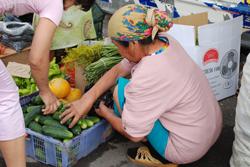 We found a samsa (sambosa) stand and got some cheese stuffed baked pastries. A couple blocks farther, we came to a pedestrian street. There were mostly stands selling ice cream but we found another samsa stand, bought a couple more and called it dinner. The street had a couple guitar players performing and a lot of kids and women aggressively begging.
The architecture of Almaty seems oppressive to me--big heavy buildings that take up huge city blocks and reach to a height of 7-8 stories max (usually 3-4). They are Soviet style-- ugly concrete block structures from the 70s. Instead of stretching upwards to sky scraper heights, they seem stunted. However, shouldn't I feel grateful that with short buildings and wide streets, the blue sky stretches wide and unobstructed overhead?
In the National Museum we saw beautiful costumes, textiles, jewelry, containers, and a yurt--little individual beautiful items for a nomadic existence. Maybe seeing giant immovable structures of gray replace the reds, purples, golds, and greens of embroidered hangings and felt carpets has turned me against the city buildings. There is a nice Kazakh monument which shows the Golden Man as well as scenes I assume are from Kazakh history or epics.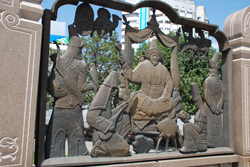 Almaty is growing on me. It is a pretty city in spite of its Soviet architecture. It seems very livable. It has lots of parks and fountains, well behaved drivers, and some decent cafes.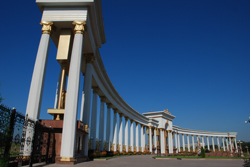 After a trip to the Tajik consulate, we went to the market.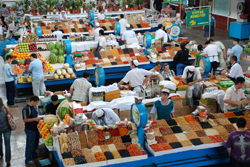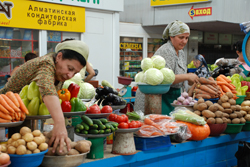 The market had everything people could need. Although it is called the "green market" it took us a while to get past all the clothing, housewares, shoes, and electronics to the actual food part. The market seemed to be full of the life missing in the streets. There was a huge room of vegetables, stands of cheese sellers, another hall with several sections of "oriental salads"--probably a good place for vegetarians to stock up on mixed vegi salads so long as they avoid the pickled chicken combs.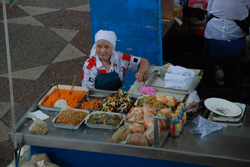 A saleswoman, seeing me eyeing them suspiciously said, "Chicky chicky." There was a row of cheese and yogurt sellers, a corner of flowers and a huge meat section divided by animal-- each with an illustrated sign overhead so you could be certain, beyond a doubt, that you had indeed bought horse sausage.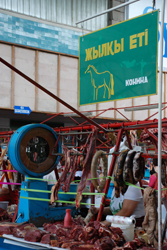 In the dried fruit and nuts section, a man waved us over and offered apricot samples. I'd been thinking of getting some apricots so I went over with Rowshan. He asked where we were from. I said the US and R said Iran. Immediately the seller next to him began speaking Farsi--or rather Tajik which is so similar they could almost understand each other perfectly. Another dried fruit seller joined in the conversation. Apparently, they were all from Tajikistan. While they were talking, a woman came up. One of the guys, learning that we had lived in Istanbul, had pulled her over because she had been to Turkey and spoke some Turkish.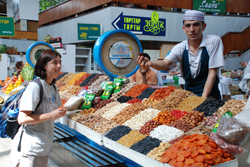 I bought my apricots and we walked out to a nearby park. The parks here are well maintained but surprisingly uncrowded-- especially when compared to Istanbul where people fill the parks, as well as highway medians and roundabouts or anywhere else with grass. We visited the Russian Orthodox church then swung by the Musical Instrument Museum to see the building (a pretty Russian style wooden house).