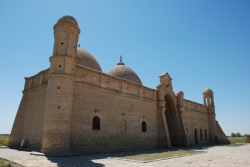 I woke up at 3:30 AM and decided we could turn off the AC. However, with the absence of the A/C's white noise, the pounding electronic techno music from a restaurant in town became to overwhelming so we turned the AC back on again. It wasn't actually that cool anyway.
In the morning, we walked into town by way of the Mausoleum. It's worth a 2nd and 3rd look anyway. The sun had already risen enough to bleach the colors from the surroundings with its harsh light.
We gave Murat a call and had him come pick us up and take us to the Arslanbob Mausoleum. The girl at the phone office showed us a photo when I asked her about it. The receptionist at the hotel had also recommended Arslanbob over Sauron.
Murat drove us out of town, pointing out the university and a few things here and there. Rowshan and him chatted in Azeri and Uzbek while I spoke to him in Russian. He was born in Turkistan. He said during the Soviet Union it was easy because he and other Uzbeks could go back and forth between Uzbekistan and Kazakhstan. Now, since they are separated countries, visas are required and bureaucracy makes it a lot harder. He mourned the fact that the Turks: Turkish, Azeri, Uzbeks, Kazakhs, and Kyrgyz, who are "brothers" are not able to freely move about the Turkish countries. I said they needed a kind of "Turkish Union" like the EU to make it so they could freely move about. Murat talked about Rowshan being his brother since he was Turkish. Many men call Rowshan "brother" when they find he is from Iran and a Moslem. I can't help noticing the happiness when they find this acceptable mark of "brotherhood." Murat also spoke about how there was discrimination against Uzbeks in Kazakhstan and how they were barred from getting good government jobs. Ethnicity is included in their passports.
We drove past flat, dry dusty lands. Murat pointed out some cotton fields and mentioned that Uzbekistan wanted the land to grow cotton because Kazakhstan wasn't using it and Uzbekistan had a much larger population but less land. I didn't ask where the water to grow the cotton would come from. I thought of the Aral Sea disaster which occurred due to attempts at irrigating cotton fields. I also didn't mention that I had heard Uzbekistan was also quite interested in the cultural monuments in the Turkistan area.
We did pass a couple small lakes but mostly the land was harsh and dry with scraggly dried bushes and grass. There were some horses and donkeys and at one point we passed a young man on a donkey herding camels.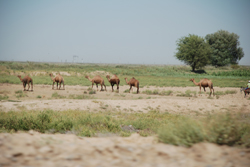 As we crossed the railroad tracks we saw a small tomb, which Rowshan had taken a photo of the day before from the train. It was called Shaxan Ata.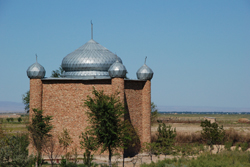 As we got closer to Arslanbob, the flat land became marked by some hills. Murat explained the hills contained ruins of old cities and archaeologists from Almaty were currently excavating them but were so far uncertain of how old they were. We passed one where the hill had a huge hole where excavations were taking place.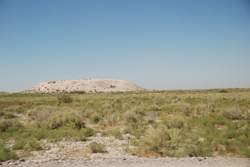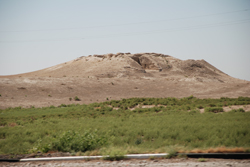 The area around the mausoleum had a surprising amount of activity for such an empty area. There was a cluster of buildings on one side of the street, a mosque, hotel, and some shops. In front of the gate to the area was a cluster of yurts: some souvenir stands, others cafes. The mausoleum was a striking brick building which rose majestically from the flat land. Though it wasn't huge, its design with graceful towers was striking.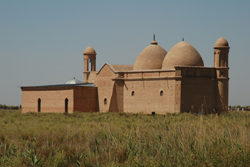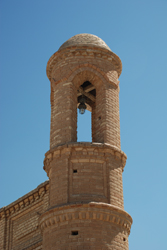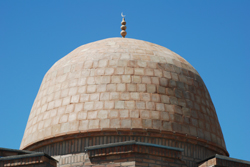 There are 3 Arslanbobs: one in Kazakhstan, one in Kyrgyzstan, and the third in Saudi Arabia (I think). All are supposed to be the burial place of Arslanbob.
Inside one side was a tiny museum with ceramics samples and some old books, documents, and maps with calligraphy on them. The mosque room had beautifully carved wooden pillars.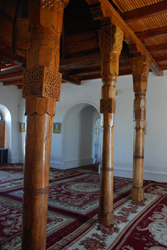 As we were looking around, an old man with about 10 children wandered in. They all quietly sat down. He spoke to them quietly and I thought perhaps he was a teacher with a group of students until some adults joined the group. Rowshan took a photo and spoke to one of the adults. They were all one family--grandfather, parents, aunts, uncles, cousins, children.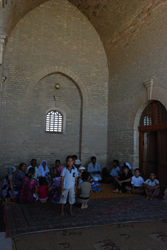 They moved to the outside covered area between the 2 rooms. I moved into the second room and saw several tombs, including that of Arslanbob--the teacher of Akhmed Yasaui. There was a man kneeling in the room with a scull cap and long olive coat. Not wanting to interrupt his prayers, I was about to leave but he gestured me in. I knelt next to him on the cushions along the edge of the room. He smiled showing gold teeth and asked in a gentle voice, where I was from. Then he asked if I'd like him to recite a prayer. I didn't answer, not wanting to offend but not sure of the protocol. He took this for an affirmative, asked me my name and then proceeded to sing a prayer--none of which I understood. He sang nicely and the tone of his voice was pleasant. An old woman and child entered. She knelt next to him and put a coin next to his knee. He sang a prayer for her. I put a coin next to his knee and thanked him. He sang another short prayer. I sat for a bit longer and noticed the swallows flitting around the room. Several had nests in the tips of the arches.
Rowshan and I walked over to the graveyard near the Mausoleum. Sometimes it seems like the graveyards in Kazakhstan have more interesting buildings than the towns: brick houses with domes and arches, silver moons or stars adorning the tops.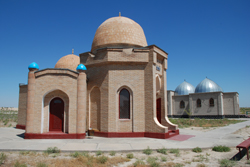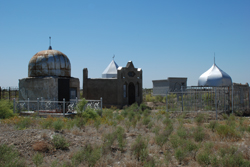 On our way back to Murat's car, a young woman yelled out "Hello! Welcome to Shymkent! How are you?" I replied, "Fine, How are you?" Just then, a car pulled up next to us and the passenger asked where we were from. I said America and they smiled and drove away.
Back in Turkistan, we had lunch at a cafe near the mausoleum. Their manti looked good but they'd just run out. So we got laghman which was also good with peppers, carrots, potatoes and sauce.
As we were walking back to the hotel via the mausoleum, someone called out, "Hello! Welcome to Turkistan!" It was the girl we'd seen in Arslanbob. She introduced herself, Alina, and her sister-in-law, Rosmila. She was with her family visiting the sights. She asked if we could take a photo together--without hats. We did. They were from Shymkent which she said was, "the hottest city". "Hotter than here!" I exclaimed. "Yes!" she replied. What have we gotten ourselves into? Murat had said the temperature today was 45 degrees outside when we got into the car at Arslanbob. I secretly thanked the Peace Corps for not sending me to Kazakhstan like I had requested. I told Alina, we were going to Shymkent tomorrow. She welcomed us to Turkistan, Kazakhstan, and Shymkent (in advance) and then left welcoming us to all of Kazakhstan. So far the people we have met from Shymkent have been so friendly, it makes me look forward to getting to the town in spite of the heat.