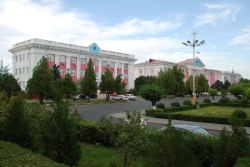 The center of Taraz is pink! The sombre government buildings all have been freshly painted in varying shades of pink: hot pink to pastel rose. It looks like Barbie just became mayor. We didn't have that much time in Taraz because everything takes longer than you think it will in Kazakhstan. We got a slower than anticipated start in the morning because we were both still tired from the hiking and stomach problems.
We caught the bus to the bus station which seems to take a rather circuitous route. At the station, a Taraz minibus was almost full but we couldn't squeeze our backpacks in. We investigated a shared taxi but after waiting for a while and not seeing any other people to share it with (plus it was expensive) we went back to the minibus, by now replaced with one that had a bit more space. We got our bags in (very relieved we didn't have instruments with us anymore). Naturally, we had to wait for the minibus to fill. Finally it did but for some reason they needed us to change to a different one so we had to pile out then pile back in a new one. At last we were off. About 1 km down the road, we hit a hill. The driver tried to shift to a lower gear but the gears were stuck. He madly shifted from one gear to another but the van wouldn't move and stayed stuck in the middle of the road. Cars screeched by on both sides honking wildly. Eventually we all had to get out and wait as the driver jammed the gear shift frantically but to no avail. He got out some tools and a mat and crawled underneath to fix it. A huge truck squeezed by somehow managing to not run over the part of the driver sticking out from under the minibus. Rowshan was losing patience so he demanded our money back. He was about to grab our bags when the driver managed to get the van to move. Happily he drove it to the side of the road, running over his tools in the process-- the plastic toolbox making a splendid crunching noise. We got in, confirmed that the van could make it to Taraz and repaid our fare. After that the ride was fairly uneventful. We passed donkey carts and a lot of dry flat landscape. Along the right were the shadows of mountains seeping through the haze. About 20 km from Taraz, the driver made a water stop (a bit more cautious of natural springs, we had our own frozen bottled water). While on our way to Taraz, the driver announced, when he learned we were from California, that Taraz was the sister city of Fresno. "That is not a good sign," I told Rowshan.
The minibus dropped us in front of the Hotel Taraz--a giant Soviet hotel which probably hasn't been renovated since then containing peeling paint, stained burn-holed carpet, toilet that wouldn't stop running, cracked windows, and 2 hard wooden beds scooted together with old pieces of foam rubber about 4" thick for mattresses (which reduced to nothing when any weight was put on them). But, since it was the cheapest hotel we had stayed in during our Kazakhstan trip (about $30) and it was on the way to the bus station which we wanted to get to early, it was fine.
We got settled in and rushed out. It was already past 4 and we had to get to the village of Aysha Bibi to see the most famous site in Taraz: the Aysha Bibi Mausoleum.
When we got to the Aysha Bibi, Rowshan was dismayed to see the sun was behind the mausoleum which would make the photos too dark. My first impression was a magnificent building rising from a sea of roses. The path led through an intoxicating garden of deep red roses. The mausoleum is a small terracotta building completely covered with intricate patterns which subtly shift from stars to flowers to vines and leaves to different stars. Bricks become lace.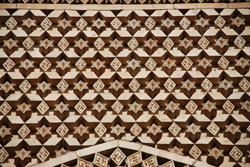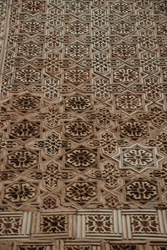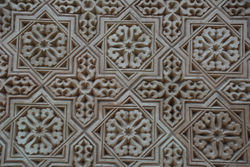 Even the columns aren't plain but have graceful arcs and curves decorated with stars, flowers, and vines. At the top of each, a tiny dome is supported by a nest of triangle petals. It is startling in its beauty.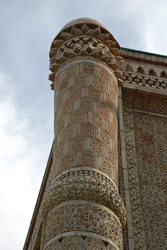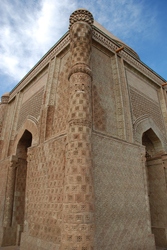 The story behind it is Aysha and the Lord of Taraz, Karakhan, fell in love but Aysha was forbidden to marry him. So she and her companion, Babazhi Katun, set off for Taraz so she could secretly marry Karakhan. Something happened and Aysha collapsed a little ways from Taraz. Babazhi Katun rushed to get Karakhan who reached Aysha and married her before she died. He built her tomb there and later, one for Babzhi Katun next to it.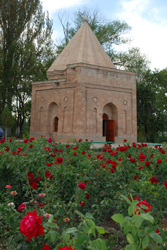 So, the tomb is a monument to love--perhaps it expresses a longing for ethereal beauty. It is a serene location and I sat for a long while looking at the patterns
and listening to the voices of men singing prayers for visitors.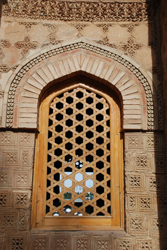 Upon walking around to the back of the building, we found that what may be original terracotta work remained (or at least older than the rest of the building). The rest of the building looked like it had been restored with new terracotta tiles. This side also was facing the light of the sun which made it ideal for photos.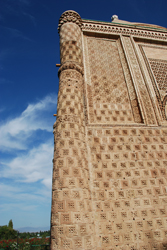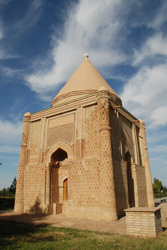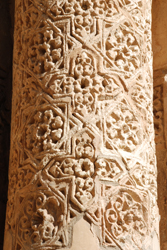 Eventually we headed back to Taraz where we encountered the pink center, had dinner and visited a small park with reconstructions of a 12th and 13th century mausoleum.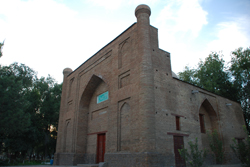 Then we walked back to the hotel along tree shaded streets towards the setting sun.