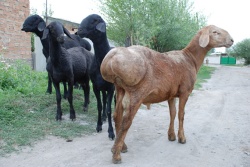 We shared a taxi to Karakol with a couple from England who had biked from Denmark to Russia then taken a train across Kazakhstan to Almaty (biking across miles and miles of Kazakh desert in July=NOT FUN). Then they had biked to Karakol and had originally planned to go across China but all the land borders are closed because of the Olympics and they've stopped granting visas.
The ride to Karakol followed along the lake side. The mountains continued to be hidden in haze. We passed some interesting red rock formations and the area seemed to become a little greener.
Karakol is in from the lake a little. It looks like a fairly unexciting town--concrete brick center, with some stores, cafes and a few trekking agencies. There are supposedly mountains but it is so hazy that all we could see was fuzzy shadows.
The houses are Russian colonial style which adds a bit of architectural interest in their wood trim design. There is also a pretty Russian Orthodox church made of wood. It was unfortunately closed. A few blocks out of the center, the atmosphere got more tranquil with tall pines and other trees shading the street. Beyond the avenue of trees, we could see hills and the faint brightness of snow in the distance.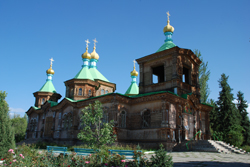 Although we arrived too late for the famous Karakol animal market, we did see some specimens of the amazing Karakol livestock, namely the Kyrgyz fat-ass sheep (our name, not the official one). These sheep (LP refers to them politely as "fat tail" sheep) look like they have an extra butt growing off of where a regular sheep's butt would be. The fat from this area is apparently prized.
The mountains were slightly more visible this morning. While in the center of town, we saw the Russian Orthodox Church was open. Inside it was white and sky blue with gold stars painted on the ceiling of the main dome (the other domes weren't visible from the interior main room). Then we visited the mosque, a Chinese mosque with wooden pillars and ornate wood carvings running from pillar to pillar and under the eves. Since it was prayer time, we didn't go in.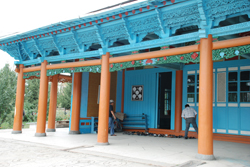 Finally, at sunset, I looked out of the window and saw the mountain tops clearly shining purple against a pink sky with touches of gold from the sun. We rushed out but due to unfortunate placements of telephone wires, walls, houses, and ends of streets, we couldn't get a photo until the sun had almost disappeared.