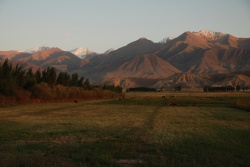 Back in Karakol, Gulnara's guest house was packed. Sylvie and Florent were placed in "our" room and we were stuck in a tiny room with one bed and a 2nd made from a fold out chair. The other rooms were filled with a tour group. Rowshan has decided he hates groups of any nationality: the loud Georgians at the hotel in Cappadocia, the loud Israelis in Huaraz, and the rather rude French tourist group (though at least they were not noisy) in Karakol.
In the morning we caught a minibus to Balikchi and then a shared taxi to Kochkor. The road from Balikchi to Kochkor was a pleasant surprise. We headed directly into mountains and were soon surrounded by red peaks with contrasting spots of green plant life. The mountains seemed to just stretch on and on in waves of rocks. At one point we passed a turquoise lake.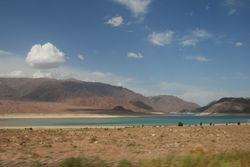 It was a little like the area near the Salar in Bolivia but the landscape had a dusting of green which made it alive instead of alien. Alive... though a bit harsh. Still, we passed wild pastures filled with horses and on either side.
Kochkor is also surrounded by mountains. One side has striking snow covered peaks. The other--layers and layers of mountains that seem to stretch on forever. It is a tiny town with a little bazaar in the center. It feels more welcoming than Karakol.
The guest house we are staying at is really nice with big rooms full of carpets. We went for a short walk but soon the gray clouds dumped rain on the town.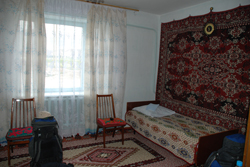 Kochkor is a surprisingly charming town. It does not have quaint architecture or cute things that charming towns are supposed to have. It just has something about it that makes you want to stay for a bit--a wreathe of mountains, a river, green pastures full of horses, nice guest houses, a decent cafe. It has a budding tourism industry and 3 different organizations offer tours to Song Kol (Lake) and other jailoos (summer pastures) as well as sell handcrafts. But, the town hasn't become jaded towards tourists and they seem to still be a novelty. It also seems that everyone, old and young, says "hello." It is far from prosperous and it looks like the Soviet buildings are being repaired or just left vacant. Instead, smaller kiosks are popping for people to run their little stores out of. Calves graze by the side of the road. Children play and run up to shake our hands and beg Rowshan to take their photos.
Today we went to the animal market. When we arrived, maybe around 9:30, it was in full swing. The road to the market was full of cars. As we got closer, we saw people holding sheep by the side of the road.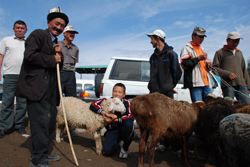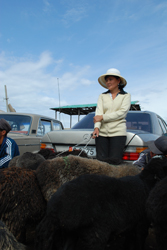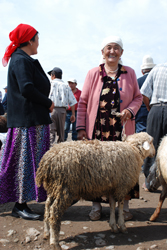 The sheep, it turned out, could be very stubborn and were evidently freaked out by the whole situation.
The first section of the market was for sheep and goats. It was a chaotic mix of people, vehicles and livestock. We couldn't find fat-ass sheep of the caliber we'd seen in Karakol. The movement of sheep seemed quite a problem and we saw people half lifting, half dragging sheep--which were quite big as far as sheep go-- from one place to another.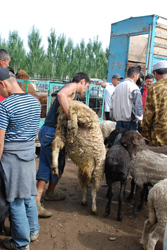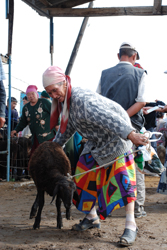 All around were the sounds of bleating. Some people just had one sheep they were trying to sell.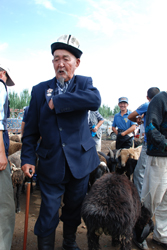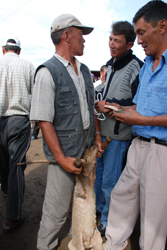 Others had truckloads.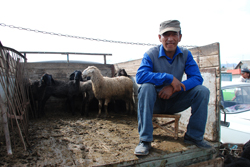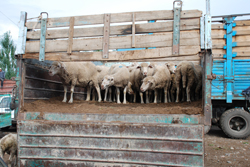 Some of the sheep seemed to have colds and sneezed sending blobs of sheep snot onto passersby.
From the sheep section, we moved on to the cow section where owners stood holding their cows on ropes.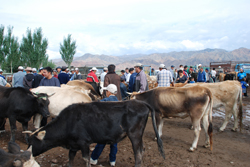 Along one fence the bulls were tied. The third section was for horses. Several were tied around a round metal thing. Others stood on ropes held by their owners.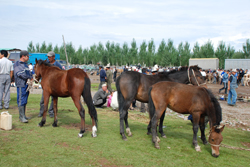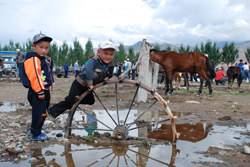 Sometimes the owners would walk them around the area. Next to the horse section, people sold ropes and bridles.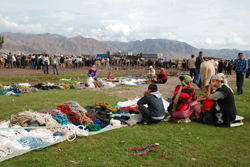 As we left the market, we noticed a car with its trunk and roof filled with pieces of a yurt. I guess a yurt is portable enough to be carried in a small car after all.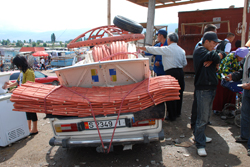 Next we walked through the regular bazaar next to the animal market.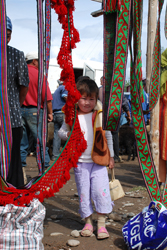 We were looking for replacement pants for Rowshan. We didn't find pants but we found a nice little row of people preparing fried piroshki, samsas, manti, laghman and other dishes. A man made chicken shashlik on a grill. Women with little portable coal burning deep fryers and ovens, prepared fresh food.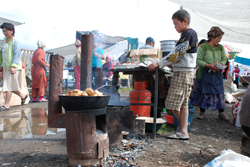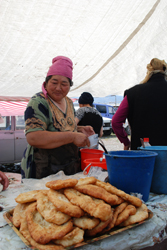 We stopped for a cup of tea and sat watching the people go by.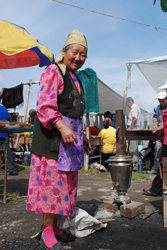 Beyond, the animal market and further, pastures leading up to the row of read mountains. In the market, with this view, I felt like we were in true Kyrgyzstan without the Soviet/Russian influence. It was more like I imagined Tibet or Nepal would be like.
After the market, we stopped by a bakery where in the morning a young man had been baking fresh bread in an outdoor tandori type oven.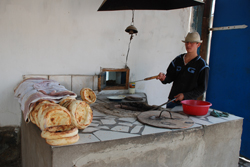 As we returned, we were dismayed to see he'd finished the day's bread production. But, since a crowd was beginning to gather, we figured he must be about to make something a lot more interesting. A few minutes later he appeared with a tray of triangular stuffed bread dough and slapped them onto the inside of the oven.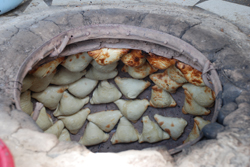 The oven was almost entirely full of the pastries. We joined the group and received the first one out of the oven: a meat and onion samsa nearly too hot to hold.
From there we walked to the edge of the town in search of a graveyard we'd passed in the taxi the day before. The graveyards here are fascinating because they are so different from other graveyards I've seen in other countries.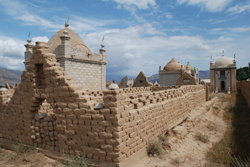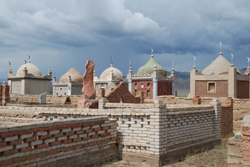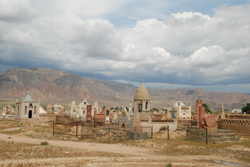 There are monuments built from adobe disintegrating in the weather as well as brick structures with domes.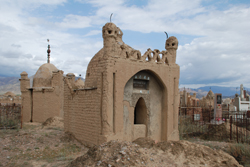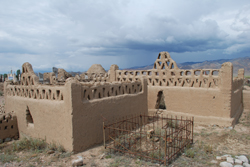 The towers and domes have crescent moons on the tops. There are also metal yurt skeletons built over graves as well as modern marble stones.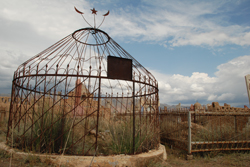 Other graves were just mounds of dirt marked by a single plain stone. One grave was adorned with pieces of pink crystal and others were made of concrete decorated with broken pieces of colored glass. There was even a concrete yurt.