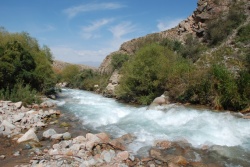 Today we just went on a short hike to a river valley: a pleasant spot of green in the dry hills. We were going to hike as far as we could towards a lake but the environment near the trail was so hot and dry, we decided to climb down into the area near the river which crashed through the canyon, lined with trees casting patches of cool shade.
We had tea with our host, Talah, today. He's had the guest house since 2000 but he said in 2005 they had a revolution so there were no tourists. Aside from that, the numbers of tourists are growing. He did seem a little disappointed he wasn't in Lonely Planet. We talked about Kyrgyzstan and the peoples' dissatisfaction with the presidents who have been selling off parts of Kyrgyzstan. Rowshan brought up something he heard about one of the presidents losing the mountains on the border of Kazakhstan during a card game. Talah said people were protesting and demanding they be returned.
The tourist season here is only 3-4 months. He also said the winter was cold and windy but any snow was blown away. Walking outside I did see how Kochkor is located in a wind tunnel made of the rows of mountains surrounding it. He said life is hard in Kyrgyzstan and everything is getting more expensive. He thinks it will take 30 years to fix the country--the time it takes for the current generation, raised in a market society, to grow up. Unlike Nurik, Talah did not want the Kazakhs to have Kyrgyzstan. He said most Kyrgyz were against the idea and felt the Kazakhs weren't good for the country since they had already bought up lots of land around Issyk Kol. He felt any relations between the 2 countries would end up with Kazakhstan exploiting the resources of Kyrgyzstan.
On our last morning in Kochkor, Rowshan saw Talah's mother, Gulaiy, the owner of the guesthouse, working on a traditional quilted pillow.