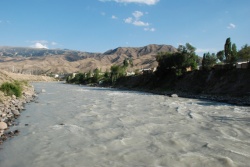 The road to Naryn passed through another layer of mountains. I usually think about mountains as kind of being a row that you pass over and then end up on the other side. Here in Kyrgyzstan, you go over a line of mountains and then there are more. You pass over those and find even more. We got into Naryn during the CBT lunch break so sat for an hour with our bags on their doorstep.
Naryn seems like an ordinary town-- a main street, Lenina, runs down the center with brick buildings of several stories, a hotel, police station, various markets, some restaurants, a fabric store which changes dollars, and Internet places. It has a university and official looking buildings but, looking at the number of people on the street, you'd think it was smaller than Kochkor. Maybe after school starts it will be a bit more lively.
On one side there are dry greenish hills.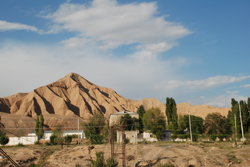 On the other side is the river--churning gray-- and dirt hills of brown, tan and red. After settling into our guest house (an empty apartment), we met with Daniel and Louisa, 2 fellow travelers who we agreed to share the taxi up to Tash Rabat with, and had lunch at a mediocre restaurant. Then we walked up to CBT, finalized the taxi and headed back through town, stopping by a Shyrdak shop where we bought a small sample.
In the center we noticed an art gallery and went inside. It was closed, but a man standing outside opened the doors and turned on the lights for us. In the middle was a yurt, nicely decorated with shyrdaks, musical instruments, and other traditional items.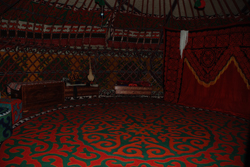 The gallery was made up of 3 rooms, each of whose walls were filled with paintings by Russian and Kyrgyz artists. Some were standard types of landscapes--scenes with yurts and people in traditional clothing, others were ethnographically inspired. Some were abstract and others were fantasy. There were some portraits, paintings of horses, black and white prints of etchings. There were also some ceramic pieces. However, the pieces in the gallery didn't seem to be in any particular order: not chronological, or stylistic for sure. Still, it was a surprisingly good collection and I enjoyed the variety.