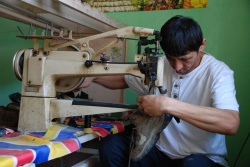 We left Arslanbob after breakfast, sharing a taxi with Marufdhan's son and daughter-in-law. His mother was visiting that morning so we were able to see 4 generations together.
As we drove out of the village we noticed people had spread hay over the street and were waiting for cars to drive over it. I asked why and was told that the cars crushed the straw so the people could separate the grain. Further on we saw a man scooping up the pulverized straw. I guess it is a modern threshing technique.
In Jalalabad we boarded a mashrutka to Osh. Before leaving the station, the driver got in an argument with one of the passengers. They yelled at each other a bit and then the driver sat back down and drove the minibus out of town. This reconfirmed our belief that living in Jalalabad makes people pissed off.
After leaving our bags at the hotel and eating lunch at a crowded laghman place, we walked through the bazaar and I was delighted to find a shoe repair workshop. I showed a man working there, my hiking boots-- patched and with the inner heels torn and heels worn down on the outer edges until the inner sole was showing. I was expecting him to shake his head and gesture towards a trash bin (silly thought since there aren't any), but instead he looked at them, listened to what I requested and said they'd be ready in half an hour. While we were waiting, Rowshan found out there was a seamstress' shop so we brought them a pair of pants he'd ripped a big gash in. They also said to come back in half an hour.
We returned to the shoe repair shop and I delightedly watched as the shoe repair man, Delshad, ground down rubber into new heels, glued them in place, then trimmed them down. Then he took soft pieces of leather and made new back heel supports. He re-glued pieces of the soles and uppers which had become unstitched and even re-glued a spot on Rowshan's shoes where the rubber sole had become un-glued. My hiking boots have been revived when in the US they would have been thrown out. They were now comfortable and strong again. I decided I'm going to take worn out hiking boots to Tijuana and find a shoe repair guy there in the future. I think they kind of thought it funny that before even seeing the sights of Osh, we'd visited their shop. I explained that we didn't really have shoe repair places in the US because most people would just throw the old pair out and buy new ones, something I especially hate to do because it means I have to go shoe shopping and then break in a new pair-suffering through blisters instead of wearing comfy broken in shoes. The repairs cost less than $5. Hiking boots in Bishkek cost more than $100. I enjoyed seeing the other shoe repair men making new heels for women's shoes. There was a young apprentice hand stitching shoes as well. Rowshan's pants were also fixed to his satisfaction for less than $1.
The next order of business was to see if the Istanbul Pastanesi had Turkish coffee. I asked the girl working:
Me: Do you have Turkish coffee?
Her: Yes
Me: Real Turkish coffee, not Nescafe?
Her: yes
Me: Turkish coffee that you boil in a cezve (miming the shape of a cezve to be as clear as possible.
Her: yes
Me: Great! How much is it?
Her: Let me see (turns to the kitchen). We don't have any.
We didn't find too many exciting things to look at in Osh. However, across from the Pastanesi was the Philharmonia which had a statue of an accordionist (R. Abdikadirov) in the front.
We also found a Misha bear mural on the side of an apartment building.