Istaravshan: The US and Iran Are at War
7 September, 2008, 11:19 am in "Tajikistan"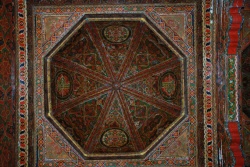 On our way to Istaravshan we passed a lot of cotton fields. However, one of the passengers said the cotton crop hadn't been good for the past couple years because there hadn't been enough rain. Beyond the fields were dry hills. In some barren fields, dust devils spun.
We were surprised by the quality of the road. It turned out to be built by China. The driver said the roads built by the Tajiks just got destroyed quickly. Istaravshan did not look too exciting. It had the standard types of Soviet buildings, a busy bazaar with lots of brick structures and lots of taxi drivers trying to get us to go to Dushanbe, Khojand, or anywhere else but where we were.
The hotel we stayed in hadn't been cleaned in recent history but we were relieved to not see roaches. I found a cigarette box which had been used as an ash tray along with a bag of trash on a shelf under the TV. Rowshan found a jar with maybe some slices of moldy bread. We wiped crumbs off the table, picked up gum and cigarette butts off the floor and decided if these 2 hotels we've stayed at in Tajikistan are any sign of what to expect, we need to invest in cleaning supplies and bug killer. I was distressed to find a flea while sitting on the bed.
When we asked the hotel manager if he had some bug killer spray, he said not to worry, the fleas would be asleep at night and wouldn't bother us. We asked for a light bulb because the bulb in the toilet room was out. He responded that the light in the room outside of it worked so we could just leave the door open.
We decided to find the old town which was supposed to be one of the best preserved in Tajikistan. We walked up Lenina and found the Hazret-i-Shah Mosque and mausoleum. It seemed fairly modern though built in a traditional style with a pretty brick minaret.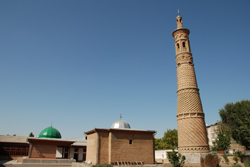 Hazret-i-Shah Mosque
Next to it was a park with lots of flowers surrounding a statue of Rudaki. Behind were reliefs of famous Tajiks. I think they were all writers since each had a quill underneath their head and poetry above them. From here we had a view of Mug Tepe, which had once been the site of an ancient fortress, but now was just a mud hill with a reconstructed gate.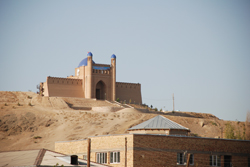 Mug Tepe with reconstructed gate
We took a road into the old town which, although many buildings were built with traditional adobe, looked in good condition and had evidently been repaired. Some had been covered with concrete. At one point we noticed a niche in the wall where kids were playing. There were wooden columns and ceiling as well as some interesting but very worn ceiling paintings.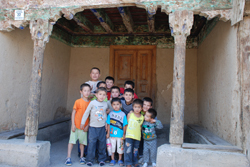 Kids were playing in a niche outside Burchak Mosque
A man nearby said it was called the Burchak Mosque and would we like to see it. He led us in and showed us an outside area protected by a fabric curtain where there were beautiful wood paintings in need of restoration. Inside the mosque were more. The colors were rich and the paintings ornate tezhip designs.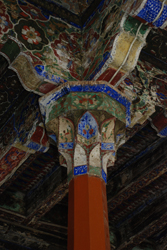 Painted column and ceiling of the Burchak Mosque
We walked up the street and came to the Abdullatif Sultan Medressa. This had a turquoise dome, which gave it the nickname Kok Gumbaz, and lots of brick and tile work a little reminiscent of Turkistan.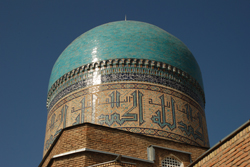 Kok Gumbaz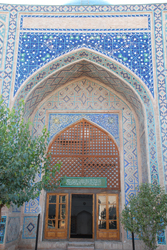 Abdullatif Sultan Medressa
In the courtyard were roses. Two kids on bikes joined us. They studied in the medressa and thought it neat that Rowshan knew Persian since they were learning to read the Arabic alphabet.

They also thought it strange an American and Iranian were married since "The US and Iran are at war." "What?! Iran and the US aren't at war!" we replied. The kids insisted they were. Rowshan and I hadn't seen the news for a couple days so we wondered if we'd missed some important news. Then Rowshan said, with all the people we'd been talking to, someone would have mentioned if there was a war. (Instead the only news item anyone mentioned to me was snow along the equator).

Outside the gate we passed some locals sitting outside of their house, and acquired a group of kids who accompanied us to the Hauz-i-Sangin mosque which also had beautiful ceiling paintings.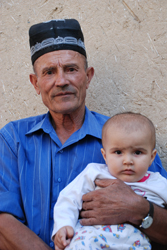 Two of the friendly locals
Most had been restored though I'm a little dubious about the restoration since the colors all seemed so much lighter and the tezhip seemed to have been done with wider strokes. There were 2 sections that were still fully original and these were amazing-- deep rich colors and fine detailed lines. Maybe the deepness of the color was from age or dirt, but I liked the dark colors better than the light ones. Outside there was a stone pool which was dry but was surrounded by roses.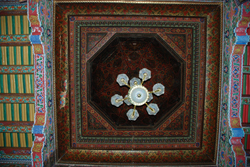 Restored and original painted ceiling at Hauz-i-Sangin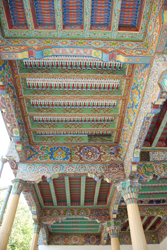 Outside ceiling, Hauz-i Sangin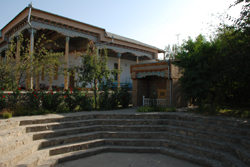 The Hauz-i Sangin (stone pool)
We left the group of kids we'd acquired behind but did met two more kids who had a great little cart made from an old suitcase.
To find the Mazar-i-Chor Gumbaz (the tomb of 4 domes) we walked back through the old town. From the exterior, it was an unassuming building but inside, the painted ceilings were magnificent with each dome decorated differently. Walking back to the center we saw a guy with a falcon perched on his finger.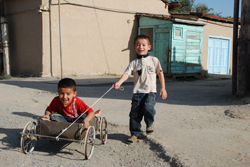 The best use for an old suitcase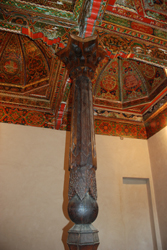 Carved column and domes, Mazar-i-Chor Gumbaz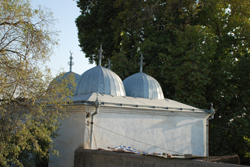 Exterior, Mazar-i-Chor Gumbaz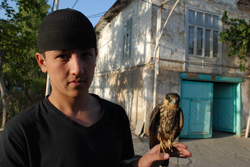 Young man and falcon
More kids begged for photos and we met a guy on a bicycle who also said Iran and the US were at war.
We walked into the center and, on a local's recommendation, we tried a new restaurant for dinner. The restaurant was clean! The table had been wiped. The food came quickly and was good and a guy working there (maybe the owner) was sociable and sat and talked a bit, happy to find out Rowshan was Iranian.

Tajiks are very fond of Ahmedinajad but not specifically because he is against America. In Tajikistan they see Ahmedinajad as a humanitarian helping the country. Iran builds roads, works on civil engineering projects and most recently completed a tunnel through the Anzob pass cutting what used to be a 10 hour trip from Istaravshan to Dushanbe to 7 or 8. We'll see tomorrow.