Art in Dushanbe
12 September, 2008, 12:19 am in "Tajikistan"

While on a bus from the airport to the center, we saw a beautiful mosaic of a woman with cotton and other scenes of agriculture and industry-- typical Soviet Union art topics, but nonetheless, a find piece of art. I really like the mosaics around Dushanbe.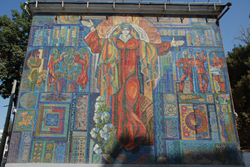 Cotton mosaic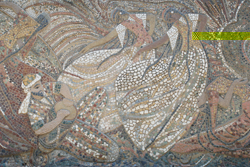 Detail of music and dance mosaic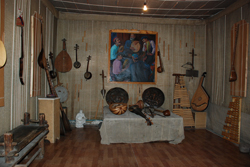 Musical Instruments Museum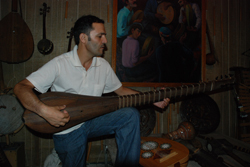 demonstration at Museum of Musical Instruments
The Rudaki arch is my favorite with flowers, stars, suns, and rich colors. It was by an artist named Sabzali. I believe it is the newest mosaic in town, created in 2008. It is refreshingly free of Soviet iconography. Walking towards the center we passed a group of women tending a rose garden. They were all dressed in colorful dresses, some even with floral patterns.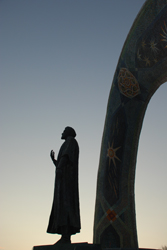 Rudaki statue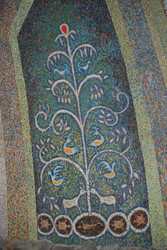 Detail of mosaic arch behind Rudaki statue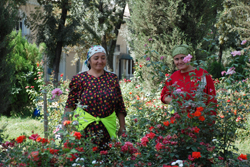 women tending roses
Next we went to the museum of National Antiquities. We sped through the stone and bronze age but paid a lot more attention to the sections on later archaeological finds around the different parts of Tajikistan. My favorite pieces were fragments of clay wall painting s from Penjikent. Their style was reminiscent of art from the Far East rather than what one thinks of as Central Asian style. One of the interesting things about traveling by land is one begins to see that there isn't a solid line drawn between cultures. Instead there is this beautiful blur. Tajikistan blurs Afghan, Persian, Islam and Buddhism... as well as perhaps some Ancient Greek. In looking at some carvings on stone in Persian, I noticed some designs reminiscent of Nepalese or Tibetan designs. There was a statue of Shiva, a Zoroastrian fire hearth, and a huge reclining Buddha a bit like one we had seen in Thailand.

The Gurminj Museum of Musical Instruments is in a house whose interior walls have been lined with burlap and decorated with lots of ropes. The collection had belonged to Gurminj Zavkybekov, a famous actor who started collecting instruments when he was 10. He was famous for the role of Rustam in Ferdozi's Shahsname.

The first room had a huge tar made by Xodan Nazar as well as Indian sitars, an Afghan rebab, and some other stringed instruments. Xodan Nazat was a famous Tajik musical instrument maker who was killed. Along the floor were some ethnographic pieces: wood vessels, clogs and ibex horns.

The 2nd room had percussion instruments, flutes and accordions. The museum did not have written information about the items. Instead, a man working there, Shambe, gave us a guided tour and told us about the instruments as well as played a couple. He was from a village in the Pamirs called Rushan, where he said numerous musicians lived. He was part of a folk group in Dushanbe but many were on vacation at the moment so they weren't performing anywhere.

The last room had stringed instruments. Shambe played a song on a kemance with metal sound box. He also showed us a large setar also built by Nazar which Zavkybekov named Ergonun. Shambe explained that in a Pamir house, there are 5 pillars representing 5 prophets. The setar had been made from the central pillar.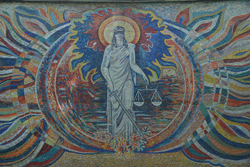 Justice mosaic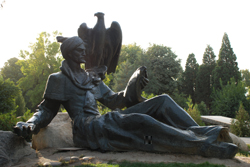 Omar Khayam (Persian poet) Statue
Across from the museum was another mosaic decorating the district court. Since we were on the subject of mosaics, I suggested walking up Rudaki and finding another mosaic. The subject of this one was agriculture and industry. It was created with lots of oranges and golds but a bit more abstract than the cotton one. It was near the Pedagogical University. On the way there we stopped by the Omar Khayam statue near a hotel. Persian culture is also celebrated on the wall of the Writer's Union building where several Persian authors are represented.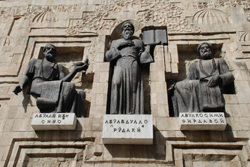 Writer's Union Building statues