Wakhan Trip Day 1: Khorog to Ishkashim
19 September, 2008, 08:59 am in "Tajikistan"

The road to Ishkashim follows the Pyanj River and the Afghan border south. From the car, we looked across the sage colored river at the mountains and the Afghan villages at their feet. The villages were mostly walled fields with a few adobe covered stone houses. The predominant feature of their houses were huge towers of hay on their roofs.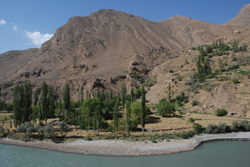 Afghanistan across the river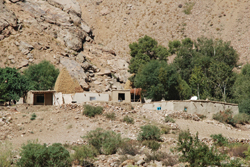 Afghan house with hay stacks
On both sides of the river, villages gently rose up the lower parts of the slopes. People were threshing wheat using oxen or winnowing by throwing pitchfork loads of straw into the air.

Our driver, Zaher, explained how the Pamirs were divided with half in Tajikistan and half in Afghanistan. This caused families to be divided. Aga Kahn was helping to build bridges to connect the 2 sides. Aga Kahn started helping the region in 1993 when food production had been disrupted due to droughts and the Civil War. For the first 4-6 years, he provided food aid to the region. Then he started other projects like building schools and bridges. The Aga Kahn Development Network is also helping to develop industries like agricultural processing and community-based tourism in the Pamirs. They are also funding road building on the Afghan side. Zaher pointed out some places where they had started blasting rocks to make space for it.

In an especially serene valley called Kazideh, we stopped so Rowshan could take a photo of a man winnowing. Two women and their children carrying huge bundles of hay passed by.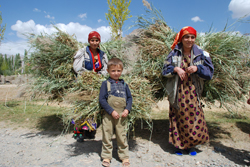 Carrying loads of hay
As we got closer to Ishakashim, the graceful white peaks of the Hindu Kush became visible. People in the village were busy with the wheat harvest. We saw a man threshing with a team of donkeys. Later, when we walked by again, they had started winnowing. Rowshan got a lesson and helped out a little.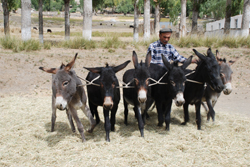 Threshing with a team of donkeys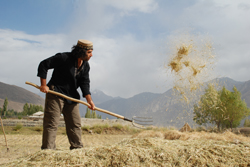 Rowshan tries his hand at winnowing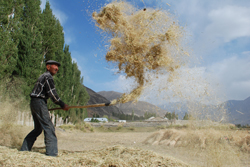 How winnowing is supposed to be done
On the street, a girl came up and said, "hello." To our surprise, she continued with several more phrases in English, and when we responded, was able to continue the conversation beyond, "Where are you from?" and "What is your name?" She had been teaching herself English and had apparently seized the opportunities for practice offered by tourists staying at the neighboring guest house.

Her name was Nasibe and though she was only 12, spoke more English than most adults we've met. She asked to walk with us and we were soon joined by a friend of hers nick-named "Jimmy."

They offered to show us a cave where people had lived in old times and during the war. It was up the road a bit. The wind was picking up and sent clouds of dusts and dust devils through the empty fields where the wheat had already been harvested. The Afghan side looked even drier with huge spinning dust devils looking like obscured water falls.

We climbed up the scree of a slope to the first cave, a tall, smoke blackened hole in the mountain. A small rock wall had been built in front, maybe to keep people out but if so, not very effectively. We found a scary cave monster there.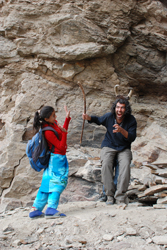 Scary cave monster
Inside, the cave was dark, blackened with smoke and a bit smelly. The cave did, however, have a great view over the river to the mountains of Afghanistan.

We climbed further up the hill to a second cave. This one was less obvious because the entrance was set partially underground. To one side a stone structure of a few walls had been built. Where the first cave was blackened with smoke, the inside of the 2nd cave was white with mineral deposits. People in town would collect it to use to white wash their houses. Touching the low ceilings of the cave produced a handful of white powder.

We climbed back down to the black cave (Torge Soxte- Burnt Cave) and Nasibe broke off pieces from a rock producing interesting green colored stone and rose colored mica. We took a closer look at the stones that made up the hill and realized, beneath the coat of brown dust and dried mud was some beautifully colored rock. I wondered if after a heavy rain, the mountains sparkle with green, red and rose. We climbed back down and walked towards the town. The evening winds were picking up huge dust clouds. I understood why so many women wear their scarves wrapped around nose and mouth.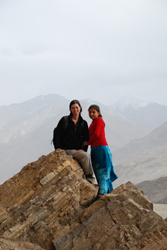 Nasibe and Tamia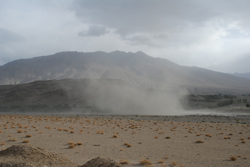 Dust storm
By the winnowing field, Rowshan stopped and chatted with a group of people having tea. Then we went to Jimmy's house for some tea. Jimmy's house was a large comfortable Pamiri house. We had been joined by quite a group of kids who hung out watching as we had our tea.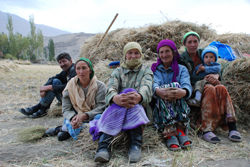 Taking a break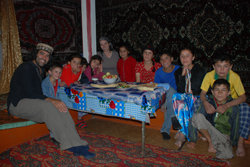 Tea at Jimmy's house
On the way back to the guest house, we passed a soccer game. Soon Rowshan was playing and managed to score a goal. While he played, I talked to a couple girls in Russian.