Wakhan Trip Day 2: Visiting Afghanistan
20 September, 2008, 09:22 am in "Tajikistan"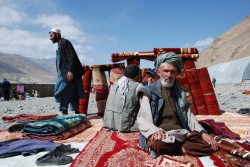 We were talking to a couple who had been talking to a travel agent about visiting Afghanistan. They were told that if they had gone 6 months (or was it 6 weeks) before, it would have been fine. But now it was terribly dangerous. They were told about how there are organized kidnapping groups who record the movement of foreigners so they can be intercepted and taken hostage. The travel company then said if they really really had to go to Afghanistan or were adrenalin junkies, if he spent the next month growing a beard and she wore a burka, the company could arrange, through various connections, so the couple could be smuggled from safe house to safe house and thereby tour Afghanistan. The couple said that their idea of travel was being able to talk to people so they decided against this option.
Today we went to Afghanistan, or at least as close as we're going to get. All the tourists come to Ishkashim on Saturday to be able to cross the bridge to Afghanistan and go to the Afghan market. We left around 8 to walk 3 km to the edge of town where the bridge is located. From a distance we could see rows of cars parked and a line of people converging on the market site from both Afghanistan and Tajikistan. The Afghan side of Ishkashim is called Ishkashim Sultan because it used to be the main part of the town before it was divided between the two countries.
On the Tajikistan side of the bridge there is a metal gate lined with barbed wire and maned by Tajik soldiers and police. The soldiers kept the gates open just wide enough for one person to pass through, though they would open it wider when necessary. The Tajiks just walked through with no questions but tourists had to relinquish their passports and GBAO permits. I guess it was assurance that we wouldn't attempt to run of into Afghanistan. The first thing the soldiers said, in both Tajik and Russian to both Rowshan and me, was that photos were strictly forbidden. This was particularly disappointing because that was what Rowshan really wanted to do at the market. The market was located in no-man's land, an area of sand and river stones, surrounded by a stone wall with a metal gate. The vendors set up their wares on tarps on the ground.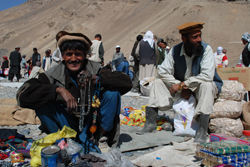 Afghani man selling necklaces
It wasn't the most exotic of markets we've been to. Most of the wares were things of interest to Tajiks and Afghanis-- toiletries, women and men's clothing, sewing machines, candy, jewelry, CDs, VCDs, DVDs, cassettes, fabrics, and shoes.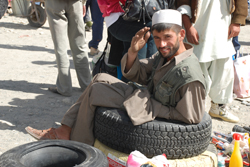 Afghani man sitting in tire
We also saw strange pointed stones that had been carved into a bullet sized pencil shape. Some had jewels attached. Later we learned they were for applying kohl. We were disappointed to find no Afghan food. The most interesting Afghan clothing was being worn by vendors. Rowshan was searching for an Afghan man's outfit-- long loose light shirt and baggy pants. He found some that seemed factory made with stiff western collars. Eventually he found one that was softer without a stiff collar which he purchased. He asked about the turban traditionally worn with it. No one had one among their wares but a couple vendors offered to sell the ones they were wearing. On one side we saw a couple fortune tellers. One used a Hafez book to foretell the future. There were a couple people selling traditional Afghan wool hats but we decided these were too hot for where we were going. There were also a few spice and herb sellers but not enough to give the place an exotic smell.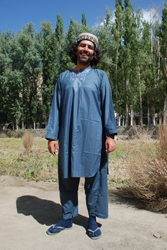 Rowshan in Afghan clothing
As we were chatting with some kids, a police officer came out of the guest house and informed us we had to register. We asked at the guest house and learned that a few months ago, a shepherd had attacked a tourist. Now the police wanted all visitors to register for their own protection. So we walked over to the police station. The police explained that by registering with them they were taking responsibility for our safety. They were very friendly and asked how Rowshan liked it here. He said he liked it and enjoyed the bazaar but was disappointed that he wasn't allowed to take photos. "What? They wouldn't let you take photos? They'll let you. Just 'talk nicely' to them." It was around noon and we had 2 hours before the market finished. We hopped into a taxi and went back to the bridge.

At the gate, Rowshan was told "No" by several soldiers, police and a commanding officer. But he hung out and talked...and talked... for about ½ hour. Finally they let him in to "Just take 2 photos of guys in Afghan clothing." None of the many soldiers and police patrolling the market even questioned him as he took photos. I worried that after all the effort to be allowed to take photos, the Afghan vendors would be unwilling to have their photos taken. The men seemed sun and wind-weathered and tough. I imagined them getting angry at Rowshan. My worries were completely unfounded. Everyone Rowshan asked was delighted to have him take their photo. One man at first said "no" but after seeing his neighboring vendor pose, he relented and wanted a photo taken as well. Cloth vendors posed with sparkling fabrics.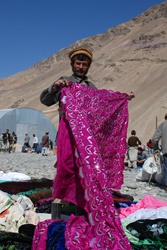 Cloth seller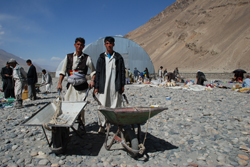 Porters waiting for loads
Some grabbed their friends or relatives. The photography turned out to be a bit of an ice breaker so soon they were all happily chatting with Rowshan. Many had worked in Iran and lived in Tehran. They drew out words of Tehrani slang and names of neighborhoods.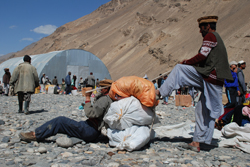 Helping load goods on porter's back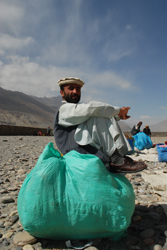 Resting on a load of goods
Maybe since the market was winding down, people were more social as well. The vendors chatted with each other as they packed up their wares. Porters hauled huge loads out of the market and occasionally a cart was wheeled out.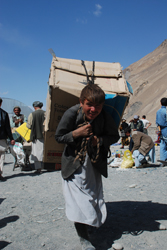 Porter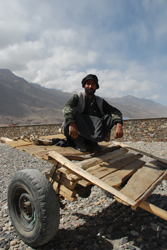 Man with cart